Castaly présentera des routeurs CNC au SIBO
October 16, 2022 | 8:21 pm CDT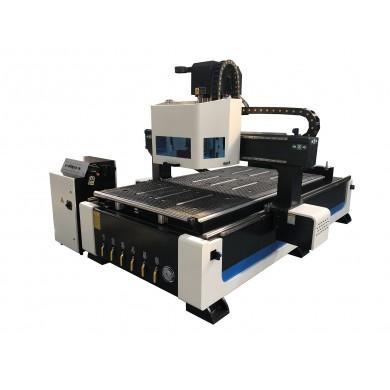 DRUMMONDVILLE, Québec – Castaly Canada présentera sa dernière technologie CNC au Salon Industriel du Bois Ouvré (SIBO), du 27 au 29 octobre au Centrexpo Cogeco.
Deux des machines que Castaly présentera font partie de la famille de routeurs CNC Rapid.
L'une des machines est équipée d'un changeur d'outils automatique de type linéaire à 8 outils et l'autre d'un changeur d'outils automatique de type linéaire à 12 outils.
La machine à 8 outils dispose d'une table arrière pour une productivité accrue.
La machine 12 outils dispose d'une poussée pneumatique automatique sous le portique pour une productivité accrue. De plus, un système de presse pneumatique à rouleaux facilite la découpe de petites pièces en les maintenant en place sur la table aspirante. Un aspirateur intégré élimine toute la poussière restant sur la table en quelques secondes.
Les caractéristiques de chacune des machines comprennent :
Système d'entraînement de tous les "servomoteurs": Tous les axes sont entraînés par des servomoteurs à courant alternatif de type sans balais à couple élevé.
Le contrôleur CNC est configuré pour accepter les formats de programmation de code G standard ainsi que les applications conversationnelles embarquées.
Le système CAD/CAM en option peut créer et modifier des programmes de pièces, puis les envoyer à la machine pour une découpe facile. Les fichiers DXF peuvent être importés, modifiés et édités à partir d'ici pour créer un code G.
DNC n'est plus nécessaire car le PC stocke directement tous les programmes de pièces dans un fichier texte modifiable.
Machine conçue pour une utilisation en découpe 3D et des performances supérieures.
Construction à portique mobile pour un gain de place.
La construction du cadre en acier rigide a été soulagée des contraintes avant l'usinage de finition pour assurer la répétabilité et la précision.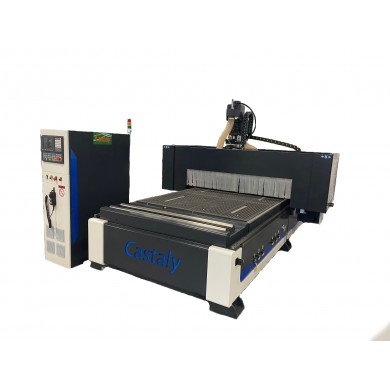 La broche HSD utilise des roulements CP4 DB avec une conception sans poussière. Le système de refroidissement par ventilateur robuste force l'air à travers la broche pour aider à un fonctionnement sans problème.
Le frein de fréquence automatique de la broche permet une décélération rapide résultant en des changements d'outils plus rapides.
Les guides linéaires et les blocs coulissants sont prismatiques préchargés avec des roulements à recirculation pour assurer une vitesse et une précision maximales.
Les axes X et Y sont équipés d'un système d'entraînement à pignon et crémaillère de précision.
L'axe Z utilise un ensemble de vis à billes complet avec la vis préchargée et rectifiée pour une longue durée de vie et une précision optimale.
Surface de table à vide à 6 zones de conception spéciale pour un maintien puissant.
Castaly présentera également plusieurs autres machines de traitement du bois massif et des panneaux au salon au stand #911. En savoir plus sur castaly.com.
À propos du Salon Industriel du Bois Ouvré (SIBO)
Le SIBO, qui est historiquement l'événement le plus important pour l'industrie secondaire des produits du bois au Québec, offre une occasion exclusive aux fabricants et aux distributeurs de machines à bois, d'outils, de logiciels, de quincaillerie d'armoires, de bois d'œuvre et de planches, et bien plus encore, d'entrer en contact avec des fabricants représentant l'économie des produits du bois au Québec, qui représente 8,2 milliards de dollars.
Pour toute demande d'espace d'exposition ou de parrainage, contactez Rob Roszell à [email protected] ou Harry Urban à [email protected].
 
Voir le prospectus des exposants de SIBO 2022.
Autres événements à venir du réseau de l'industrie du bois
Closets Conference & Expo (CCE) co-localisée avec Wood Pro Expo Florida (WPEFL), le 12-14 avril 2023, Palm Beach County Convention Center, West Palm Beach, Fla,.
Wood Machinery & Supply Conference & Expo (WMS), le 2-4 novembre 2023, International Centre, Mississauga, Ontario.
Have something to say? Share your thoughts with us in the comments below.