Top wood industry execs to present leadership strategies at EBC 2019
December 12, 2018 | 11:07 am CST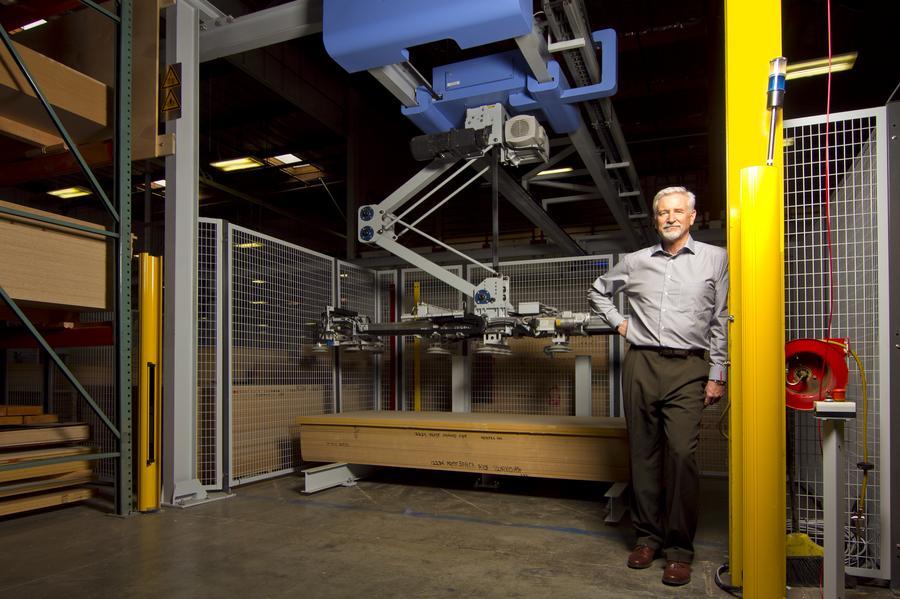 SAN JOSE, Calif. - Wood industry executives will be sharing their leadership strategies and insights into managing people, production and technology during the 2019 Executive Briefing Conference.
The 15th edition of the high-level business management gathering takes place April 14-16, and will focus on the nexus between workforce and technology, aiming to inspire and ignite attendees to create change in their businesses. 
Taking place at the San Jose Marriott, in the heart of California's Silicon Valley, it will feature Danielle Clark, Adobe's Director, Talent Development, who will talk about getting the most from individuals in one of the most hotly competitive labor markets in the nation. Since workforce is among the most critical issues facing managers, a panel of wood industry educators will examine recruitment and retention issues for manufacturers. 
Gensler Technology Leader, Design Director, and Principal Natalie Engels
The EBC group will also tour the freshly remodeled Adobe Headquarters, with Gensler Technology Leader, Design Director, and Principal Natalie Engels, who headed the project. Top business and motivational speakers will also provide depth to the conference sessions, including Luke Williams, the esteemed professor of innovation and design at New York University's Stern School of Business, who delivers the opening keynote, "Disruptive Management." 
But the peer-to-peer sharing and networking, the hallmark of EBC gatherings, will be expanded this year, with more than a dozen wood products business and operations managers, among them:
Mark Trexler, COO of ACProducts (the former Armstrong Cabinets);
Butch Reimer, CEO of Tru Cabinetry unit of United Cabinet Holdings
Henry Nisiobincki, RFID Manager of American Woodmark
Glenn Ripley, CEO of Mission Bell Manufacturing
Joe Luttwak, President of Blackbird Guitars and Lingrove
Wood Manufacturing Case Studies
Trexler, Ripley and Reimer will participate in a CEO Panel examining factors they weigh in the decision process for capital investment. Reimer will also present a case study of Tru Cabinetry, one of three business profiles by wood manufacturing execs.
Mark Trexler, COO, ACP Products
At EBC, attendees will also hear from Dan Casebier, CEO of Bierson Inc., a Central Point, Oregon store fixtures and 3D laminate components firm that is on the leading edge of product development for its clients. Also delivering a presentation on their firm at EBC will be Lewis Cabinet Specialties leadership team, Bobby Lewis, CEO and Beau Lewis, Advisory Board Member. 
Dan Casebier, CEO,
Bierson
 Corp.
Lewis Cabinet recently received equity investment from LongWater Opportunities, which will support its next level of growth and expansion into new markets. 
Beau Lewis, Advisory Board Member, Lewis Cabinet Specialties
A CEO Panel will examine factors they use in weighing capital investment decisions. This will include Mission Bell Manufacturing CEO Glenn Ripley; Mark Trexler, COO of ACProducts (the Armstrong spinoff); and Tru Cabinetry CEO Butch Reimer. 
Attendees will hear from financial keynoter Alan Beaulieu, president of ITR Economics, a high-energy speaker who never fails to delight audiences with his economic trends and market forecast based on unique econometric models incorporating running averages. Beaulieu, who prides himself on his predictive accuracy for GDP growth, will tailor his presentation to emphasize interest of market forces directly affecting wood industry product sales.
The 2019 EBC, running April 14-16 at the San Jose Marriott, provides strategic and practical information that addresses manufacturing challenges, and a forum for discovery. EBC helps executives anticipate business opportunities and beat the challenges that lie ahead and will ignite and inspire business leaders to create change when they return home.
www.executivebriefingconference.com 
Have something to say? Share your thoughts with us in the comments below.