U.S. Tall Wood Building Prize Winners Get $3 Million
September 18, 2015 | 9:37 am CDT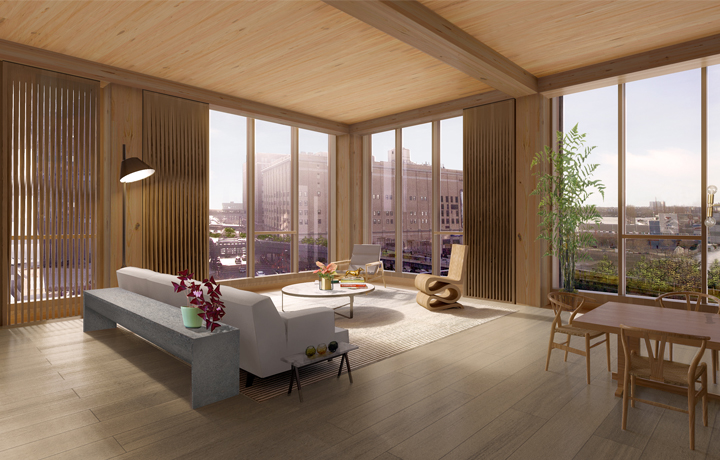 NEW YORK — Winners of the U.S. Tall Wood Building Prize Competition  will split $3 million in prize money to advance development of two real-life high rise wood project. If the projects reach groundbreak- each is required to be more than 80 feet tall by the competition rules - one will be built in Portland, Oregon, the other in New York City.
The program is supported by the government agencies in the United States and Canada, which see the adoption of cross laminated timber (CLT) contruction as a strategic opportunity to drive consumption of wood products both domestically and for export. The U.S. Department Secretary of Agriculture Tom Vilsak announced the winners in partnership with the Softwood Lumber Board and the Binational Softwood Lumber Council.
At a press conference was hosted in New York Sept. 17,, Secretary Vilsack congratulated the competition winners.
"The U.S. wood products industry is vitally important as it employs more than 547,000 people in manufacturing and forestry, with another 2.4 million jobs supported by U.S. private-forest owners," said Vilsack. "By embracing the benefits of wood as a sustainable building material, these demonstration projects have the ability to help change the face of our communities, mitigate climate change and support jobs in rural America. I look forward to seeing how these two buildings help lead the way in furthering the industry."
Next-generation lumber and mass timber products are becoming the latest innovation in building. Innovative new technologies and building systems have enabled longer wood spans, taller walls, and higher buildings, and continue to expand the possibilities for wood use in construction. Mass timber wood products are flexible, strong, and fire resistant, and can be used as a safe and sustainable alternative to concrete, masonry, and steel. Using wood helps to reduce greenhouse gas emissions by storing carbon and simultaneously offsetting emissions from conventional building materials. Wood can also help struggling rural forest communities. During the Recession, the drop in new construction and decline in home remodeling had a deep impact on wood manufacturing. However, if next-generation wood products can penetrate just five to fifteen percent of the non-residential North American market, it would mean roughly 0.8 - 2.4 billion board feet of lumber consumed annually. To put that in real-world context, roughly 35 jobs are created for each million board feet of wood processed.
The two winning proposals – Framework and 475 West 18th – were selected by a panel of distinguished jurors in the architecture and engineering fields who are familiar with innovative wood building systems. While each took a unique approach, both projects met the competition's criteria to showcase the safe application, practicality and sustainability of a minimum 80-foot structure that uses mass timber, composite wood technologies and innovative building techniques.
 
Framework
Framework, LLC and 130-134 Holdings LLC – on behalf of Framework and 475 West 18th, respectively – will each receive $1.5 million to embark on the exploratory phase of their projects, including the research and development necessary to utilize engineered wood products in high-rise construction in the U.S. As part of the Competition evaluation criteria, both of the winning teams have also obtained early support from their respective authorities having jurisdiction to proceed.
"Tall wood building systems have been embraced by developers and architects around the world for many years," said Marc Brinkmeyer, Softwood Lumber Board Chair. "Moving forward with these projects is a step in the right direction for the U.S. building industry in having the ability to take full advantage of the inherent benefits of wood from both an environmental and economic standpoint."
Additional background information on the Competition, including the Official Rules and contact details can be found on the prize competition website at: www.tallwoodbuildingcompetition.org.
WINNING PROJECT SUMMARIES
Framework: An Urban + Rural Ecology
Beneficial State Bancorp will provide site control to real estate developer project, affordable housing investor Home Forward, and LEVER Architecture, for the proposed Framework as a redevelopment of their Pearl District property in Portland, Oregon. The 12-story urban + rural ecological project is to be constructed primarily of cross-laminated timber (CLT) and will support a distinct blend of functions including street-level retail, office, workforce housing and community space. The main community space is designed to include a public Tall Wood Exhibit, featuring resources related to the realization and design of the building.
"We consider Framework to be a totally transformative, mission-driven project that will promote social justice, environmental well-being and economic opportunity at the building, regional and national levels," said Kat Taylor, President, Beneficial State Bancorp, the landowner of the project site.
"The relationship of our cities to our rural communities, what we call 'forest to frame,' is strengthened by Framework," added Tom Cody, Principal, project. "On a national scale this project will be catalytic, leading to more tall wood buildings, driving more wood products and wood product innovation, and boosting rural economic development."
475 West 18th: Setting the Stage For Innovation, Engineering and Architecture
130-134 Holdings LLC, in partnership with Spiritos Properties, SHoP Architects, Arup, Icor Associates, and environmental consultancy Atelier Ten, proposed 475 West 18th as a transformative and sustainable prototype for the design and construction industry, demonstrating an innovative approach to going beyond a limited palette of materials and systems for high-rise construction. Expanding the palette with wood, a locally sourced and renewable material, provides a low-carbon, more economically sound building solution.
475 West 18th's extensive use of wood structural elements and other wood products allows the team to set ambitious sustainability targets in the building's design, construction, and operation. By combining aggressive load reduction with energy efficient systems, the project team anticipates reducing overall energy consumption by at least 50 percent relative to current energy codes. It will also target LEED Platinum certification, as well as pursue higher levels of sustainability not captured in the LEED system.
"By choosing to develop a timber building, we hope to pave the way for a new method of urban construction that is ecologically conscious and supportive of rural economies," said Erica Spiritos of Spiritos Properties. "Rooted in the forests and erected in the city, this building is a celebration of habitats that are at once ancient and cutting edge, interconnected and individual, natural and technological."
"We are delighted to be developing this tall timber building in New York City, which has led the world in urban design and engineering throughout the last century," said Jonathan Ghassemi, on behalf of 130-134 Holdings LLC. "We are confident that this project will once again position New York to serve as a leader in a new generation of sustainable building methods during the 21st century and beyond."
For more information and resources on tall wood buildings, please visit www.rethinkwood.com.
For more information on the USDA or the Forest Products Laboratory:
For more information on the Softwood Lumber Board: www.softwoodlumberboard.org
For more information on the Binational Softwood Lumber Council: www.softwoodlumber.org
 
Have something to say? Share your thoughts with us in the comments below.