Take your work, and your work furniture, home
June 16, 2016 | 8:56 am CDT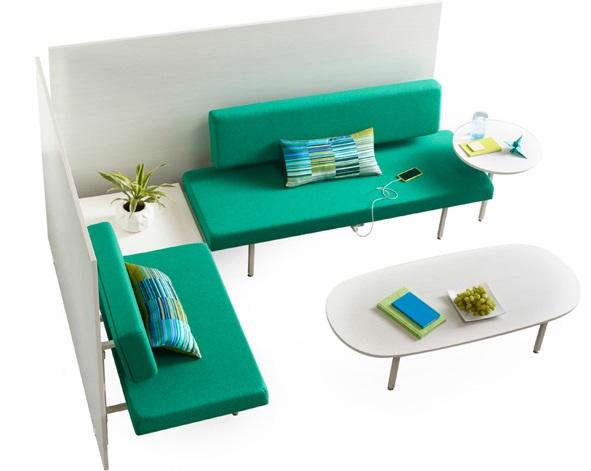 Joey Ruiter's latest collection for izzy+ shown at NeoCon is the Sylvi modular lounge collection, which works to find balance between residential appeal and contract-quality furniture.
As workplaces change to accommodate the need for more touchdown spaces, designers are seeking to make that space with a hint of solitude.
Sylvi can be used by people working anywhere; from upscale lobbies to break-out spaces and those in-between places designed for taking a quick break. Sylvi offers residential-like comfort while holding its own under the wear-and-tear pressures of the corporate world.
"The sweet spot for Sylvi's design is being something that you'd want to take home. It's something covetable that wasn't prescribed for a specific building or institution, but still works in those spaces," said Ruiter.
His ongoing exploration of second and third spaces with izzy+ includes the award-winning Dewey 6-top table and learning collection, as well as architectural elements like the Nemo Bar and Trellis.
Sylvi has clean lines and a straight-forward design to inspire a range of modern looks with high fabric efficiency. Embracing mobile technology, the metal frame hosts hidden USB and power plug-ins. This under-cushion channel also helps connect embedded tables, magazine rack and coat hook accessories. A wide range of rectilinear or angular shapes can be created with Sylvi, on a large or small scale.
Attachable laminated back panels allow designers to create a space within a space with Sylvi. With a slight inward tilt, the back panels give the feel of an enclosed space without shutting out the bustle and activity of the surrounding environment. For more information see www.izzyplus.com.
Have something to say? Share your thoughts with us in the comments below.