Taiwan machinery makers going global in race with competition by China
December 22, 2017 | 4:39 pm CST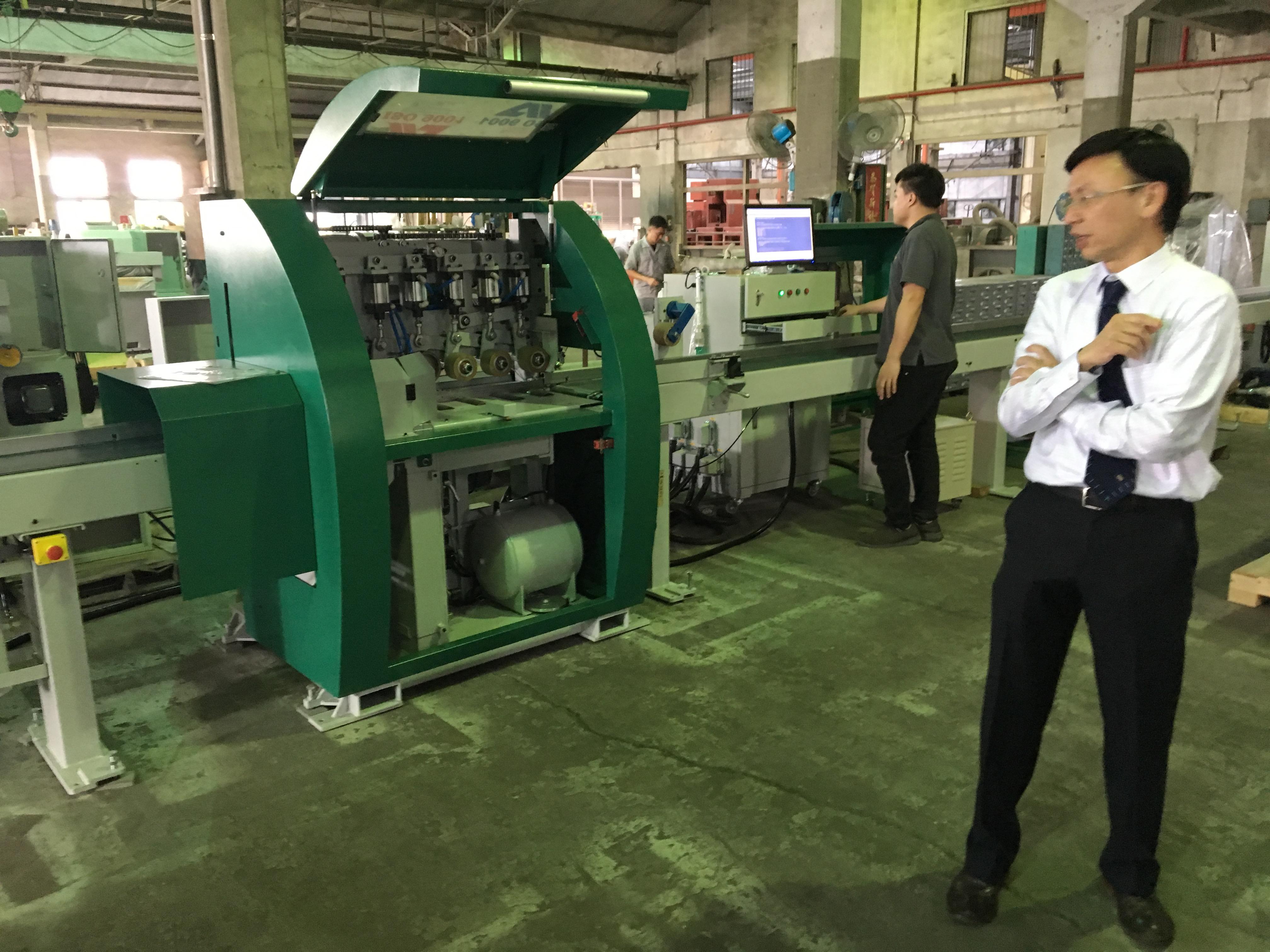 Photo By Bill Esler
TAIPEI - Most readers would not surprised to see a list of the top three nations in woodworking equipment export: Germany (Homag and Weinig), Italy (SCM and Biesse), and China (63 exhibitors already listed at IWF Atlanta 2018). 
Who comes next? Well, that's Taiwan, an island of 23 million and about the size of Indiana, off the southern coast of China. For that same Atlanta show, Taiwan has 26 exhibitors booked. 
Lining up the rubberwood boards for a test run of a double planer at Goodtek.
But those 26 are just a smidgeon of the 270 members of the Taiwan Woodworking Machinery Association, and they do not include companies like Anderson and Giben, headquartered in Taiwan, but with free-standing U.S. operations. Or Leadermac, which exhibits at IWF and AWFS, and Ligna and Xylexpo under both its own label. In the U.S. it is known through Cantek, based in Blaine, Washington, as well as under its own banner. In Canada it sells through Akhurst, with five provincial sales offices around the country. 
The U.S.  represents Taiwan's fifth largest woodworking machinery export market, though the vast majority of the unit volume is through private label manufacturing of smaller machines, such as belt sanders (made by Sanderson/Jin Shiau Machinery) for some of the biggest catalogers, and small equipment sellers like Jet.
Michael Chang, the dynamic CEO of Leadermac, is also chairman of the Taiwan Woodworking Machinery Association. His goal is to make Taiwan-sourced equipment more highly visible in North America, as he has done with his Leadermac brands. He also wants to raise their profile in all the end user markets so that woodworking companies recognize in Taiwan sourced equipment a quality and sophistication that is not available from their chief competitor, mainland China.  
Wood Taiwan Is April 2-5, 2018
•

April 2-5, 2018, Taipei
•

Nangang Exhibition Center
The Taiwan Intn't Woodworking Machinery Show takes place the first week of April 2018 in Hall 1 of the Taipei Nangang Exhibition Center. Themed "Work Greener, Live  Better," the show is expected to draw more than 6,400 visitors to 200-plus exhibitors of equipment and suppliers spread across 1,060 booths. (The 2015 edition of Wood Taiwan featured 188 exhibitors and 6,365 attendees. U.S. visitors were the eighth largest group among 930 foreign visitors from 55 countries.
Despite its well-developed wood machinery manufacturing industry, Taiwan is not really a player in wood products. Following the rapid decimation of its domestic forests a few decades back, the government banned commercial logging. Now more than 90 percent of its lumber and panel is imported, and so Taiwan emphasizes machine manufacturing over machining wood. 
James Lin, general manager of Jun Shiau Machinery, maker of Sheng Shing sanders exported around the world
It faces tough competition, though as mainland China expands its manufacturing might. Until last year, Taiwan was the third largest exporter of machinery globally (it remains third for overall machinery exports globally).
To meet the challenge, the 300 or so wood machinery manufacturers in Taiwan are building smarter machines, and working together to sell integrated systems. Over 80 percent of Taiwan wood machinery manufacturers are located in central part of the country, near the city of Taichung. 
At the invitation of TAITRA, Tawian's trade development council, and Joined by journalists from Tokyo and Bonn, we had a chance to visit six wood machinery factories and learning about the ongoing research and development that the industry is banking on to help them compete with China. 
Here's what we learned, in a nutshell:
Anderson research and development manager Shawn Teng with a Tokyo business journalist at the Anderson factory
Anderson Group – a global brand building CNC machines since 1985, its U.S.-based operations Anderson and Giben sell sophisticated CNC machinery. At IWF 2016 Giben won the Challengers Award. Tommy Lee is VP Research & Development; Shawn Teng is Manager of CNC Factory.
Kuang Yung Machinery – This manufacturer of movable rip saws and automated cut-off saw systems is a third-generation family business headed by managing director Joe Chang. 
Goodtek Machinery – It makes one thing and does it well: double surface planers. These are exported around the world (we so one headed to India being loaded on a truck) and are branded under the Cantek and Ironwood lines in the U.S. Lai Shih Ding is General Manager; Jacky Liao is Sales Manager. 
This newly developed CNC technology at Boark will scan an original object (on right side) and replicate it on the left side. Or both bays can be devotd to multi-axis CNC machining
.
Boarke Group – Producing computer controlled five-axis CNCs for cutting everything from timber framing to wood sculptures, Boarke Group can build machines able to handle any length of workpiece. Roderick Hung head research and development and technical sales support. 
Sanderson/Jun Shiau Machinery – Producing smaller format wide-belt sanders for Jet, Grizzly, and Laguna, Sanderson also sells much larger models under its own brands. James Lin is General Manager, and is also Vice Chair of the Taiwain Woodworking Machinery Association.
Michael Chang, CEO of Leadermac, one of Taiwan's largest woodworking machinery manufacturers. Chang also chairs the Taiwan Wood Machinery Manufacturers Association. 
Leadermac Machinery – Known under Akhurst and Cantek brands in North America, Leadermac has developed increasingly sophisticated, computer-controlled moulders and milling machines. CEO Michael Chang is also chair of the Taiwain Woodworking Machinery Association, which has 271 members. 
Wood Taiwan 2018 will feature high-speed automation, integrated processing, intelligent manufacturing and specialized machines and equipment for both primary and secondary wood processing, as well as finishing equipment, tooling, machinery components, and dust collection systems. Sawing, moulding, planning, finger joining, edgebanding, tenoning, sanding, polishing, buffing and surface finishing.
Have something to say? Share your thoughts with us in the comments below.