MiLL Industry Days event links students, industry
By Katie Stearns
December 12, 2019 | 4:17 pm CST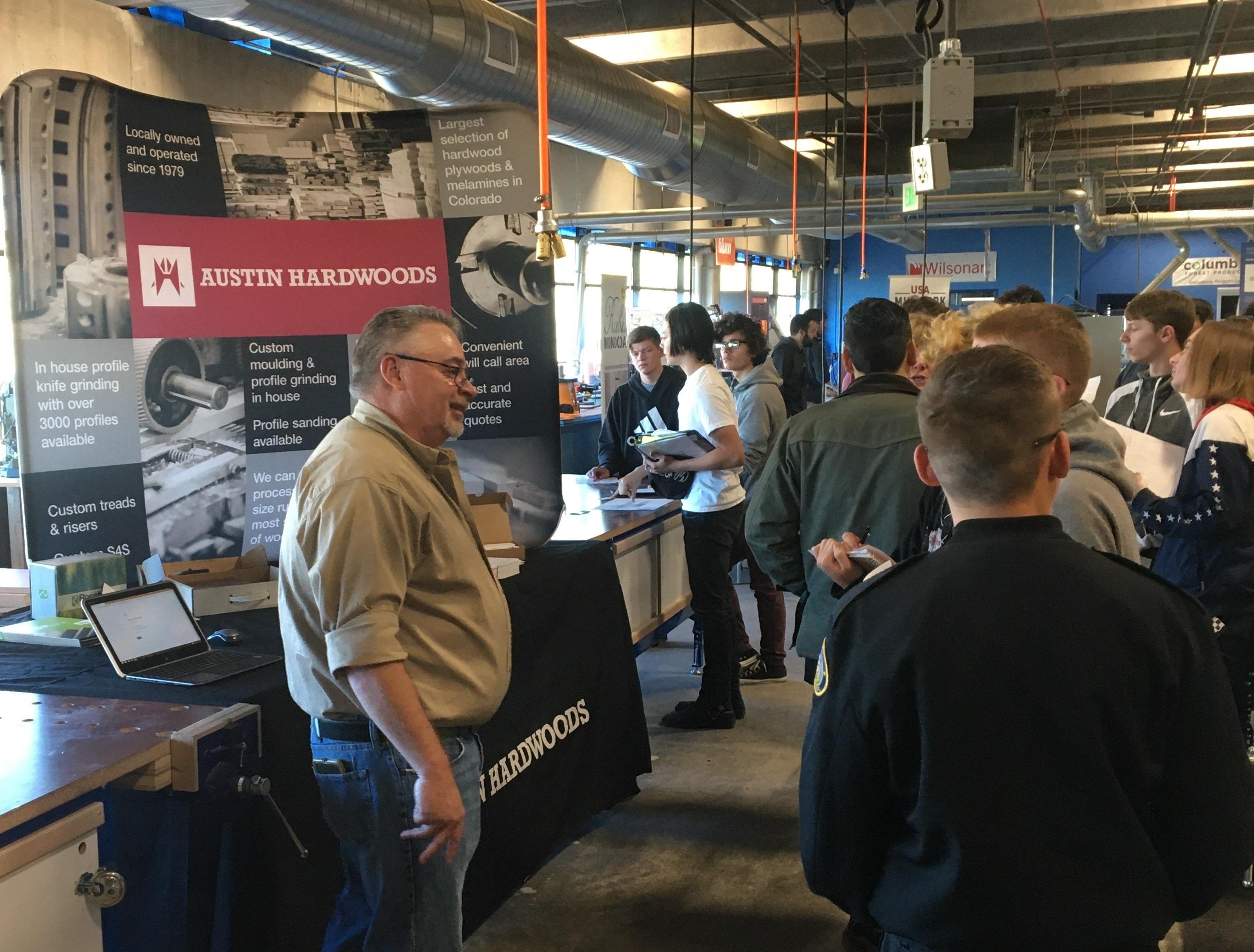 In CTE (Career Technical Education) programs across the country, the end of the school year is often marked with a job fair. Local companies come in and talk to students getting ready to graduate and head out on their own.
Companies might hold informal or formal interviews with young men and women and give them an opportunity to hone their soft skills. On November 14, The MiLL in Colorado Springs held a version of a job fair, calling it "Industry Days."
All 275 students currently enrolled in MiLL programs as well as student groups from Peyton High School and Elbert High School had an opportunity to talk to 45 representatives from 20 companies. Tables were set up around the shop space with representatives from each company talking to students about what their business does for the community.
"The goal of Industry Days was to help students realize the demand for the skills learned in their MiLL classes. Many students don't understand the opportunities available for them after their high school career is over," said lead instructor John Stearns.
Each MiLL student had the assignment to talk to at least five companies. The upper level students have had experience speaking with adults in the shop. A list of "conversation starters" were given to the younger students and anyone needing help approaching the companies.
Conversation starters asked about communication in the workplace, working conditions, the traits of a good employee and opportunities available for advancement, among others. Most students didn't need to use the conversation starters after the first table they visited. Students found talking to the company representatives easy and conversations were fluid and organic.
"I didn't realize how much these companies wanted me to work for them!" said Liam Corey, a 16-year-old junior at The MiLL. Liam and his classmates spent their class period visiting with representatives from cabinetmaking companies, home builders, and supply companies.
Most of the 20 companies were local. However, two were from out of state. Mission Bell Manufacturing, a commercial casework company in the Silicon Valley, along with Parenti and Raffaelli, a custom millwork company in the Chicago area, both made the trek to Colorado for this event.
For both companies, this was the first time visiting The MiLL and meeting MiLL students. Jessica Lister, a senior HR business partner with Mission Bell, said, "It was a great day, the students were so prepared and excited about the trade. The facility is just what the industry needs, I am very excited about it."
Tricia Parenti said, "The facility is extremely impressive, the staff amazing and the students respectful and professional. We hope to build a relationship with The MiLL and hope the school can organize a visit to our shop. Again, very impressed and felt very welcome."
One of our goals at the MiLL is to expose students to as many career opportunities as possible. High school students can be intimidated by business professionals and unsure of their own value. The goal is to show them their worth and the need for young workers in the industry.
Chandon Harris, a MiLL student last school year currently working for and representing Concepts in Millwork at Industry Days, said, "Last year, when I was talking to adults, I was scared out of my mind. Adults were scary because I didn't want to say the wrong thing. Now I talk to adults all day long. I know what to say. Talking to students intimidates me now. I don't want to say the wrong thing and embarrass myself."
The MiLL will be continuing resume and interview training as part of their curriculum. In the spring, upper level students will spend a couple of days learning about writing resumes and standing out in interviews.
Last school year, a small number of companies came in and conducted mock interviews, both individual and group with students, helping them learn how to stand out from others during the hiring process. The fortunate byproduct of the mock interviews were three students being hired for full time work and summer internships. This spring, The MiLL will put many more talented and hirable young men and women into the woodworking industry. Partnering with The MiLL will benefit companies with fresh new employees willing to work hard.
If you are interested in taking part in future Industry Days or mock interviews, please call The MiLL 719-391-3595 or contact lead instructor John Stearns, [email protected].
Have something to say? Share your thoughts with us in the comments below.