The Galley fumed eucalyptus Dresser wins Best of KBIS 2017
January 17, 2017 | 10:21 am CST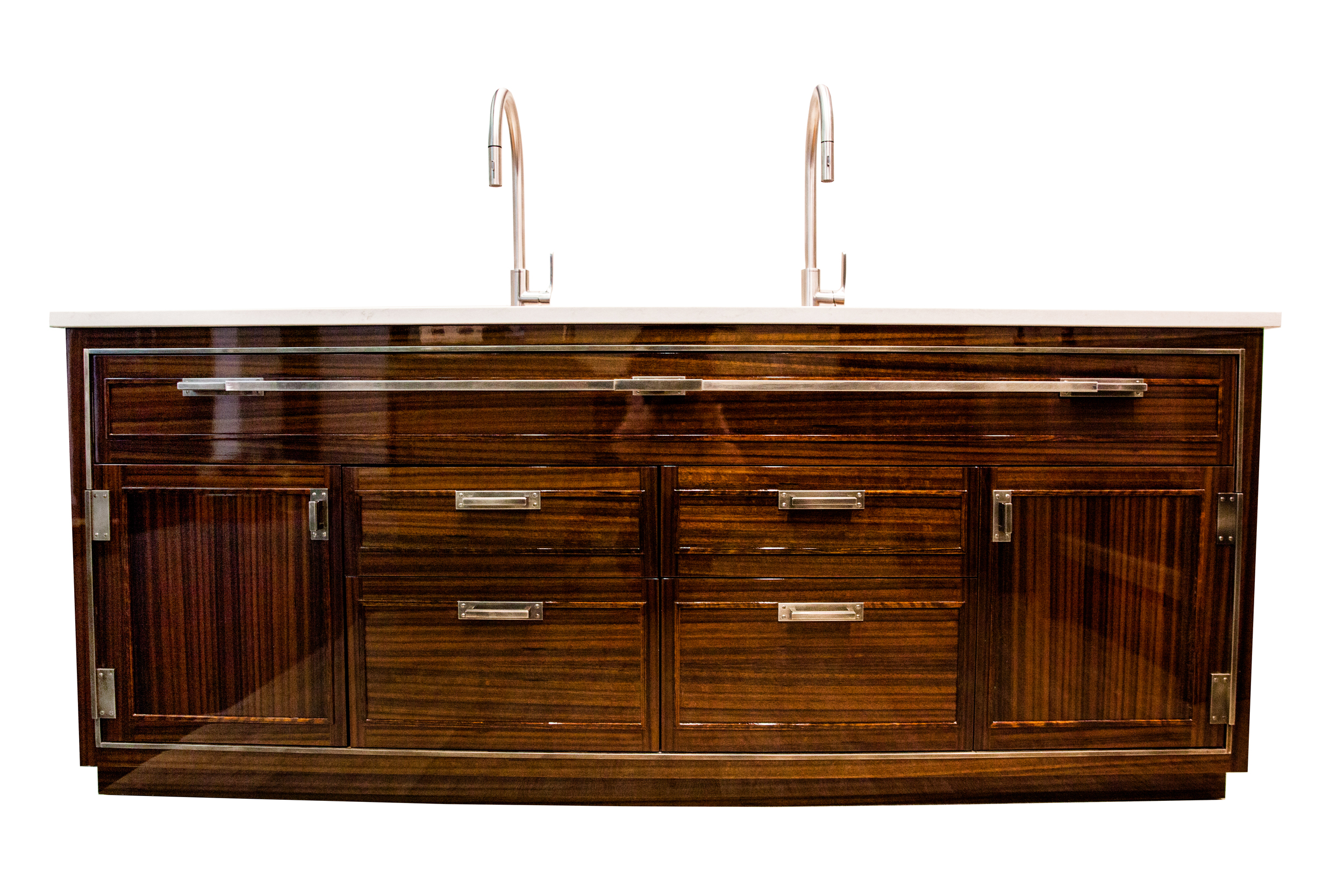 TULSA, Ok. – Finely finished cabinetry in fumed eucalyptus, seamlessly merged with appliances, wins a silver  in the Best of KBIS 2017 Awards at the Kitchen & Bath Industry Show. The Galley Dresser entry was developed by The Galley, based in Tulsa, Oklahoma, with Chicago designer Doug Durbin, Design Director of NuHaus. 
The Best of KBIS awards recognize and honor the best of the best from kitchen and bath industry on display at KBIS 2017. Awarded Best in Show and Best of Kitchen was Geoluxe Natural Stone; the Silver award for the Kitchen category went to The Galley Dresser. 
Inspired, the company says, by a desire to find solutions to problems that had existed for years in the way kitchens worked, (or didn't work), The Galley was invented by an award-winning kitchen designer whose vision was to create a central workstation hub where every task in his kitchen could be accomplished. The Galley has grown to be an entire line of super-functional, smart and stylish kitchen workstations where one can prep, cook, serve, entertain, and clean-up, all in one convenient place.
The Galley kitchen workstations combine multiple functions for food preparation
A provider of highly-engineered and hand-crafted products made in the USA, The Galley is now a kitchen industry leader in innovation, quality and just pure fun. The Galley Product Line is comprised of more than 50 different products, including Kitchen Workstations that include Culinary Tools such as cutting boards, bowls, colanders, drying racks, specialty serving boards, and other unique and functional components. 
Owner and CEO is R. Scott Anderson, a native of Oklahoma City, who began his business career with The Hertz Corporation, and became the number 1 execuive at Thrifty Car Rental in 1987. Atfer the two firms merged, he founded Anderson Capital Partners, LLC. Roger Shollmier, a former Jenn-Air salesman, is the inventor and chief designer of The Galley. A third partner is Chicagoan David Kotowsky, who established The Advantage Plumbing Group in 1992 with his father and brother, transformed that company into a leading decorative plumbing, hardware and kitchen business, Advantage Kitchen and Bath Gallery..
The Galley launched two new product lines in 2017: The Galley Tap, designed by David Kotowsky, owner of Hydrology of Chicago, a stainless steel kitchen faucet line, available in four finishes, specifically designed to work perfectly with the Galley Workstation. The other launch is the Best of KBIS 2017 Silver award-winning Galley Dresser, a line of high-end, functional and fully integrated kitchen furniture, has been designed by Durbin. it is available in 13 high-gloss finishes and nine custom hardware finishes, it resets the standard for kitchen furniture.
The Galley says its partners' success includes innovative and thoughtful designs, a unique go to market strategy, hand-made workmanship by highly skilled craftsmen in the U.S., the simple, comprehensive functionality of its flagship workstation, and a commitment to the highest standards of quality and service.
The award-winning, innovative Galley Workstation, is much more than a sink. It is a super-functional, smart and stylish workstation where one can prep, cook, serve, entertain and clean-up in one convenient place. Ideal for any indoor or outdoor kitchen, it works perfectly in both large and small kitchens. The Galley Workstation is available in six lengths: the IWS 2, 3, 4, 5, 6, and 7; as well as four double bowl lengths. Custom sizes are available. Designed and hand-crafted in the USA.Each Workstation includes a well-equipped Culinary Kit available in Natural Bamboo, Graphite Wood Composite, or High Density White or Gray Resin consisting of cutting boards, drying racks, stainless steel colanders and bowls with custom platforms that slide above and below each other. An impressive selection of optional accessories are available, such as a 2" Chef's Block in Bamboo or Walnut, a Wash & Serve Basin, Bottom Sink Grates and a variety of specialty Serving Boards.
Other winners include Best of Bath: Gold –  Toto, Neorest AC Dual Flush Toilet with Actilight; Best of Bath: Silver – Copper Shower Company, The Copper Shower Kit. 
Best of KBIS award winners were selected by the 2017 judging committee, which included:
Tony Izzo – CKD, Corporate Kitchen and Bath Manager at Curtis Lumber Co.
Jenny Madden – Allied ASID, LEED AP, Owner at Jenny Madden Design
Jamie Banfield – Principal Designer at Jamie Banfield Design
Molly Switzer – AKBD, Residential Sales Representative at Chown Hardware
Debra Bishop – CKD, Owner of Dwell On It Design, LLC
Have something to say? Share your thoughts with us in the comments below.