Factories of the future: Panel processing innovations at Ligna
May 28, 2019 | 3:43 pm CDT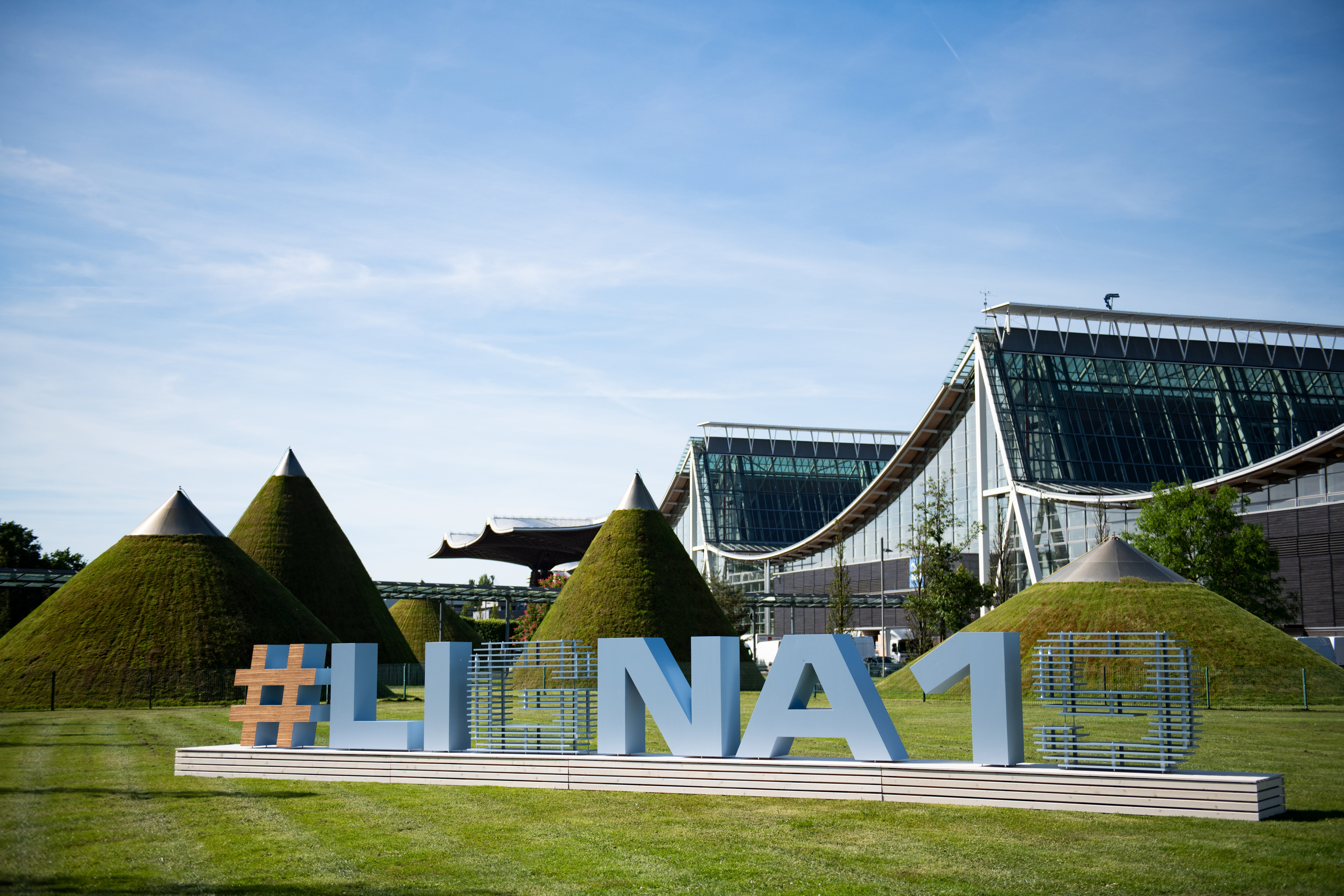 HANNOVER, Germany - Smart factories, integrated manufacturing solutions and new panel processing technology for facilities of all sizes was out in force for the thousands of visitors in attendance at LIGNA, the world's largest woodworking show. Stretched across more than 1.4 million net square feet, and featuring displays by more than 1,500 companies,  the biennial LIGNA runs through May 31 at the Fairgrounds in Hannover, Germany.
Walking the halls at LIGNA, Woodworking Network took note of some of the new technology for panel processing on display. More products will be added, but here is a look at what caught our eye today:
Stay tuned for innovations in solid wood machining, surfacing technologies, and other advancements in wood products manufacturing.
Homag Edgeteq S-500
Along with many new products, the Homag Group's 5,000-square-meter display in Hall 14 focused on digital production concepts and integrated and networked solutions. Featured were the company's new generation of robot saws, the SawTEQ B-300 and B-400 flexTEC, and the Centateq P-210 CNC machining center which can be equipped with up to 24 tool change slots and a maximum of 21 vertical and 10 horizontal drilling spindles with patented spindle clamp. For edge technology, Homag displayed the new entry-level Edgeteq S-240 model 1240, which is "tapio-ready" and equipped with the new powerTouchcontrol system. Also new, the Edgeteq S-500 series can be equipped with the MS40 multi-level routing unit, the MF60 Servotrim multi-function profile routing unit, the BF40 fine routing unit and the MZ40 multi-level scraper unit, and can be used with PUR and airTec applications.
Biesse's Ray Force
Automaction: integrate, connect and digitize was a theme at Biesse's stand in Hall 11, which included more than seven robotically operating systems and 49 machines spread across 6,000 square meters. Included were the new WN 6 ROS (Robotically Operated System) panel saw, Rover CNC machining centers with more advanced FPS (Feedback Positioning System) for the work table, delivering improved performance in terms of speed, productivity and safety, along with with edgebanding machines, including the Ray Force zero glue line contour edgebander and the Ligna debuts of the Stream A Smart and entry-level Akron 1100. Also featured, the B_Cabinet Four software module can manage all stages of furniture production, from 3D design to the entire monitoring of the production cycle.
SCM robotics
Inside Hall 13, the theme of SCM's  4,000-plus square meter booth was the Smart & Human Factory, a cutting-edge production model based on digital and automation systems and allowing for advanced man-machine interaction and 360-degree control over the entire production flow. The flexible, modular and easily reconfigurable systems are designed to respond in an increasingly effective and fast way to the challenges of mass customization and include the integration of robotics to minimize the low-added value and repetitive human tasks. Highlights also include upgrades to Maestro Suite, part of the company's IoT platform, the NeXting Generation of CNC machining centers, as well as a Stefani edgebanding cells with square edging technology and batch one machining.
IMA Schelling's circular workcell concept of the ls 1 panel cutting cell
IMA Schelling's stand in Hall 12 showcased robotics, panel processing and material handling solutions. The BIMA Px80 gantry routing machine features a diode laser and 6-axis robot, the Novimat Contour L20 lipping and veneer edgebanding machine with multi-profile technology, as well as the ls 1-panel cutting line with leaner processes and the fh 4 panel saw. With its IPC.NET plant control system, IMA Schelling has developed an intelligent process control system for machine and workcell systems. The company also presented its new Zimba holistic IoT and service platform and Industrial Consulting portfolio.
Multi-radius profile scraper on Altendorf Group's Hebrock K
Also in Hall 12, the Altendorf Group made its debut to the international market, showcasing the latest innovations, options and improvements to Altendorf sliding table saws and   Hebrock edgebanders, as well as digital services and connectivity, between machines. New features on the sliding saws include: remote maintenance/service support, new accident-avoidance system, the availability of PALIN as an additional workpiece support, parallelogram cross slides (PQS) for positioning without change, and a Duplex double-sided miter fence. Improvements to Hebrock edgebanders include: new design,  tilted position infeed fence, fluid level monitoring of the glue pot, multi-radius profile scraper, and barcode scanner.
Holz-Her's Nextec 7735 lift
Part of the Weinig Group, Holz-Her has on display a wide range of panel sizing and CNC routers, including its expanded Nextec CNC technology at the booth in Hall 27. The new Nextec 4.0 office software module is now a standard feature of the Push, Automatic and Lift Editions; another component of Nextec 4.0 is Warehouse, designed for managing order directly at the machine. Other machinery debuts include the Evolution 7400 series CNC for four-sided formatting, plus new looks and features to the Tectra 6120, Return Master 5920 and Lumina 1596 edgebander.
Koch Endmaster K base.line
Among the products on display at Koch's stand in Hall 12, the Endmaster K and P single-sided edgebanding and hot profiling machines with manual feed are for the just-in-time production of frame and furniture parts, and single-drawer components. New to the Endmaster K-base.line is a formatting station to go along with the routing unit.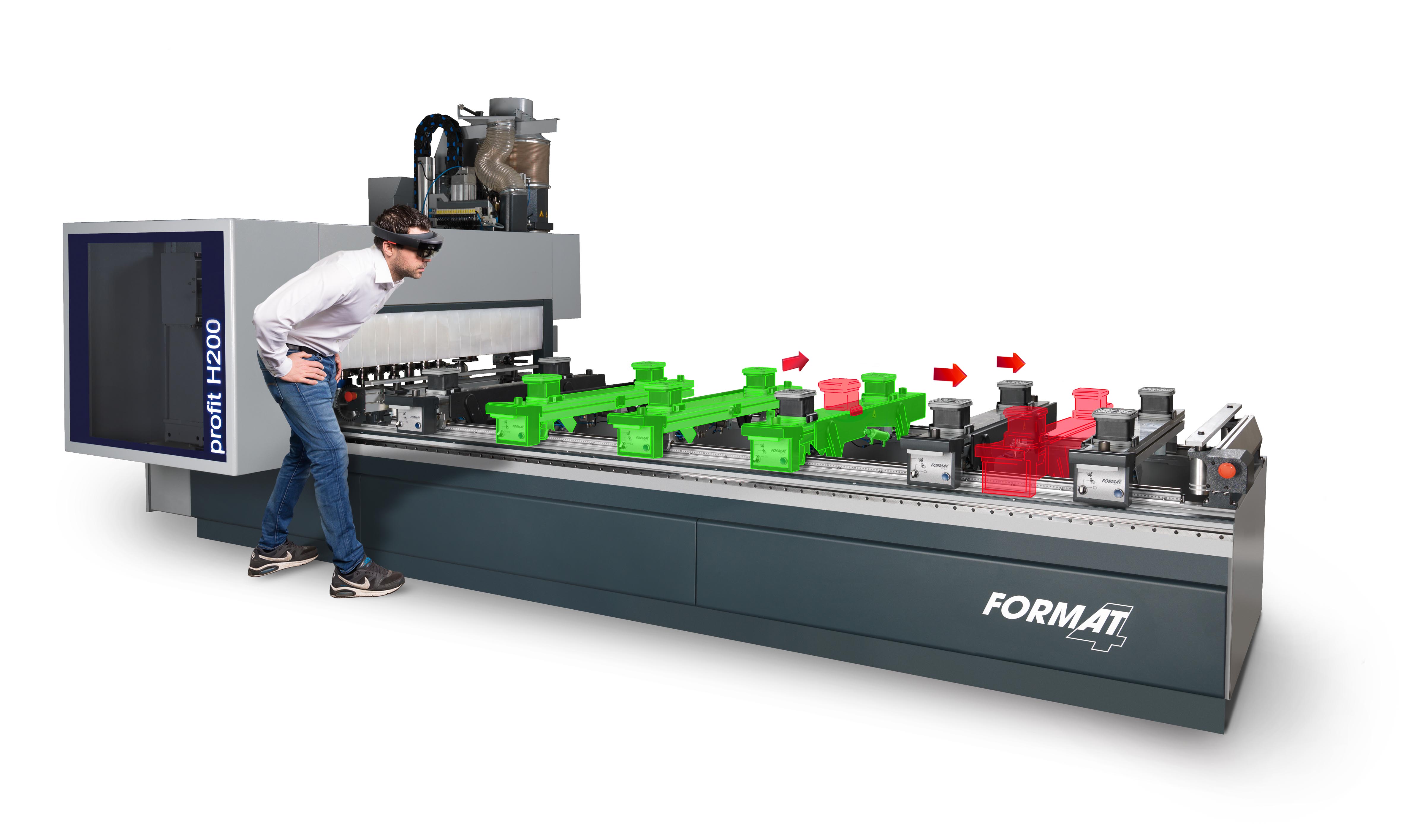 Felder's Format-4
One of the highlights of the more than 100 machines, live demos and new technologies shown by Felder is the Preventive Contact System safety technology. Also seen at the company's stand in Hall 13, are new beam and panel saws, such as the Format-4 kappa 590, a sliding table saw for angle cuts in all positions with the double pivoting device of 92 degrees, CNC  and productive technologies including console, extraction and workpiece positioning with augmented reality glasses, software, edgebanders for all levels of investment, and material handling and warehouse technologies.
Have something to say? Share your thoughts with us in the comments below.