Storage design options for the living room
By Kate Diaz
January 27, 2021 | 4:13 pm CST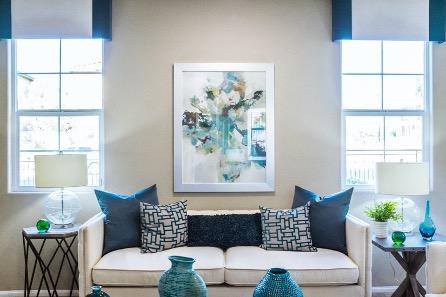 With a little creativity, ingenuity and common sense, you can transform a small living room, making it seem much larger. You may think that a room with limited floor and wall space cannot be designed to be warm and appealing. Yet some of the most attractive and inviting living spaces can be quite compact.
The secret to making them practical and compelling as living spaces is choosing streamlined furnishings. Every item of decor exhibits heights of fashion, and some have multiple functions.
Planning smart furniture placement and effective storage space
If your living room is small or irregular in shape, your overall space may be significantly limited. Yet
designing this interior
with stylish furniture and decor can be an enjoyable creative challenge. Some helpful tips for furnishing small interior living spaces with an emphasis on both fashion and function include the following:
1. Select ideal furniture for enhancing a small space
 Choose furniture that requires no extra floor space, but has a wide or tall visual effect. For example, a black leather sofa or beige suede couch each have a spatially oriented visual effect on the viewer.
While a sleek black sofa with simple lines will appear to be longer than its measurement, a white couch will look fuller, with more volume than it has. These two qualities can change your visual perception of a room when you enter, making the space seem longer or wider.
A tall bookcase in natural wood tones or floor-to-ceiling window curtains in light hues can make the room's ceiling look higher. Attractive vertical Venetian blinds in natural wood hues or light neutral tones can have the same effect. 
2. Choosing large area rugs or accenting natural timber floors
Contrary to popular opinion, small rooms seem to enlarge when decorated with large area rugs or beautifully finished wood flooring. The trick is selecting a rug for your main seating space that can accommodate the couch, coffee table and easy chair. All of these items should fit on the rug.
If your living room has gorgeous red oak or rich walnut flooring, you can emphasize its stunning variations in color. By adding a cabinet or side tables in matching or similar natural wood tones, the room will seem to expand. All the stunning wood surfaces will glow with natural beauty and allure, making your room dimensions seem larger. 
3. Furnishing with sleek, minimalist decor 
By selecting streamlined minimalist style furnishings and accessories for your small living room, the space will seem larger. It will also have a more open, calm and pleasing atmosphere. 
Tall charcoal-grey, black or navy-blue cabinets, shelving and bookcases in matte-finish painted metal introduce a heightened sensibility. A long slender dark leather or fabric couch with a black or rustic chrome platform base adds visual width.
Add simple, subtly painted pendant lights suspended over the couch and a smoked glass coffee table on a black spool base. You will be amazed at just how much your main living space seems to open and expand. Another effective design tip is installing geometric tile flooring with a continuous wave-like pattern. It can make your room seem virtually limitless as well as offering
easy floor maintenance
. 
Designing with furniture and decor
The best types of furniture and decor to include in your small living-room interior include the following:
• Most Suitable Sofa: Although the sofa you select for your small living room can be regular size, it should have a sleek, streamlined design. Your preference may be a cocoa-colored leather couch with a slender back and cushion style. Perhaps a canvas-covered futon-sofa with a simple maple wood platform base is more your style.
Either choice offers comfortable seating and a simplistic style that opens up the entire room. The futon-sofa base can have convenient builtin storage bins. In addition, some modern couches and
wall-hugging recliners
include drawers or slender cabinets underneath. 
• Attractive Chairs: Chair styles that are attractive and give your living room a pleasing uncluttered look include slim-lined handcrafted wooden chairs. Their slender carved frames and slim cushions seem to conserve space while offering casual comfort. 
Film director's style chairs with industrial stainless-steel frames along with canvas-strap back supports and seats offer basic simplicity. You may like metal or wooden bench seating across from your couch as well as a few simple fabric poufs. As cubes or cylindrical shapes, these soft yet sturdy pouf seats lend convenient comfort and basic style. 
• Ideal Lighting: The type of lighting you choose can make a huge difference in how large or small your room looks. Slender pendant lamps on long cords or chains make the space extend upward visually.
By including tall slim floor lamps with goose necks or multiple adjustable lamps, you can feature different areas of the room, often enlarging their appearance. Adjustable overhead spotlights, recessed ceiling lights and sconce lamps can also highlight, diversify and open up the room's interior. 
• Desirable Coffee Tables: Your ideal coffee table for a small-size living room is slightly lower than the surrounding furniture. It should be about an arm's length away from the sofa and chairs or poufs. Your coffee table brings everyone present together to converse and share snack foods and beverages.
Subsequently, you should make sure that all family members, neighbors or guests seated in this area are facing one another. Visiting in your living room should be easy, comfortable, engaging and relaxing for all. 
 A more open, inviting and enjoyable interior
When organizing, furnishing and decorating your small-size living room, your goal should be to enhance and celebrate this interior. You want to make it attractive and desirable to everyone who enters this room. At the same time, you want your major living area to be completely comfortable and enjoyable. 
By using some simple yet highly effective interior design techniques, you can expand and open up the space significantly. One important factor is selecting an area rug that is large enough to accommodate your sofa, coffee table and easy chairs of varied designs. This provides an ideal gathering place for family, friends and acquaintances. 
When you select furniture with sleek, streamlined designs in simple materials, you emphasize the room's clean, basic lines and design. By adding a variety of adjustable lighting options installed at different heights throughout the room, you expand the viewer's visual perceptions of this interior space. 
By arranging your main living room seating area attractively and practically, you will please everyone. Household members and guests alike will be seated at an arm's length from the coffee table. This promotes easy conversation over delightful snack foods and favorite beverages by all present.
Everyone can be facing one another while seated in a comfortable and stylish setting that is highly fashionable and functional. Your new living space creation will offer good times to be shared by all in a seemingly larger home haven with ultimate creature comforts and style. 
Have something to say? Share your thoughts with us in the comments below.