Contract furniture highlights from Stockholm
February 25, 2020 | 8:20 am CST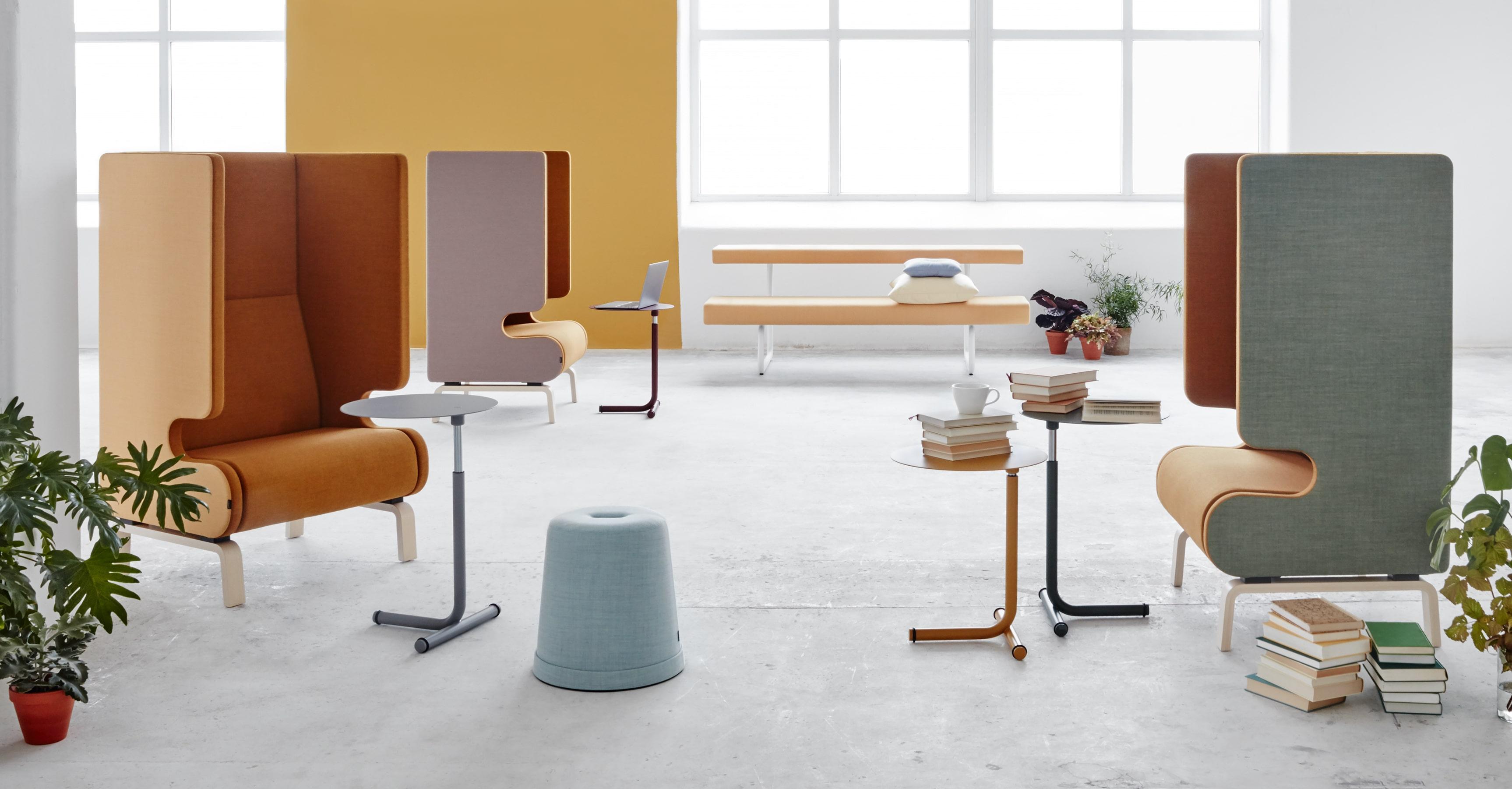 STOCKHOLM, Sweden -- The Stockholm Furniture Fair is held yearly in February and unveils the latest trends and products from Scandinavia. The Fair is known for having the most comprehensive selection of Scandinavian design. Scandinavian Spaces visited partner brands at the Stockholm Furniture Fair.
"Stockholm Furniture Fair is a great opportunity for North American designers to discover new brands and get a head start on fresh color trends," said Sarah Miracle, interior designer at Gensler, Austin.
Design news from the fair includes:
Bobby modular sofa system
Design: Stefan Borselius and Thomas Bernstrand for Blå Station, a Scandinavian Spaces partner.
The BOB family is growing with a newly arrived younger brother. Bobby can gather around tables, or be stand by himself. Alternatively, he can assemble himself into a slender sofa thanks to strong magnets. The design has a reduced footprint perfect for areas where space is limited.
Bobby modular sofa
Saga decorative sound diffuser
Design: Joris & Sander Oudendijk, Carl-Oscar Pressfeldt for Nordgröna, a Scandinavian Spaces partner.
In an architectural style known as stave, Scandinavians once created buildings which looked like they came straight out of fairy tales. Nordgröna combined this classic style with modern function, and named it "Saga" - Swedish for fairy tale. Saga is offered as a collection of click-connecting shapes & shades of solid cork, offering new possibilities for creative interior design.
Bolero sofa series
Design: Nina Jobs for Skandiform, a Scandinavian Spaces partner.
Comfort and fashion meet when the new Bolero sofa series occupies the room. With its soft shape and multiple layers, Bolero combines a special expression with a feeling of coming home. The name is a nod to the short, tailored jacket that is worn over your clothes.
Bolero sofa series
Hopper laptop table
Design: Mattias Stenberg for Materia, a Scandinavian Spaces partner.
Hopper is a practical table with attention-grabbing design. The possibility of adjusting the height of the table between 21 and 29 inches makes it adaptable to other furniture and environments. The adjusting function is activated by pressing a button on the tabletop. The technical features are concealed in the pillar design.
Frame Mobile writing board
Design: Christian Halleröd and Matti Klenell for Lintex, a Scandinavian Spaces partner.
A double-sided glass mobile writing board with a bentwood frame. The softly rounded frame defines the work surface and doubles as a handle when moving the board between locations. Frame mobile is available in two variations: a model with coordinating light gray feet, castors, and frame, and another with solid oak feet, black castors, and matching oak frame. The glass is available in Lintex's carefully selected 24 standard colors.
Scandinavian Spaces offers furniture and interior systems for the modern-day work environment. With a foundation rooted in Nordic design, the brand has stayed true to its core values of minimalism, ergonomics, and sustainability. The carefully curated line of authentic design is provided by a community of industry leaders: Blå Station, Götessons, Karl Andersson & Söner, Materia, Minus Tio, Nordgröna, Skandiform and TreCe. See http://www.scandinavianspaces.com
Frame mobile writing board
Have something to say? Share your thoughts with us in the comments below.