IWF Atlanta returns after 4 years
September 1, 2022 | 11:24 am CDT
Robb Cohen Photography/IWF
Photo By Robb Cohen Photography/IWF
The International Woodworking Fair (IWF) attracted thousands of attendees from North America and around the world. This year's event – the first in-person IWF in four years – was a huge draw. All halls at the GWCC — A, B, C, and the newly constructed BC connector — were occupied by more than 900 exhibitors.
The day before the fair began featured all-day symposia, which took place on a variety of industry-related topics as part of IWF's Education Conference. Woodworking Network sponsored two of the symposia – Closets and CNC.
The Closets Symposium, also sponsored by Closets & Organized Storage, CCF Industries and Richelieu Hardware, provided attendees with the latest closet industry research, design trends, and business and marketing advice.
The CNC Symposium, sponsored by KCD Software, CNC Factory, Thermwood, Mozaik, Lobo/Castaly and Casadei Busellato, offered an in-depth opportunity to explore ways to use CNC in the shop. The event was designed to put attendees face-to-face with experts who could answer their questions.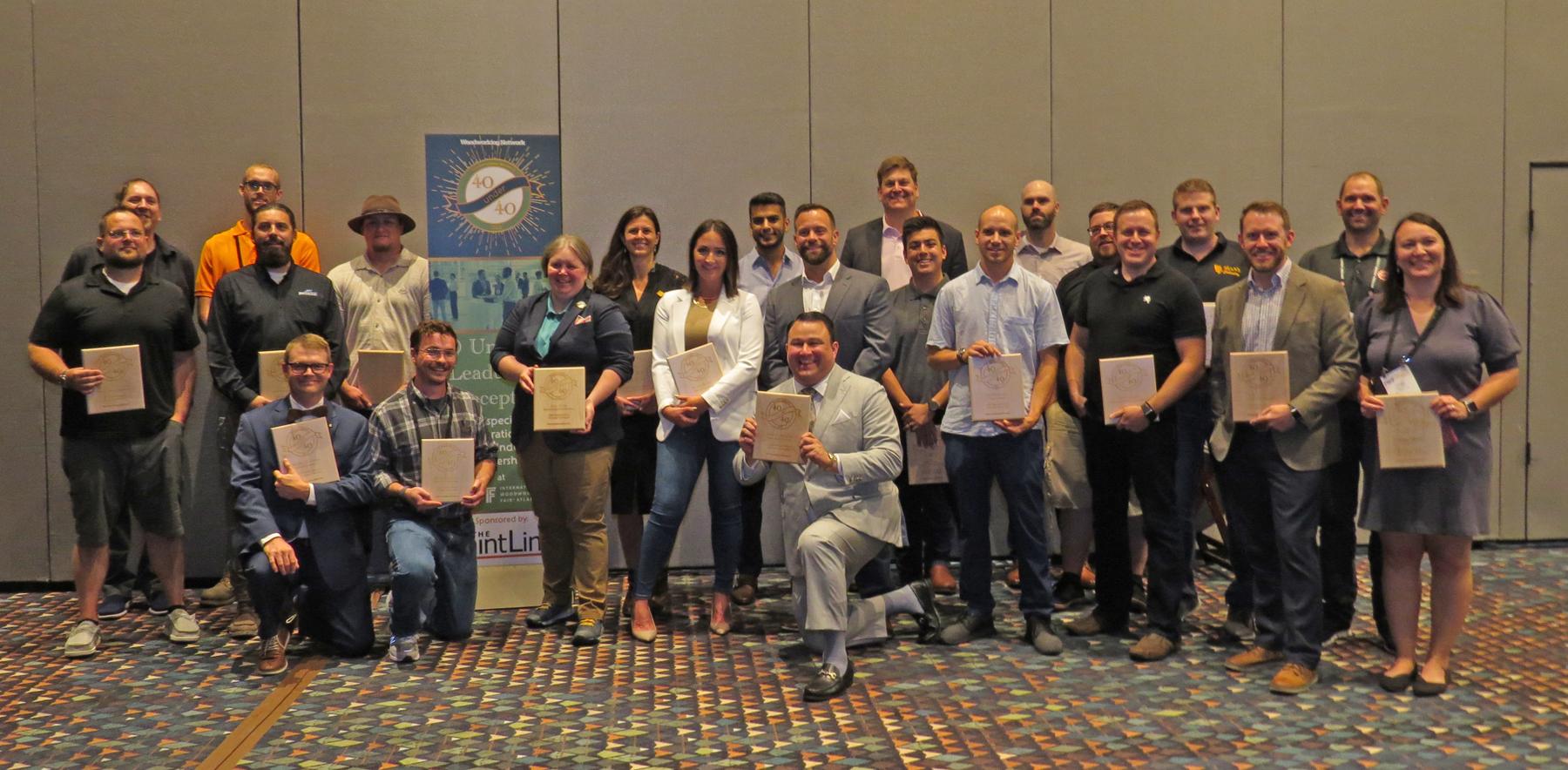 40 Under 40 Leadership reception
An enthusiastic crowd was on hand as honorees of the 2022 Wood Industry 40 Under 40 were recognized at a special Leadership Reception sponsored by PaintLine. This year marks Woodworking Network's seventh annual awarding of the 40 Under 40, which celebrates industry professionals making an impact at their jobs, in the community, and in the woodworking industry.
Challengers award winners
Winners of the 2022 Challengers Distinguished Achievement Award were announced on August 23 during the International Woodworking Fair.  The Challengers Award promotes the development of innovative new technology in woodworking machinery, supplies, and services for the furniture, kitchen cabinets, architectural woodwork, store fixture, upholstery, or specialty and general wood product industries.
Selected from a field of 20 finalists, the seven award-winning companies and products are:
Bacci America: The T4MO CNC is a CNC turning lathe with 4 vertical spindles.
Biesse America: The T-Jet dust mitigation system.
Felder Group USA: The PCS (Preventative Contact System) is a saw safety technology.
Northtech Machine: The iDovetail is a single-spindle CNC dovetailer with a three-axis system.
Salice: The CQ Full Access hinge.
James L. Taylor/Cameron Automation/JLT: The Rack & Stack nests and bundles flooring strips.
Topp Line/Blind Stapler: Joining system that eliminates the need for pocket screws, biscuits, or nails.
Student design awards
Winners of the 2022 Design Emphasis student contest were announced during IWF. Six winners were chosen out of 48 finalists.
Design Emphasis is widely acclaimed as the foremost furniture design competition for design students and offers them a unique opportunity to demonstrate their talent and originality before a judging panel of furniture industry designers, manufacturing and retail executives, and members of the trade press who have design-oriented backgrounds.
Category winners are:  
Rebbecca Juliette-Duex (Haywood Community College) for Design Creativity – Best in Show
Cam McGookey (Herron School of Art & Design) for Accent Tables
Seth Lawrence (Appalachian State University) for Case Goods
Soojung Yoo (Art Center College of Design) for Commercial/Office Furniture
Banner Knowles (Appalachian State University) for Design Creativity
Xiaorui Yin (Art Center College of Design) for Seating
News from the show floor
According to show organizers, more than 100 exhibitors displayed hardware, software, equipment and materials for the closets and storage solutions market.
Several companies like Cooper Enterprises and Kessebohmer USA had storage on their minds with new closet system launches planned for next year.
Lighting is in huge demand, and many companies, including Rev-A-Shelf, Hardware Resources and Hafele, showcased their new and updated options. Richelieu Hardware displayed new closet accessories and Sugatsune shared updates on a variety of door hinges.
When it comes to materials, antiviral and fingerprint-resistant properties were heavily promoted as well as natural textures and woodgrains. REHAU debuted RAUVISIO ingrain - a new wood fiber laminate, and Wilsonart showcased its new Woodgrain Staining collection. 
Floating shelving options are still popular with companies like Element Designs showing updates to its eCube Shelving Systems.
For more details on product launches, visit the IWF Events channel.
 
Have something to say? Share your thoughts with us in the comments below.