Engineering a career in closets and more
November 11, 2019 | 10:57 am CST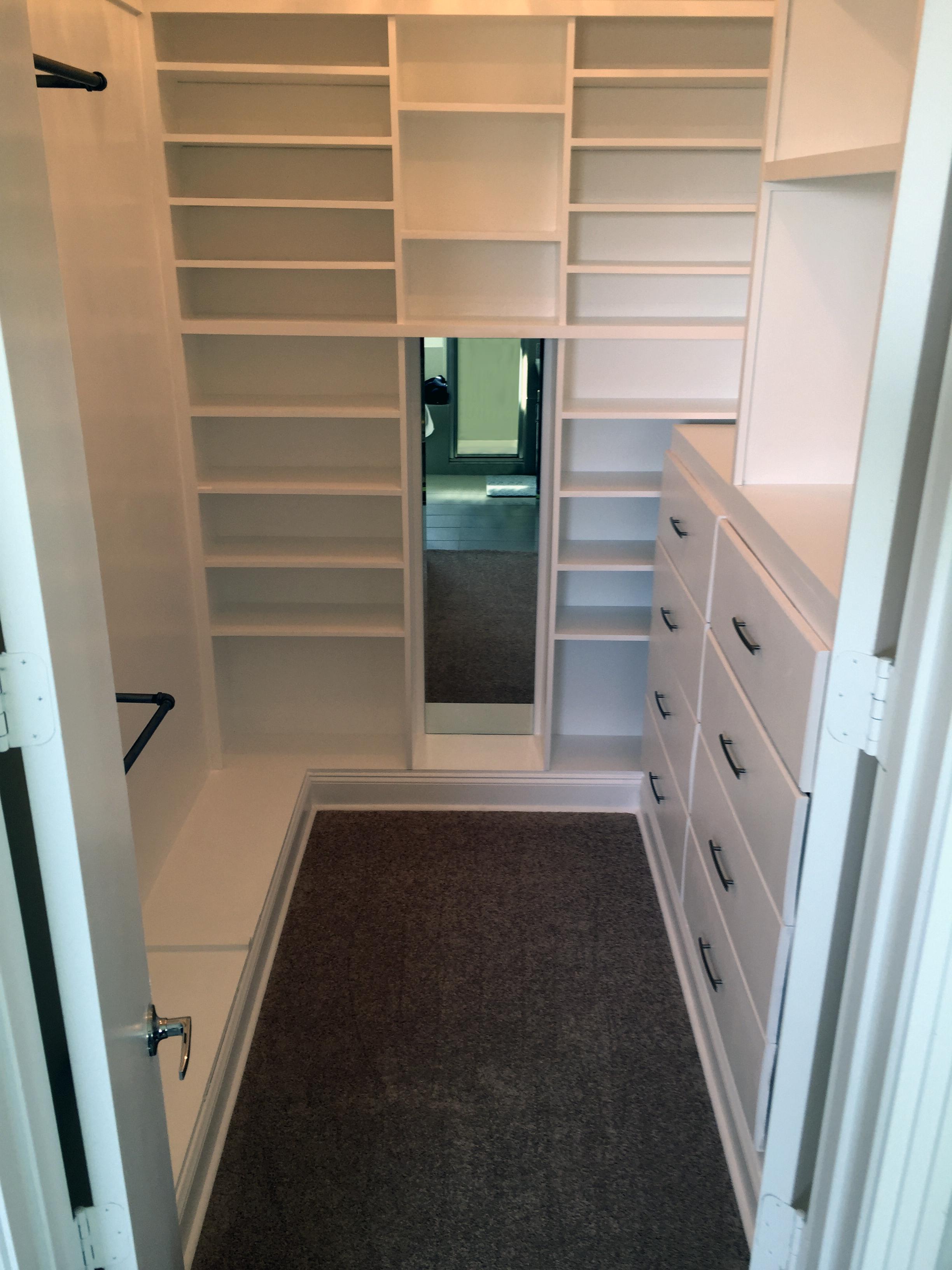 Brandon Wilson, founder and owner of Houston-area based Wilson Custom Carpentry, has been growing and expanding his business since its founding in 2016. "I started with cabinetry, including bookshelves and furniture, then added closets and most recently custom artwork," said Wilson. 
Pre-2016, Wilson, who studied electrical engineering in college, followed a completely different career path, which often took him to a different part of the globe. "After college I was working in West Africa with my then employer as a drilling engineer for a service company. I was laid off due to a downturn in the oil and gas industry and returned to the U.S. in search of a new career."
Wilson first learned woodworking skills from his grandfather. "My grandfather was a mason, but his hobby was woodworking and it became mine too throughout my childhood and beyond." 
Wilson inherited his grandfather's love of woodworking and also a spirit of giving back to the community. Wilson is a member of the 2019 "class" of professionals from around the country chosen for Woodworking Network's 40 Under 40. He was recognized for his woodworking work, along with his charitable endeavors with Habitat for Humanity and helping people rebuild after Hurricane Harvey. He also volunteers to work with youth in the area, working with non-profit groups.
Wilson's first closet request was from a friend who was purchasing a new Houston condo. "I designed the custom closet based on a discussion with them and just kind of free-styled it. When it was finished, the customers were very pleased and so was I. The client posted pictures online and people started reaching out to me, and it resulted in additional closet projects."
Wilson especially enjoys the design phase. "Being able to take a space and transform it is something I love. Taking a standard closet space and turning it into something custom is great."
For his custom work, he typically starts a dialogue with the client, asking why they want to do the project, what do they imagine the new space will be? I take tons of notes and ask them to send pictures of anything they have seen online or in stores that they have found interesting. I incorporate all (of that) into the design so it is truly customized."
Wilson periodically checks in with customers, which leads to valuable feedback as well as additional jobs. Sometimes he learns something he wasn't expecting, but was very happy to hear. "One client told me the closet I created for her is 'Not only where I store clothes, it is a place I go to meditate and relax after a long day at work.'"
He also remains in touch with past clients. "Each year I send postcards and thank you notes to past customers. I ask them to share any feedback they might have and I take the feedback and incorporate it into the next project. It has also led to additional projects."
In less than three years, Wilson has added a sizable amount of machinery to his shop, located in Humble, Texas. He converted his garage into a workspace and recently expanded it to a total of 800 square feet. He has been adding equipment but has not converted to CNC machinery yet. "I still work with traditional woodworking tools and hand tools. I am a big fan of safety so I have taken some time to put my background of engineering to work and I use a lot of lean concepts in my shop." 
Wilson is a fan of the SawStop table saws. "The safety features first attracted me and they perform well. I am also a big fan of keeping dust at the source. I like Festool and use a lot of their products. I had a chance to do a simulator work shop at AWFS in Vegas this year, including Fujispray, which is my preferred choice for finishing products. 
Since making a career change from engineering to woodworking, Wilson gives credit to his engineering background for making his transition easier. "I have worked for three Fortune 500 engineering companies and they all stress safety, not just in the shop but traveling to the job site. I know the importance of storing finishing products when done with them and the need to keep them from sliding while in transit. Pre-planning is very important. I credit engineering with giving me a great background in design.
I still sketch things on paper and I use Mosaic software for designing closets and cabinets. I can basically take my drawings on paper and put them into the software then print to create a 3D model so customers will see what a project will look like upon completion. All of that is what I routinely did in engineering: pre-planning, planning, execution and installation. I typically lay everything out in a project management software called Zoho. I put all my existing projects in Zoho and I can create and give a timeline to each job, which helps me to stay on schedule. For any work I am subcontracting a portion of the job out, I can put it into the software and it automatically emails the subcontractor. The subcontractor can add notes as well. It keeps everything nice and neat and easy to follow as the job progresses. Another way engineering helps me in my new line of work is knowing the metric scales and standard scales for measurements and being able to quickly do calculations and make adjustments. Sometimes things don't carry over from the design to the construction, so I can easily make adjustments on the fly. I can still come out with a successful project and not have to waste a lot of time."
Another benefit from an engineering background is learning how to eliminate waste. "We talk about how to preserve woodworking so it is around for a long time and one factor is managing the amount of waste we create. We need to be mindful of our resources so they will be there for the long term."
What he has learned along the way: "I learn something new with each project. It is the part that helped me develop this passion and keeps me interested in the work and learning all I can. There are so many unknowns when you are doing woodworking. I think back to 2016 when I was starting to get serious about it as a career and to make money from it. I had about three tools at the time: a circular saw, a miter saw and a cordless drill. I was getting projects done and I think now, how was I able to do that with just three tools?"
Wilson has accumulated "tons" of literature and woodworking books. "I attend seminars and I go to exhibits to learn from the experts in the industry. It is also important to get into the shop and try new things. I enjoy exploring new tools and equipment, learning new techniques and being open to best practices and sharing. Attending the woodworking shows and seminars (including the 2019 Cabinets & Closets Conference) has been a great help."
Another piece of the custom work he is doing is art. "I am working on some wooden bow ties that people can wear. Bow ties are typically made out of fabric or other soft materials. I'm creating a few prototypes of 3D designs, which I can engrave to personalize and also put different elements and color schemes to it. The possibilities are endless. It is another thing I am working on and I will do some Christmas designs as well. Traditionally, we think of woodworking as boxes, squares or circles. I want to create something for people who want a different look when they go out or attend a special event."
One of his favorite projects was one he did for a military veteran. "His daughter, a friend of mine, reached out to me after her father retired from the military. She wanted to give her Dad something he could use to keep his memorabilia in. I designed and built a military box for his uniform, medals and also a United State Flag. I was happy to learn the recipient was very pleased with the present."
"I thank God for giving me the vision to turn a hobby in to a business and maintain a passion for woodworking," Wilson says. "None of this would be possible without my faith in God."
Have something to say? Share your thoughts with us in the comments below.