5 Rules for Adding Lighting to Your Closet Remodel Project
July 17, 2015 | 9:29 am CDT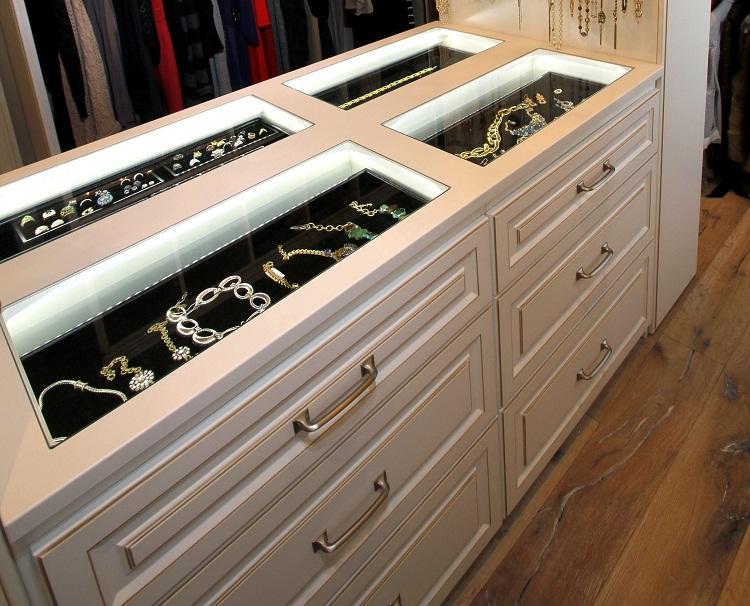 LED lighting adds a WOW factor to your work – that's why the trend is so hot right now. Customers love the look and the fact that they can spotlight their favorite Louie or pair of Manolos. My customers that are currently selling lights love it too, because their average sale is going up and once you get the hang of it – it's really not that complicated.
Let's start off with some basics 
The most cost effective ways to light an area are with puck lights or LED tape. There are many other options on the market and unless you are doing super high end or commercial, the price will scare off your client.
"Rule #1 – Pucks or LED Tape is the most cost effective 
way to go"
How to decide between pucks and tape 
Pucks are great if only lighting a couple of upper cabinets or accenting your favorite collectable. The downside to pucks is each light has to run back to the transformer or mounting block – the wires could get messy – imagine having 12 pucks in a large walk in. Typically you would need a transformer for each wall to make running the wires a little easier – each transformer will cost you about $25 and each transformer could require a switch if the outlet is not already controlled by one. Leading to additional money and wires.
"Rule #2 – Pucks are great for accent lighting or smaller jobs"
When is LED tape the best option 
Tape is great when you want more of a functional light. Many of my accounts run the tape above closet poles or behind fluted moulding, when lighting a closet. It works underneath upper cabinets to light counter tops or prep areas.
"Be careful when adding lights above a mirror in a hutch section – the reflection is distracting"
The major benefit to tape is it's a linear light, which means that each piece of tape can be connected to the previous piece – you don't connect each piece to the transformer.  This saves you money on transformers, switches and labor.
"Rule #3 – Tape is great for walk-in closets, work areas and commercial applications"
Warm vs Cool Lights
LED lights come in a wide range of colors – to keep it simple there is a warm yellow light and a bright white light – think the Apple store. Most of your clients will believe that they want a bright white light, that isn't always the best choice. The white lights work great in a contemporary situation – if you are building white closets or anything glossy. The white lights will brighten the material. Warm light works better in most other situations. Warm light will bring out the grain in the wood.
Of course this is personal preference – a good way to remember is–
"Rule #4 – Warm (W) for Wood grains / Cool (C) for Contemporary"
Switches
If your client has an outlet controlled by a wall switch – skip this section, pour your favorite glass of Merlot and relax – you're done. Not so lucky – there are a ton of options. The two types that I typically sell are a basic rocker switch or a remote dimmer. The rocker switch is a cost effective way to control the lights – the installation is easy – a ¾" hole in your panel, push the switch in the hole and connect the wires between the transformer and mounting block. The biggest problem is hiding the wires, most hide in fluted columns or backing. The dimmer switch is a little more expensive, but there is no additional wiring. Plug the sensor into the transformer and you are done. Many of my customers offer this as the only option so that they don't have to worry about additional wires.
"Rule #5 – Controlling the lights with a remote is easy!"
These are a few of the basic questions you need to ask yourself when considering lighting.  Lighting has a come a long way and is made with the installer in mind. There is no reason for you to lose this work to the electrician.
Are you offering lighting in your jobs? What has your experience been like?
As always if you have any questions please post in the comments section below or send me an email at
richdemarco@optonline.net
Have something to say? Share your thoughts with us in the comments below.