Bustling Cabinets & Closets 2017 was busy until closing bell
May 8, 2017 | 11:12 am CDT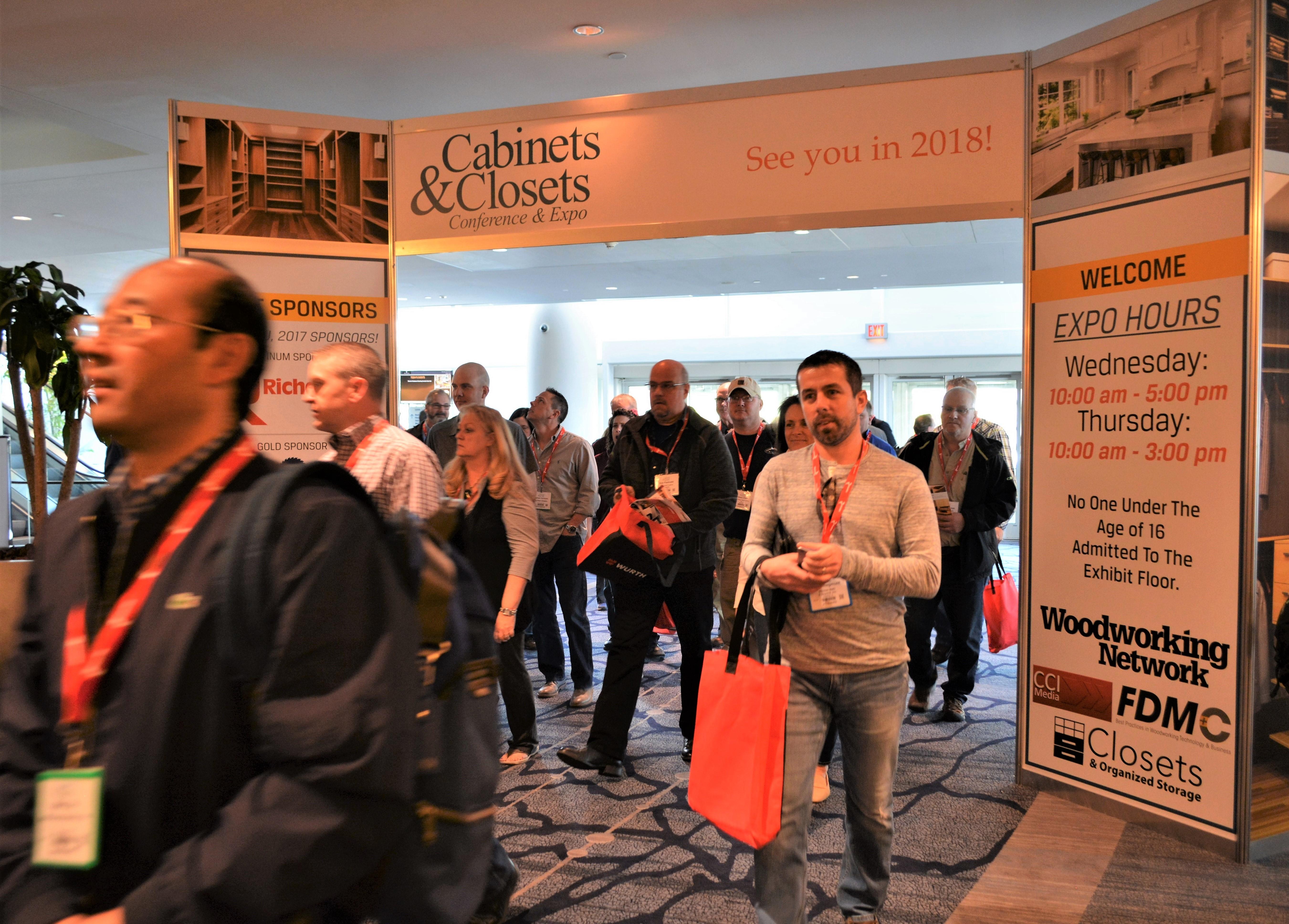 Photo By Carroll Henning
SCHAUMBURG, Ill. - Hundreds of closet companies, custom cabinetmakers, and millwork firms poured into the 2017 Cabinets & Closets Conference Expo during its three-day run in April, viewing nearly 90 exhibitors of machinery, software and supplies.
 
More than 1,000 people crowded the two-day expo, April 12-13, at the Renaissance Convention Center in suburban Chicago, with about two-thirds of the attendance arriving the first day of the show.
Related educational sessions, including a three-track conference program on April 11, also saw strong registrations for 2017.
Keynote presentations and free technology and supply conference sessions drew healthy crowds during the event, including a sell-out Ideation Breakfast sponsored by Osborne Wood Products, and a heavily attended free keynote by co-presenters Lauren Mobyed of Google and Todd Bairstow of Keyword Connects. Mobyed is Agency Relationship Manager at Google, working with many of the largest advertising agencies in the world to help them drive online results for clients around the world. Bairstow is a well-known online marketing expert with 18 years of experience in this rapidly-growing field, and has presented at NARI and KBIS. He founded Keyword Connects in 2005, with a business plan to generate leads for his clients on a 100 percent performance basis.

Bairstow also presented a session the day prior during the Closets Conference on SEO for closets businesses on April 11. That track along with a Cabinets Track and a Lean Management track had record numbers of attendees. "This was our best registration in 10 years," said Carroll Henning, show manager for the event.
 

A big attraction is the working machinery showcased on the floor - with 10 exhibitors showing machines, from panel saws, to edgebanders, to CNC routers, and joinery systems. Putsch is launching its first edgebander, which will make a U.S. debut at the show.
 
Wood components will also dominate the show floor. JB Cutting will debut multiple color matches across all product lines to its major textured, embossed-in-register, thermally-fused laminate panels.  
Among exhibitors, 10 were showing software; 20 were showing hardware and components; and 17 were first-time exhibitors.

 
A record crowd of 200 attended the three-track conference April 11, the day before the show opened. Industry experts from top cabinet and closet firms, as well as lean management experts, spoke to registrants on business operations topics, such as workforce development,  making the most of millennial workers, expanding from residential cabinets into commercial, CNC oeprational tips and tricks, and growing sales through better bidding, management, and especially through online marketing. The program included a keynote from University of Notre Dame business school professor Chris Stevens. The conference also included a plant tour of Inter Ocean Cabinet Co., a nearby architectural millwork firm, as well as a networking reception afterward.
Following the April 12 keynote, the show floor opened and the expo saw strong and steady attendance through its run. Columbia Forest Products, which gathered its PureBond Fabricator Network for a Green Cabinet Conference on April 12, used the expo to introduce a new rift-cut veneer plywood - Touchwood. Presentations for PureBond Fabricators included a look at new EPA formaldehyde rules, and implications of Lacey Act restrictions on wood imports. TV carpentry personality Chip Wade also provided a dramatic window into new immersive technology he has developed that can let smaller cabient concerns compete with well-heeled businessed that have the resources for large showrooms.   

 
The Schuamburg location represented the fourth time Cabinets & Closets Expo has been held at this location. For 2018, the same venue as last year, at the Pasadena Convention Center, running March 27-29. For more information on the show contact Carroll Henning [email protected] or for exhibiting information contact Mike Litwicki [email protected]
 
Have something to say? Share your thoughts with us in the comments below.