New approach drives change for California cabinet manufacturer
June 1, 2019 | 3:15 pm CDT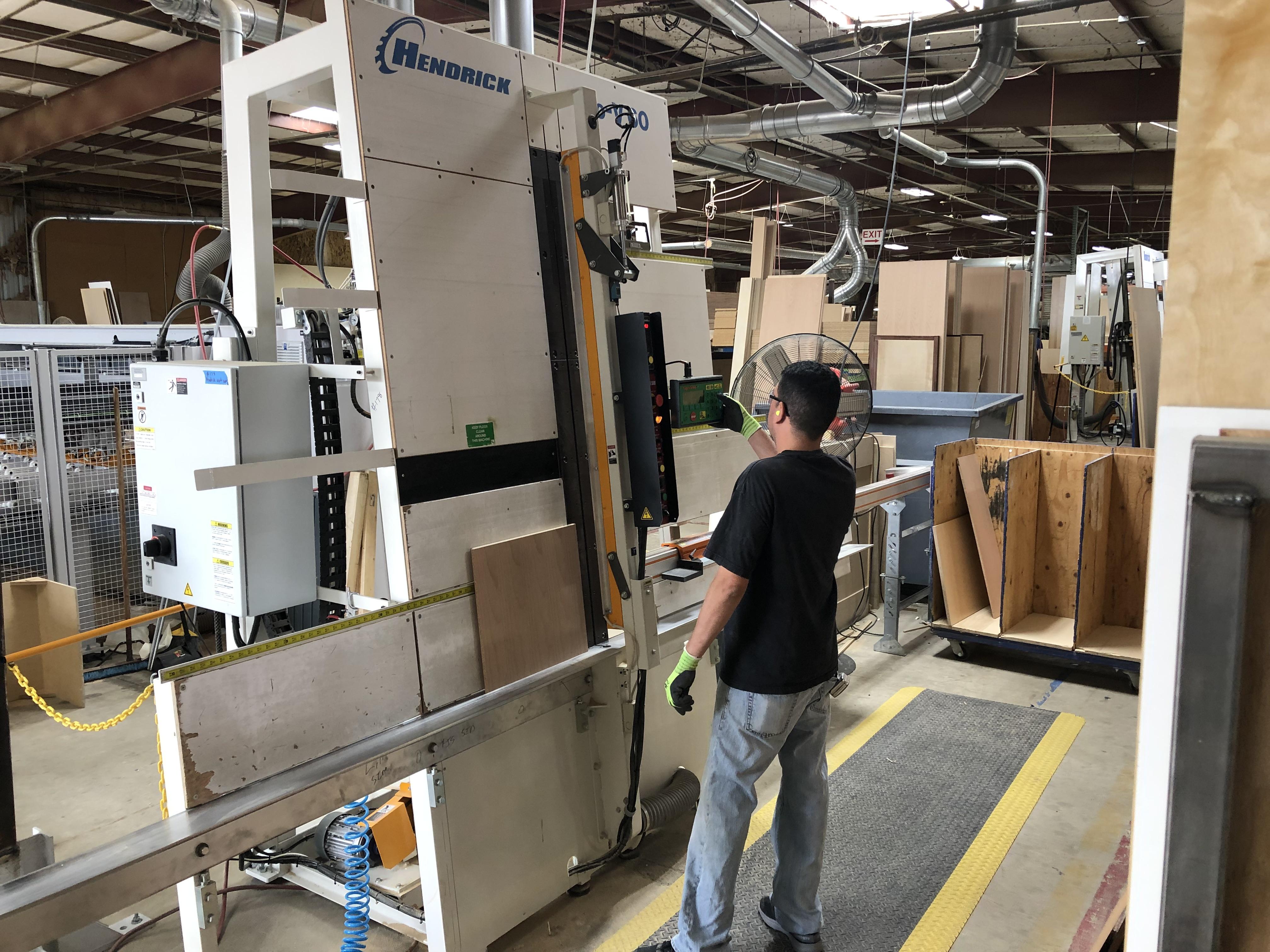 For most companies, getting away from the "old way" of doing things meant that something bad had to happen to make them rethink their position.
For Monschein Industries, Inc., 2013 was the year that rethinking began, according to Tim Donowick, director of operations. Monschein had just started recovering from the long recession and was under pressure to make more cabinets better and faster.
The Riverbank, California, company had many challenges including the morale in the company, which was on the low side, Donowick said. The company's core people had not seen paid vacations or raises in a long time. Another obstacle was a not-so-complimentary reputation for poor on-time deliveries, less-than-acceptable product and slow and inadequate customer service.
Fortunately, the owner, Karen Monschein, a highly business capable, mechanically intuitive and strong-willed woman, was dedicated to improvement. She led a number of meetings, using data to determine what which changes should be made. They came up with a single word strategy: Velocity.
"We had to get our product through quickly and efficiently to our customers while working on changing our customer's perception of us by putting the focus on our customer service," Donowick said.
Monschein Industries is located in California's San Joaquin Valley, east of the Bay Area. The company's 265 employees manufacture kitchen and bath cabinets for local builders in a 133,000 square foot operation. The company was started in 1964 by Frank Monschein and moved to the present site in Riverbank in 1971. It has high capacity CNC equipment, automated finishing, stone processing capability and has grown rapidly over the past four years.
Areas for improvement
"We started at the beginning of our processes to review everything we did and asked, Why?" Donowick said. "Why did we do things the way we did and how could we do it better and faster? What we did before was great and the company prospered but what we are doing now just wasn't cutting it."
Focusing on the welfare of Monschein's core group of employees was a priority. The recession had reduced their labor pool, with many good people leaving the area for greener pastures outside California.
Karen Monschein knew they had to not only retain this well-trained core group but bolster the morale so the word would spread that Monschein was a great place to work for those who worked hard.
Raises were given to bring employees up to a level equal to the area's standard rate and then increases given as people performed beyond expectations. Hard work was rewarded. They have a new large break room that features diner-type seating and an 82-inch television. Employees received sweatshirts, T-shirts and a large Christmas party.
Increasing velocity
Monschein looked at its entire operation, and identified processes that piled up work in process or were redundant. If they made a change, they looked at how it affected downstream processes.
"We looked into how to get our processes in a straight line and separated solid wood processing from panel processing," Donowick said. "We would establish a mind set on specific types of machinery and processes making it easier for our personnel to understand and assist in the changes. Within this plan we added training and cross-training of our employees to such an extent that they became experts at their job and able to train others in the tasks."
Monschein makes its own doors, drawer fronts, face frames and other solid wood parts from kiln dried lumber running it through the mill area. Boxes are made of ½-inch particleboard laminated with melamine impregnated paper.
Monschein needed more than 800 end panels per day and a lot of thinking went into setting up this process.
"We selected a Homag BHX-050 for its small footprint and its barcode reading ability and paired this with a reconfigured table saw mounted with a reverse dado blade and feeder unit," Donowick said. "Now we could complete the end panel machining quickly and efficiently in a single step."
In the wood processing area, Monschein had to address some of the lesser operations to fit into the straight-line methodology. Replacing older miter machines with a single CNC Accu-Systems MMTJ miter machine and using James L. Taylor's eight-station Door Pro carousel clamp reduced the floor space required by half and increased productivity by as much as 40 percent, Donowick said. The doors would be ready for the next operation in less than 30 minutes instead of a three- to four-hour cycle time.
Previously, on door and drawer edge details the people would automatically pull out palm sanders and sand the end grain, so the company added a pair of Voorwood A517 semi-automatic edge detailers to do that work instead. Other machines were custom designed, such as a drawer front centering machine designed in house using components supplied by Hurst Engineering.
They also needed to reduce delay in getting finished end panels into the Cattinar for stain by adding a small Viet sander with platen head to cover all needs into the panel processing area. Biesse edgebanders and Hendrick vertical panel saw are also used.
In 2014, Monschein had 100 people on the production side producing 247 cabinets per average day. Today they have 125 production employees making more than 400 cabinets per single shift.
Finishing upgrades
Monschein had previously purchased a Cattinair automated stain line and a large four-booth UV finishing system from Superfici, but these machines were largely unused due to the way cabinets were manufactured at that time. Only doors and drawer fronts were stained and clear finished.
Then the company made a major change by rethinking the way they made kitchen and bath cabinets from fully assembling cabinets, taping off, masking and then hand finishing them, to pre-finishing components before assembly. This change improved velocity, reduced finishing labor and the variation of components used in the cabinets.
Staining multiple colors in the Cattinair requires only three people for daily production. These components are then moved to the Superfici UV flatline finishing system that requires seven people to complete more than 400 cabinets per day. Monschein increased velocity by more than six times over hand spraying in booths and reduced labor by 30 percent.
Donowick said the Superfici is set up with two sections. The first section does the clear sealer and topcoat, then components move to a crossover to be flipped 180 degrees. Then sealer and topcoat is applied to the face of the parts in the remaining two spray booths. It was found that only one section was required to complete all of the daily production needs.
Monschein also came up with the unusual idea of doing a pigmented UV finish since painted cabinets have become so popular. The new process was proposed that the UV itself be pigmented to match the most requested color of Designer White. Several companies were called in to discuss this idea and do trial runs with their existing materials. All these companies should be commended for their efforts, Donowick said. It took a total of 10 months to work out the bugs in the idea and successfully complete a single acceptable door.
"Another three weeks was required to flush the plant of the old process and introduce the new," Donowick said. "When we were done we compared the old process to the new. We used to produce one to one-and-a-half kitchens per day via hand spraying. By introducing automated pigmented UV finish, we could average eight total kitchens per day. Since that time we have now matched paint finishes for Mission White, Ivory and Dove Grey for our UV machine."
There are plans for even more changes and improvements but, even the best of companies sometimes need to stop and rest a bit, Donowick observed. The next moves include relocating the Viet sander and Quickwood sanding cell closer to the stain room, moving door assembly closer to the cutting area where it is now in a straight line with the rest of wood processing, building an updated centering fixture for drawer fronts, improving drawer slide installation with better hardware, and finding a way to make all MDF miter or cope-and-stick painted doors.
But Donowick will not be part of these future changes, as he retired in April and looks forward to teaching and other new challenges. "When times are good and revenue is rolling in by the truckload you don't think of making improvements," he said. "When change became infectious, each change increased output and, by giving employees the opportunity to shine and reward this effort, they brought new life and increased vitality."
FACTS
Monschein Industries, Inc.
Riverbank, California
Products: Kitchen and bath cabinets for local builders
Employees: 265
Plant size: 133,000 square feet
http://www.monscheincabinets.com/
Playing it safely in California
As part of the Monschein Industries strategy of velocity and improving processes they had to ensure their employees stayed safe.
"We purchased machinery that had to include the best safeguards," Tim Donowick, director of operations, said. "Our table saws were replaced with SawStop table saws, (and we) purchased upcut Ironwood saws included guarding that (kept) the operator's hands away from the blade. We designed and installed fencing and machined Lexan guards to keep operators away from moving parts. Our people's safety was paramount."
In late 2013, CalOSHA had made multiple visits to the Riverbank location and reported multiple violations. Donowick said that these were small and not serious, but it showed them that the safety of their employees had to take precedence over production. Instituting policies and procedures to ensure the safety of employees was a large task in itself.
"Implementing programs to have our employees all wear safety glasses and ear protection, (have) yearly hearing tests, training employees on the simplest of safety precautions (such as not wearing jewelry or long sleeves when operating machinery), instituting monthly safety meetings and constant monitoring of guards in place became almost a full time job," Donowick said. "We even had our liability and workman's compensation insurance companies do quarterly inspections to ensure compliance with all rules and regulations."
Today, they welcome Valley Air Pollution Control Board in to help them comply with new or updated regulations. The local Fire Marshall gave them a clean bill of health on his last visit. Many details in the California rules makes compliance challenging, but Donowick said they have to be prepared.
Have something to say? Share your thoughts with us in the comments below.