Lyndon Heath Cabinetry quadruples space in former Phoenix Woodworking shop
November 17, 2017 | 6:53 pm CST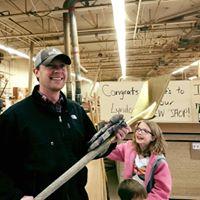 EAST EARL, Penn. - Lyndon Heath Cabinetry has moved to an 18,000 square foot shop in Lancaster, Pennsylvania, paying $875,000 for the former plant of Phoenix Woodworking, now closed.
Owned by Lyndon Sentz, the high-end, residential custom cabinetry firm had located in a 4,500 square foot shop in nearby Lititz, reports the Lancaster Online news. Sentz says he aims to increase his employee headcount from 12 to 22 and plans to double sales, which rose 40 percent last year.
Sentz founded the business in 2005. following a side job as a cabinetmaker as a means to pay his way through college. 
Since the facility had been a woodshop, it came with some features built-in, which simplifies setting up spray booths. The 18,000-square-foot building also had office space. Clean up and build-out is ongoing, beginning with Sentz's team removing six inches of sawdust layered on much of the shop. 
Lyndon Heath Cabinetry's investment will be about a quarter million in build-out and improvements, with the project expected to be completed first quarter of 2018, allowing better workflow than the old site, and creating a humidity-controlled work environment. 
"Before we handled each cabinet multiple times, stacking and restacking," Sentz told Lancaster Online. "Now we have more space, we're able to take a cabinet, and once it's built, it doesn't leave the cart. That's just a huge time saver."
He believes his firm has a unique niche among large-sized firms that need high volume, and two-person cabinet shops that can't handle large projects. His firm delivers architectural millwork-level quality and so can work with architects, or directly with homeowners for custom projects. One example was for cabinets with an "automotive" finish to match a car, and another for a single closet that cost almost $200,000, as well as $150,000 kitchens, Sentz says.
Have something to say? Share your thoughts with us in the comments below.