Custom CNC sanders shape up Decore-ative Specialties' component productivity
June 29, 2016 | 1:00 pm CDT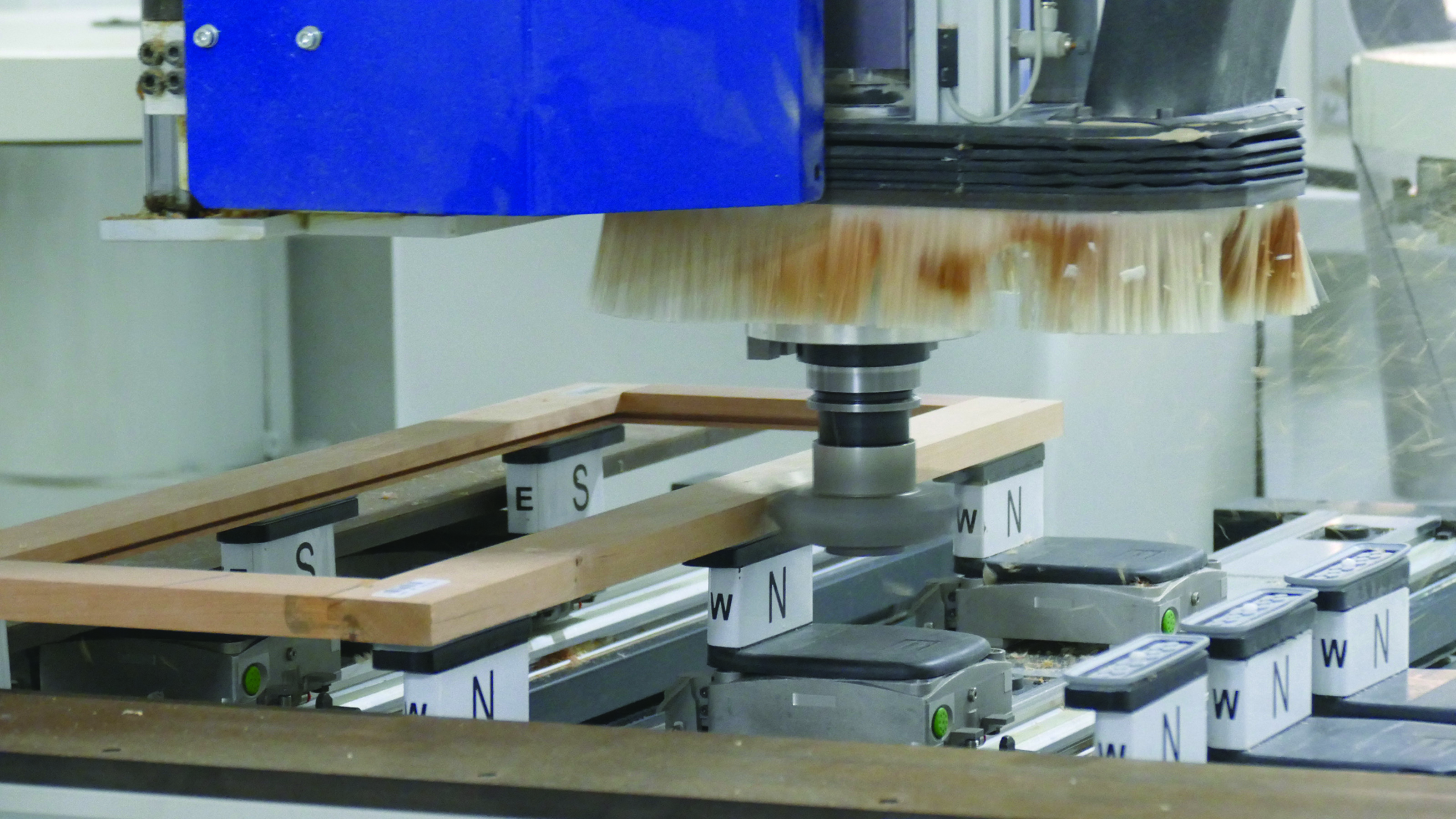 An innovative manufacturer, Decore-ative Specialties continuously looks for ways to improve the production of its custom wood and laminate cabinet components. Founded in 1965 by Jack Lansford Sr. and headquartered in Monrovia, California, the company has four production facilities totaling almost 500,000-square-feet of manufacturing space: two in Irwindale, California, another in Elk Grove, California, and one in Monroe, North Carolina.
At 200,000-square-feet, the Monroe facility is the largest of the company's production plants, manufacturing solid and recessed butt joint and miter wood doors, RTF doors, Streamline® RTA cabinetry, solid dovetail and dowel drawer boxes and Deco-Form® refacing components, including cut-to-size plywood and laminate, and profile wrapped mouldings. On average, the Monroe plant manufactures approximately 6,000 doors and 700 drawer boxes per day, said Todd Shapiro, vice president. Decore as a whole produces approximately 16,000 doors and 1,400 drawer boxes daily.
It was a desire to increase the capacity of its solid wood butt joint doors that led the company on its latest technology search. The result of its efforts has not only increased the capacity and improved the consistency of products for the company, but also earned Decore the 2016 Wooden Globe Award for Innovator of the Year from the Woodworking Machinery Industry Association.
Using one diamond tool and one sanding tool, the Bacci CNC automatically sizes, shapes and sands the cabinet doors. The machine has replaced many manual or semi-automatic machines that were previously used at the Monroe, North Carolina, plant.
One step sizing, shaping & sanding
Already equipped with a CNC single-end tenoner (SET), shape and sand machines and automatic shapers at the Monroe facility, Decore knew it needed something different, Shapiro said. That led the company to begin a yearlong process with Bacci America to develop a custom CNC machine for the door making application.
The Bacci CNC sander shaper is a fully automatic machine, complete with an all-new user interface screen and controls. The operator scans a bar code on the door, which then triggers the pods to automatically position; the pod positions are also visible in the UI screen. The door is then loaded onto the vacuum cup tables and automatically positioned under the shaping head where it's profiled.  "Utilizing the CNC technology, the doors are perfectly square and sized," Shapiro said. 
The table then comes forward and a second head profile sands the edge using an Arminius sanding head.  "The door is only handled one time versus four times on a single-end tenoner," Shapiro said. "The entire shaping operation is completed with one diamond tool and one sanding tool, versus two diamond tools and three sander tools on a typical single-end machine."
The new Bacci CNC has replaced manual and semi-automatic shaping and sanding machines on the solid wood door line, Shapiro said. Already, the company is seeing a positive return on its investment, though not what you would normally expect.
"Production rates are actually 25 to 30 percent slower than with a CNC single end without a sizing fence, but we sacrificed production rates to achieve a perfectly sized and square part for our customers," Shapiro said. "Sizing and squaring on a SET without a sizing fence is impossible, but when you use a sizing fence on a SET, production rates dramatically drop by at least 50 percent."
Along with its other production benefits,  "The Bacci is very easy and safe to operate as there are no moving chains or pinch points compared to SETs or DETs," Shapiro added.
"The Bacci project embodies our commitment to being accurate, complete, and fast, said Joel Boyles, vice president of sales, marketing and customer service. "Our founder, Jack Lansford, Sr., created a palpable atmosphere of ingenuity and innovation. He identified team members that were creative, passionate, and focused on our customers' needs. As a result, they have designed, engineered, and implemented new machines throughout our history. Many of these original machines and processes remain in operation today.
"At the same time, Todd Shapiro and our current leaders are identifying valuable partners to assist with developing even more advanced technologies. Similar to the past, our recent endeavor with Bacci assists us with providing the most comprehensive offering in the custom cabinet components industry," Boyles added.
The Bacci CNC is among the recent equipment acquisitions by the company. Other items include a Superfici flatline finishing system at the Monroe facility and seven Biesse nested-based cells, three for the North Carolina plant and two each for the Southern and Northern California facilities. "We are always looking at new equipment and technology," Shapiro added.
Pictured (L-R) are: Giuseppe Bacci of Bacci America who nominated Decore-ative Specialties for the award,  Todd Shapiro, vice president at Decore-ative Specialties, and WMIA marketing chair Erich Mazurek, Maze Machinery.
Capacity gains through innovation
Already a successful manufacturer of solid wood and laminated cabinet components, Decore-ative Specialties wanted more. But the standard machines available in the marketplace were not the solution the company needed to increase its solid wood door production.
It sought another solution, and in doing so earned the 2016 WMIA Wooden Globe Award for Innovator of the Year. The company was nominated by Giuseppe Bacci of Bacci America, which worked with Decore to develop a custom CNC shape and sand machine. "Bacci makes 5-axis CNCs, but we had never made a CNC machine for sanding and shaping," Bacci said. "Decore-ative Specialties bought a machine that has no counterpart in the world."
A year in development, the machine went underwent six designs before achieving the current final product, said Todd Shapiro, vice president at Decore, who accepted the award.
Recently installed at the company's Monroe, North Carolina facility, the Bacci CNC perfectly squares, shapes and sands cabinet doors in a single operation. It uses just one diamond and one sanding tool versus two diamond and three sander tools on a single-end machine, Shapiro added.
It has replaced many manual and semi-automatic machines at the 200,000-square-foot plant, the largest of Decore's four facilities.
"The Bacci project embodies our commitment to being accurate, complete, and fast," added Joel Boyles, vice president of sales, marketing and customer service.


 
Have something to say? Share your thoughts with us in the comments below.