Cabinet market to grow by $22.57 billion from 2022 to 2027
September 26, 2023 | 12:39 pm CDT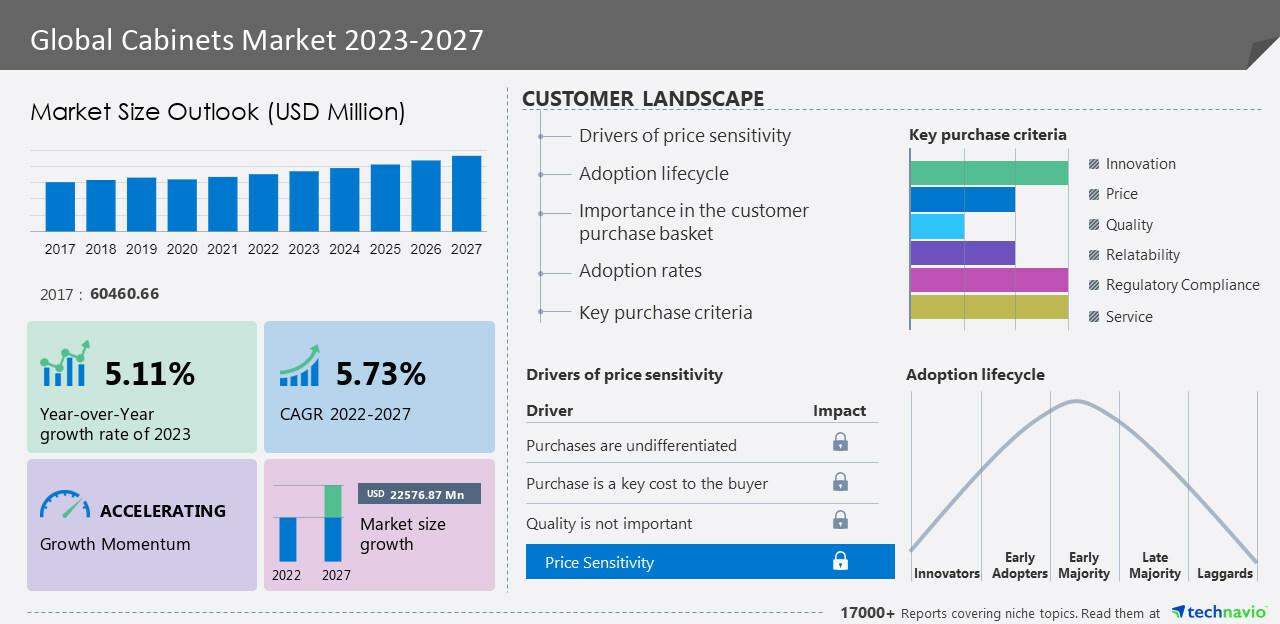 NEW YORK — The global cabinet market is expected to grow by $22.57 billion from 2022 to 2027, according to a new market research survey. However, the growth momentum of the market will progress at a CAGR of 5.73% during the forecast period.
Unstable prices of raw materials is a significant challenge restricting market growth.
The Technavio report segments the market by application (kitchen cabinets, bathroom cabinets, and others), end-user (residential and commercial), and geography (North America, Europe, APAC, South America, and Middle East and Africa).
The kitchen cabinets segment will account for a major share of the market's growth during the forecast period. Kitchen cabinets are units of kitchen furniture manufactured outside or inside, for the purpose of storing foodstuffs, utensils, and most often silverware and cutlery to serve meals. Furthermore, It is possible to select from a variety of kitchen cabinet materials, for example, stainless steel, Marine grade aluminum, masonry, vinyl chloride, and wood. The market in focus will probably benefit from increased occurrences of renovation and the launch of new products. In December 2022, for example, Stanley Group began to offer the Cabinetry Cult innovation kitchen and furniture solution. Hence, these factors are expected to drive segment growth during the forecast period.
The growing influence of different retailing channels is a key factor driving market growth. Growing global interest in online and offline retail channels plays a vital role in the growth of the cabinet market. The impact of eCommerce Shopping and Retailing on the Global Market has increased as internet penetration grows around the world.
Furthermore, many large companies have begun to open new online stores for furniture and are planning to launch their e-commerce-based outlets. In addition, the main players in the furniture market are increasingly focusing on selling their products through various channels, e.g. through applications, so that they can take advantage of different retail options. Hence, these factors are expected to drive market growth during the forecast period. The report analyses the market size and growth and provides accurate predictions of the market's growth.
Have something to say? Share your thoughts with us in the comments below.