How it works: a puck light jig to be shown at 2016 Cabinets & Closets Expo
January 26, 2016 | 6:08 pm CST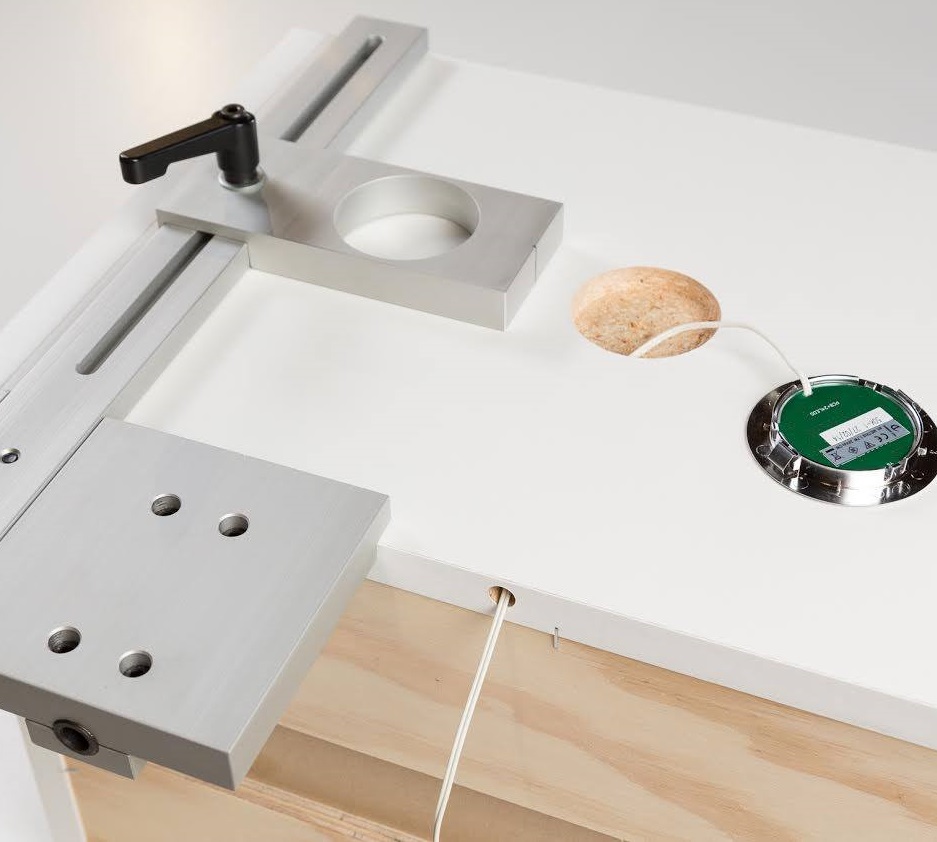 A puck light jig is the latest introduction of time saving cabinetry tools for hardware installation and LED light installation by True Position Tools, which will be on display March 23 - 24, 2016 at Cabinets& Closets Expo, at California's Pasadena Convention Center. 
The puck light jig is among several cabinetry jigs from True Position, such as its TP-1935 Cabinet Hardware Jig and Shelf Pin / Long Handle Jig kit for installing cabinet doors and shelving. An all around template solution for the cabinet installer, it is also an alternative to the line boring machine for the small shop. It includes the basic hardware jig (TP-1934) with additional drilling extensions for 32mm line boring.
It can be used to drill shelf holes in the shop before assembly, or on the job after assembly. Users slide guides and stop along english or metric rulers, tighten thumb screws, and then drill. It also guides drills along long handles up to 29″ in length to locate hardware holes of any dimension on doors and drawer fronts. The kit includes a standard 5 mm drill bit (approx. 3/16″). It is made of durable light-weight aluminum with case hardened steel bushings. 
True Position is among 18 first-time exhibitors as Cabinets & Closets Expo nears a sell-out. The show is set to exceed in size all previous editions of the Expo. 
First timers (and booth number) include: Amerfit Hardware Inc. 126, American Laminates 407, Boise Cascade Company 515, Cabinet Organizers 505, Closet Pro Software 517, Eagle Tools  504, Hacienda Plywood Inc. 329, Hardware Resources  523, Ideal Drawer Box, Inc  405, Lee's Decorative Showcase / DADS NAILS 333, Lockdowel, Inc. 506, M&N International Group 121, Macoser, Inc. 328 MarketSharp 417, Schmalz, Inc.  331, Struttarato 500, TAG Hardware Systems 503, along with True Position Tools, 335.  
Heavy attendance is expected at the show. Presented in partnerships with the Cabinet Makers Association (CMA), and with the home storage industry's Association of Closet & Storage Professionals (ACSP), the three-day event is the only one dedicated to closet designers, builders and installers, and to small cabinet shops.
Exhibitors as of January 21 include (find the latest Cabinets & Closets Expo list here>>:
AdvancedDimensions.com 502
AMERFIT Hardware Inc. 126
American Laminates  407
Barazin 421
Better Vacuum Cups, Inc. 102
Biesse America Inc. 129
Boise Cascade Company 515
Brown Wood, Inc. 207
Cabinet Organizers 505
Cabinet Vision, Inc. 201
Canary Closets & Cabinetry 516
Capella Hardware Company 110
Castle, Inc. 432
Closet Pro Software  517
Closets Magazine    Gateway
CNC Factory  301
Colonial Saw Company  310
CompX Timberline   205
Cope Closet Concepts  211

Delcam ArtCAM  304
Drawer Box Specialties  220
Drawer Connection, Inc.  300
Eagle Tools 504
Eveready Hardware 114
FDMC Magazine   Gateway 
Felder Group USA 101
Glideware Hardware 217
Grex Power Tools  428
Hacienda Plywood Inc. 329
Häfele America Company  501
HandiSolutions 317
Hardware Resources 523
Holz-Her US, Inc. 323
Ideal Drawer Box, Inc. 405
improveit! 360   123
Interprint, Inc. 233
JB Cutting Inc.   215
Kemp Hardware 518
KML Design Finish 418
Laguna Tools  411
Lee's Decorative Showcase/Dads Nails 333
Lockdowel, Inc. 506
M&N International Group 121
Macoser, Inc. 328
MarketSharp 417
Microvellum  218
Mozaik Software, Inc. 309
Northern Contours  104
NPF Consultants 108
Olon Industries 128
Organizers Direct  314
Osborne Wood Products  316
Patrick Industries, Inc. 235
Plus Closets 113
Putsch Panel Saws 522
Quail Leasing  430
QuickScrews International Corp. 122
Reliant Industrial Supply 423
Rev-A-Shelf Inc. 401
Richelieu Hardware 411
Roseburg 120
Royal Plywood 416
Schmalz, Inc. 331
Sidelines, Inc. 315
Stevens Industries, Inc. 229
Stiles Machinery Inc. 221
Strutturato  500
Tag Hardware Systems 503
Thermwood Corporation   414
Timber Products Company  419
Timesavers 423
Titus Group 306
True Position Tools
Wilsonart 119
Woodworker West      Gateway
Woodworking Network    Gateway
Have something to say? Share your thoughts with us in the comments below.