Addressing wet spots in walnut
September 22, 2016 | 3:14 pm CDT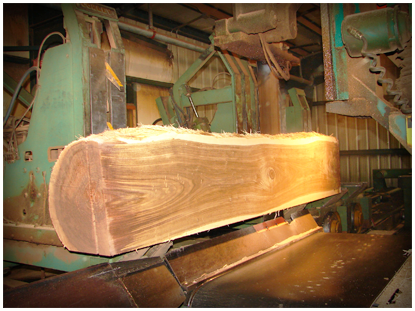 Q: Where do wet spots in walnut come from and how do I get rid of them?
A; Sometimes these wet spots you are asking about are called wet pockets. We see this in a few other species (including hemlock, cottonwood, aspen, elm, eastern white pine, and a few tropical species), but in some walnut species (not common black walnut) these wet pockets are severe (moisture contents over 30 percent), while an inch or two away the wood is at 6 percent 
I can recall some tropical walnut thick pieces that were still above 30 percent wood moisture content after two years of air drying. We do not know why this problem is so severe in walnut; in the other species, the wet pockets are almost always related to a bacterial infection in the tree that closed the normal pathways for water with a bacterial slime. If this is the same reason in walnut pieces that you have, you will also see that the initial green moisture will be much higher than normal—even over 100 percent wood moisture content. Also, you may notice a peculiar odor that is not the more common walnut smell.
To get rid of these pockets, we put some wood in an autoclave and steamed the wood at over 212 F. Very little effect. The only thing that did seem to help was if the wet pocket area cracked; the crack was a pathway for the water to leave. I remember one college professor in Minnesota tried drilling a bunch of small holes to help these wet spots dry; it worked, but the usefulness of the piece was ruined unless you like wood that's all these tiny holes.
The bottom line is that patience is the only cure. Holding the wood at 170 F and about 42 percent RH will allow the wetter pieces to dry without over-drying the drier pieces. This could take many days, but will be much faster than waiting at room temperature. The risk of leaving the wet pockets in the final product is that eventually the water will leave and the wood in the pockets will shrink, which can result in a defect in the final product.
Have something to say? Share your thoughts with us in the comments below.