Visionary finalist: ready-to-spray painting robot is Industry 4.0-ready
July 14, 2017 | 1:01 pm CDT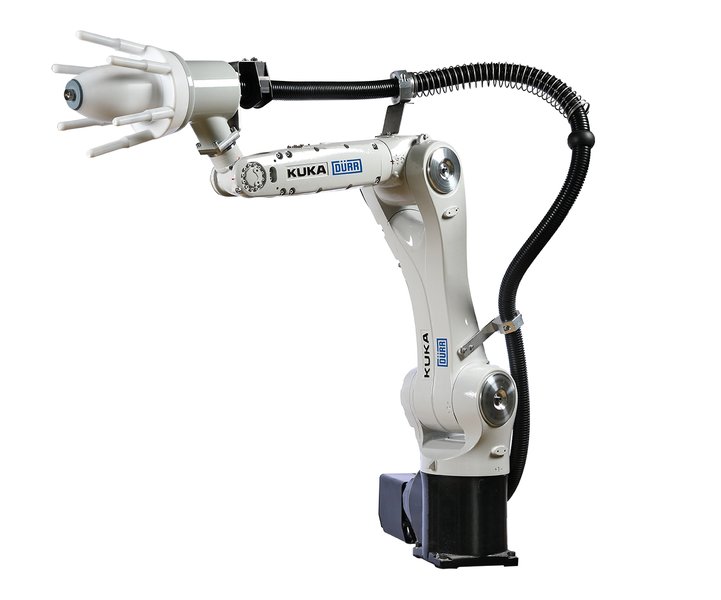 Dürr, a leading engineering firm focused on automation, has entered the wood industry. Joining forces with robotics firm Kuka, the companies have developed a compact ready-to-spray painting robot designed for the wood, plastics, and metal.
The painting robot system consists of a small six-axis robot equipped with high-end paint application technology. The system is completed and pre-commissioned by Dürr at its manufacturing plant, making it "ready2spray" upon arrival at a customer's site. The technology is available in different configurations and is tailored to individual customers.
The ready2spray robot enables the application of solvent- and water-based one- and two-component paints. It can be equipped with matching dosing pumps, paint pressure regulators and color changers. Depending on the requirements, it comes with automated spray guns (air-atomizing or airless) from the EcoGun range or with electrostatic high-speed rotating atomizers from the EcoBell range, both produced by Dürr.
With small dimensions and pre-installed application technology, the ready2spray solution in the form of the compact industrial robot is valuable for any company who applies paint on an industrial scale. The robot system houses both the motion control and application process control in a central control cabinet.
Dürr says the robot system is fully Industry 4.0-ready.
Have something to say? Share your thoughts with us in the comments below.