What to expect at AWFS 2021
June 22, 2021 | 9:37 am CDT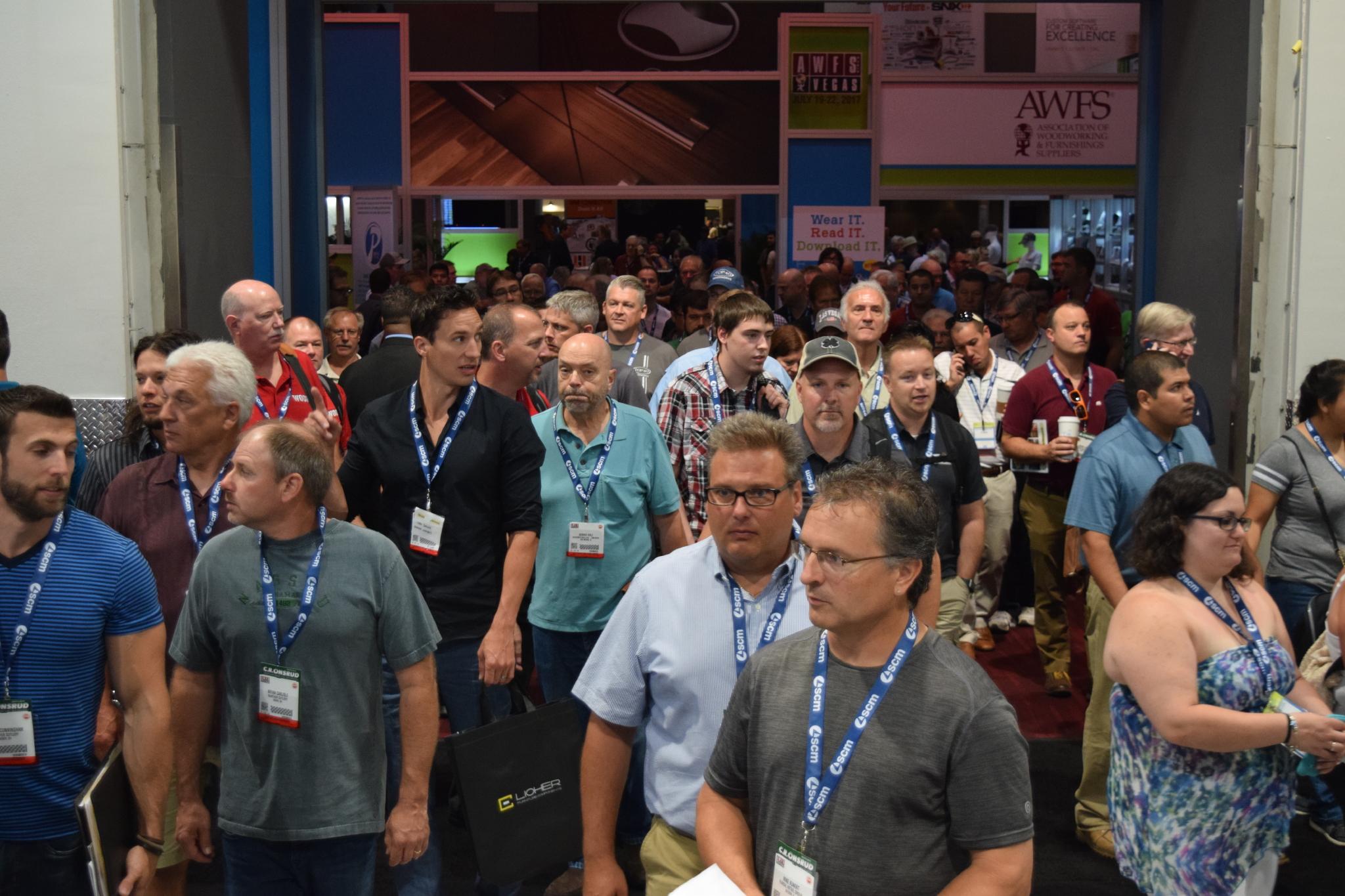 Excitement is building for AWFS 2021, which will be held live at the Las Vegas Convention Center July 20-23. The biennial event promises to offer wood industry professionals the latest cutting-edge strategies to build business and improve shop productivity. Also, manufacturers and suppliers will showcase the latest advancements and developments in woodworking machinery, equipment, and supplies.
The highly anticipated show will have over 400 exhibitors and thousands of attendees. From the show floor, educational courses and seminars, speakers, demonstrations, competitions and much more, AWFS 2021 has much to offer. The show is intended for professionals who make cabinets, millwork, furniture, store fixtures, windows, closets, components, doors, and other wood products.
Things to see
The AWFS Visionary Awards presentation honors the best new products of the year. It will be held Thursday, July 22 at 9:15 a.m. Attendees can see the Visionary New Product as well as First Time Exhibitor Product Showcase at the show.
The Industry 4.0 Showcase will highlight Industry 4.0 and the technology that will heavily influence the future of manufacturing including Artificial Intelligence; Augmented and Virtual Reality; Robotics; Cloud Computing; Internet of Things (IOT); Internet of Services (IOS).
2021 Tool Tour is a new feature hitting the show floor this year. Exhibitors specializing in hand and power tools will be placed all over the exhibit hall. Attendees who visit all of their booths will get a free t-shirt.
Safety Zone is another new feature allowing attendees to discover exhibitors who specialize in bringing the latest in shop and personal safety equipment. Attendees can find these exhibitors by looking for the safety zone logo. 
Fresh Wood 2021 will showcase more than 24 pieces of furniture from top high school and post-secondary woodworking students in North America. While at the show, view entries and cast your vote for the People's Choice award at the Fresh Wood booth, then return for the Award Ceremony which will take place at 4 p.m. on Thursday, July 22.
The American Association of Woodturners (AAW) will hold turning demonstrations and showcase innovative turning techniques. Demos will be held Tuesday - Thursday at the top of the hour 11:00 a.m. to 2:00 p.m. and Friday at 11:00 a.m. and 12:00 p.m. The Student Competition Award Ceremony occurs Thursday, July 22 at 4:00 p.m.
The Closets and Organized Storage Pavilion is co-sponsored by Closets & Organized Storage magazine and will have its own designated area on the show floor. This year, as an exclusive Closets & Organized Storage Pavilion event, is The Great Closets Challenge: A Fabricator Challenge and an Installer/Assembler Challenge that will have attendees fighting to beat the clock to assemble and install a custom-designed storage unit on the show floor.
For more information about the pavilion and challenge and how to participate, visit woodworkingnetwork.com/closets-challenge.
Woodworking Network will provide a show daily printed publication on-site for show-goers.
And WEIMA America is returning as the Official Recycling Partner of the 2021 AWFS Fair in partnership with AWFS and Freeman Co.
Things to learn
The day before the exhibits open, CCI Media and Woodworking Network will provide a full day of training with the Closets & Organized Storage Symposium from 9 a.m. to 5 p.m. on July 19. Closet pros will share best practices on marketing, design, and more. Attendees are invited to the 40 Under 40 Leadership reception from 4:30 to 6:30. Register at bit.ly/3qkdVCL.
The College of Woodworking Knowledge (CWWK), the AWFS Fair's comprehensive seminar program built around trends, new technologies, and business-building practices, will take place from July 20-22.
Attendees can choose topics to explore in this education program offering many business and skill-building seminars, delivered by experts and seasoned practitioners at the top of their fields.
Those attending AWFS can create their own customized learning curriculum from the sessions spread over three days. The CWWK delivers a variety of panels, roundtables, demos, and workshops in four different educational tracks.
Experts within the industry will discuss how companies can help deal with the skills gap and change their own culture to attract and retain the talent needed to develop a skilled workforce.
To view a complete listing of educational sessions, visit awfsfair.org. A Seminars-at-a-Glance schedule that shows the day and time for each seminar in the categories of Business Management; Culture & Workforce; Cabinetry, Millwork & Furniture, and Technology & Innovation is also available.
The 2021 CWWK seminars will take place in the second-floor classrooms in the West Hall, in rooms W201-212. 
To register, go to awfsfair.org, or call 877-303-0711 from the United States and Canada. CWWK sessions are $25 each by June 29 and $35 after that date. Exhibit hall pricing is $30 if purchased before June 29, $35 if purchased later. Attendees can register on-site from July 20 to 23.
Need a hotel? Go to awfsfair.org/housing-travel, or call 866-889-9647 to book a hotel. The hotel reservation deadline is July 7.
If you are a woodworking professional seeking to improve your business, AWFS Fair 2021 is the place to be this July. 
 
Have something to say? Share your thoughts with us in the comments below.