Stay current at AWFS Fair
July 1, 2017 | 12:21 pm CDT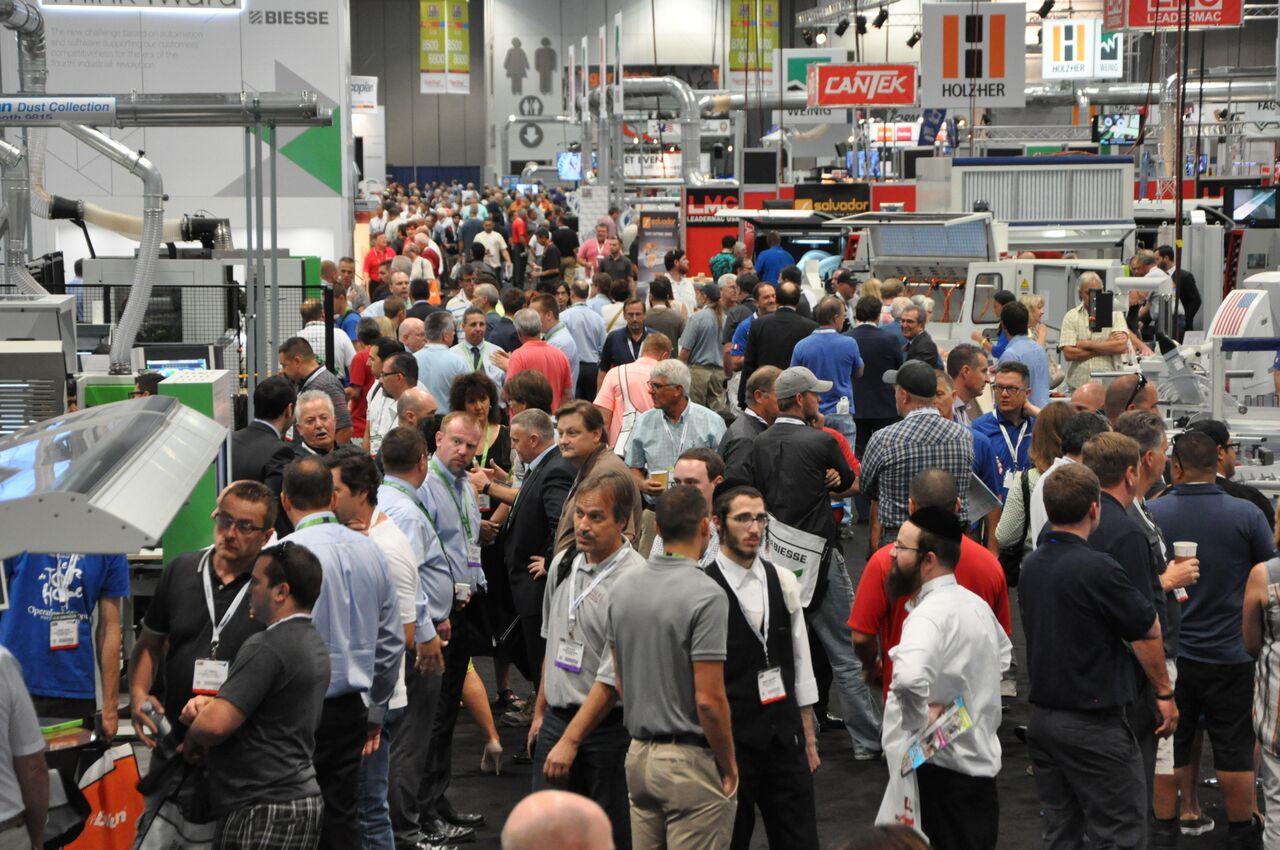 If you're a professional woodworker making cabinets, furniture, millwork, retail displays or any wood product, there's one place to be this month.
AWFS Fair returns to the Las Vegas Convention Center July 19-22.
AWFS Fair offers a cost-effective way to find new technology, learn about the latest industry developments, and find new opportunities to improve. 
It is the biggest event on the North American woodworking industry calendar this year.
Attendees can shop and compare new woodworking equipment and technologies, see live machine demonstrations, go to educational sessions, and network with other woodworkers.
A wide range of products will be on display from more than 660 exhibiting companies, including CNC technology, woodworking equipment, finishing products, hardware, software and supplies.
Summer semester: Education program
The 2017 College of Woodworking Knowledge (CWWK) educational seminar program of the AWFS Fair will be held over four days, July 19-22. The CWWK education program includes many diverse sessions and many speakers prepared to share their expertise with participants.
Designed to meet the current needs of the show audience demographics, the sessions span topics to enhance business management know-how, improve skills and increase knowledge of the latest technologies as well as provide the latest in safety, sustainability and legislative updates.
Education sessions have always been one of the best reasons to attend AWFS, but in recent years, that's even more the case. Not only does the AWFS College of Woodworking Knowledge offer more sessions on more topics, but the changing economy and fast pace of technology in the woodworking industry make it essential to be at the front of the class.
Bilingual shops should take note of all the seminars offered in Spanish at this year's AWFS College of Woodworking Knowledge.
This year, sessions are divided into 10 separate tracks: Business Management, Workforce Development, Cabinet/Millwork, Furniture, Small Shops 10 and Under, Industry 4.0, Software and Technology, Techniques & Applications, Safety & Environment, and even a track just for woodworking industry teachers.
Go to http://awfsfair.org/education/ for the complete story.
Industry 4.0 showcase
The 2017 AWFS Fair will feature a new showcase highlighting Industry 4.0
and the technology that will influence the future of manufacturing including: artificial intelligence; augmented and virtual reality; robotics; 3D printing; cloud computing; Internet of Things and Internet of Services.
The 4.0 showcase will be located on the show floor near the Visionary New Product Award showcases. In addition, exhibitors participating in the showcase will also be highlighted in the AWFS Fair website, the official show directory and have designated markers for Industry 4.0 products in their booths.
New for 2017, Industry 4.0 educational sessions will be featured as part of the College of Woodworking Knowledge (CWWK) which will address specific 4.0 topics.
Plastics emphasis
AWFS Fair will once again be placing a special emphasis on plastics and plastics fabrication, which offer sustainable, flexible and efficient solutions for many manufacturers.
Featured products include machinery and supplies used in the cutting, routing, and finishing of plastic materials as well as products specifically designed for that market such as adhesives and tooling. Plastics-related exhibitors will be clearly marked with the AWFS Fair Plastics Technology & Supplies logo.
Visionary Awards
The Visionary New Product Showcase will include full-scale displays of the newest technology and products. Attendees can see all of this year's entrants in the categories of environmental, ergonomics, safety, plastics supply and technology, and innovative technology and productivity
The Visionary Awards winners will be announced at a special awards presentation on Friday, July 21 at 9:15 a.m.

First-time exhibitor showcase
AWFS Fair attendees will have the opportunity to see products from first-time exhibitors. The right new product from the right resource could change a woodworking business. Meet exhibitors new to the show, and find out what they can do for you.
Interactive mini-build
Attendees can take a break from visiting exhibitors on the show floor and build themselves something fun. Machinery will be set up and "builds" will take place Wednesday-Friday from 10 a.m. to 12 noon and 2 – 4 p.m.
Fresh Wood
AWFS Fair visitors can see the future of the industry in this student design contest. View entries and cast your vote for the People's Choice award at the Fresh Wood booth, then return for the awards ceremony on Friday, July 21 at 4 p.m.
A total of 195 entries were received for the 2017 Fresh Wood student woodworking competition, a near record. The judging panel is selecting approximately 40 finalists that will be invited to AWFS Fair.
This year's entries came from 48 different schools in the United States and Canada. Of the entries received overall, 62 were from high schools while the remaining 133 were from post-secondary schools. Entries totaled 169 in the last Fresh Wood competition in 2015, and the record highest number of entries was 211 in 2007.
Students could enter their projects into six different categories in the Fresh Wood competition: Case Goods, Seating, Design for Production, Tables, Open and Special Theme: Lighting. Entries from the High School level and the Post-Secondary level are scored separately.
Back on Stage
The Stage returns for an engagement at the 2017 AWFS Fair.
The goal was to give fair participants an area that would serve as an inviting gathering place to see celebrity speakers, view demonstrations and take part in special AWFS events. Schedules will be available at the show at attendee registration, in the main lobby and at The Stage itself. (See accompanying story.)
AAW

student

wood turning
This student competition, hosted by the American Association of Woodturners, showcases top national woodturning projects. See the pieces at the display booth throughout the show and find out which ones won top honors at the Award Ceremony (Friday, July 21 at 4 p.m.)
Also, join the American Association of Woodturners for live lathe-turning demonstrations with AAW members. Featured turners Jimmy Clewes and Christian Brispierre will showcase innovative and exciting turning techniques. AAW is also a host of the Turning to the Future student exhibition. Demos will be Wednesday through Friday at the top of the hour between 11:00 a.m. and 2:00 p.m. and at 11 a.m. and 12 noon on Saturday.
Destroy Responsibly
AWFS Fair will once again host Destroy Responsibly during the  exhibition. Weima America is excited to return as the Official Recycling Partner of the 2017 AWFS Fair in partnership with AWFS, Freeman and Repurpose America. Weima America will supply a shredder system, complete with infeed and discharge conveyors. All wood waste from the show floor will be transported to a local Las Vegas location.
At a glance:
AWFS 2017
Where: Las Vegas Convention Center, 3150 S. Paradise Road, Las Vegas.
When: July 19-July 22, 2017, Wednesday-Saturday
Show hours: 9 a.m.-5 p.m. Wed.-Fri.; 9 a.m.-3 p.m. Sat.
For more information: awfsfair.org
Symposiums on July 18
This year, Woodworking Network partners with AWFS Fair organizers to present three daylong conferences on Tuesday, July 18, the day prior to the Expo opening. For information on the Closets & Home Storage Symposium, Finishing Symposium and Leadership Forum, and to register, go to https://www.compusystems.com/servlet/AttendeeRegLoginServlet?evt_uid=513
Schedule of Stage Events
See these events taking place at the AWFS Fair Stage,
booth
#5527
Wednesday, July 19, 2017
9:30 a.m. – 11:00 a.m. – Workforce Crisis, Job One
3:00 p.m. – 4:00 p.m. – "Meet the Maker" with Marc Spagnuolo, TheWoodWhisperer.com
Thursday, July 20, 2017
11:00 a.m. – 12:00 p.m. – Fine Woodworking "Shop Talk Live" podcast w/John Ratzenberger
1:00 p.m. – 3:00 p.m. – CMA Wood Diamond Awards
4:00 p.m. – 5:00 p.m. – "Meet the Maker" with Kyle Toth, Wood by Toth
Friday, July 21, 2017
9:15 a.m. – 10:15 a.m. – AWFS Visionary Awards
11:00 a.m. – 12:00 p.m. – ASFD "Design Between the Lines" podcast w/Garry Knox Bennett
4:00 p.m. – 5:00 p.m. – Fresh Wood & Turning to the Future Student Award Ceremony
Saturday, July 22, 2017
9:30 a.m. – 11:00 a.m. – Education Town Hall
AWFS Fair Keynote Presentation: John Ratzenberger, Thursday, July 20, 8 - 9 a.m.
Actor John Ratzenberger has kept his connection to his hands-on carpentry skills with a commitment to American manufacturing and the skills shortage crisis. He produced and starred in the Travel Channel show "John Ratzenberger's Made in America" which showcased American products and the tradesmen who make them.
For the past decade Ratzenberger has been traveling the country meeting with companies, unions, associations and politicians all working to reinvigorate skills training from re-instating shop classes in schools, to building apprentice programs for our returning veterans. He is the founder of the American Museum of Manufacturing in Bridgeport, Connecticut, which is scheduled to open in summer 2018.
Have something to say? Share your thoughts with us in the comments below.