Special millwork made for Manhattan
May 6, 2020 | 8:38 am CDT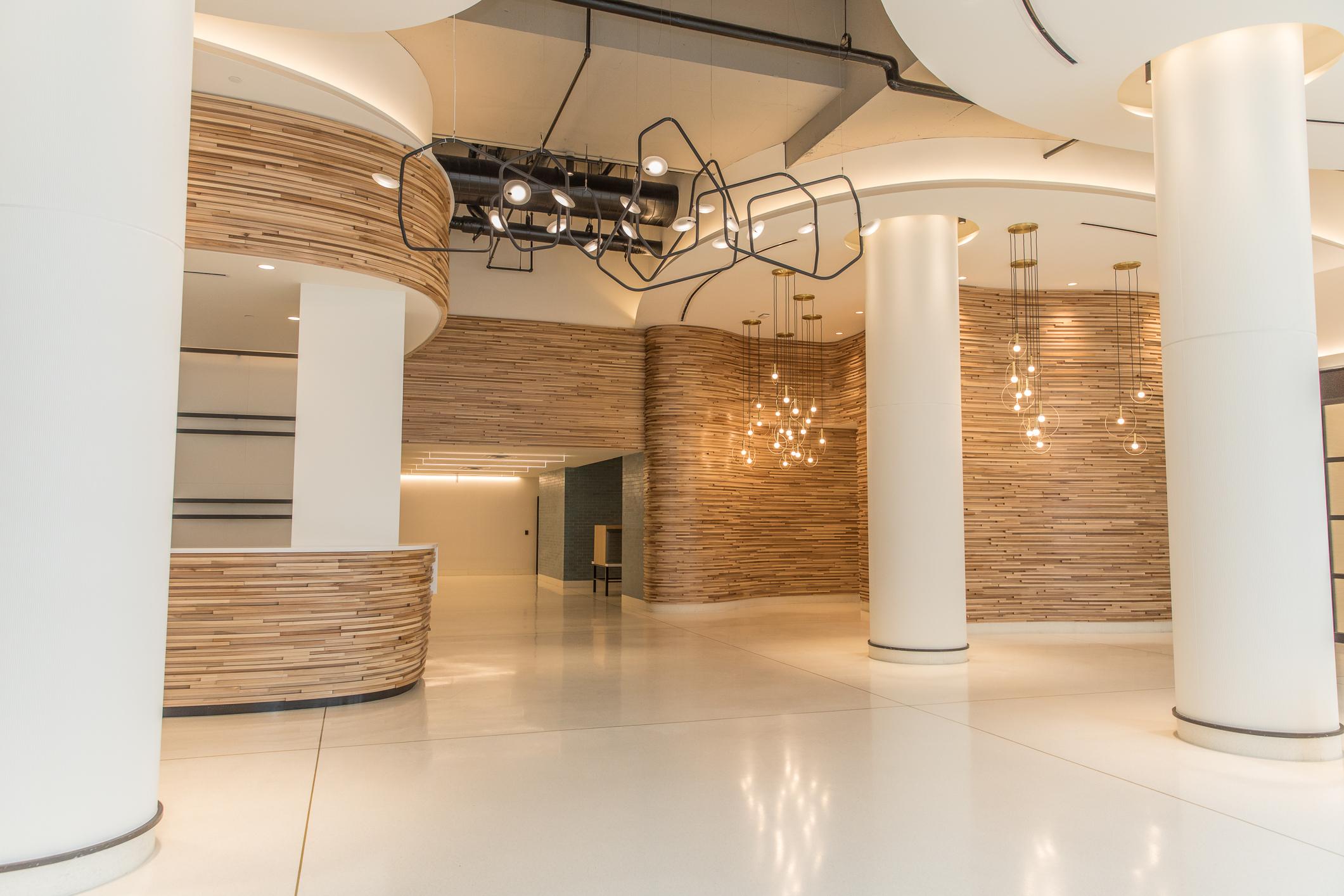 Victor Robbins Group isn't afraid of what customers may require. Or where they want the work installed.
The New Jersey company takes on not only custom projects but especially challenging ones.
"We are a true job shop, specializing in bespoke architectural interiors, mostly wood, but we are also metal, glass and stone providers," said Robert Schultz. "Our niche is higher end corporate and residential cabinetry and interiors. Our real specialty is the one of a kind boutique work. We excel in the unusual and challenging type of projects and pieces."
Victor Robbins Group's clients are architects and contractors. The company's 25 employees serve the Philadelphia and New York markets from its 20,000 square foot operation in Hainesport, New Jersey. Eighty percent of their work is in Manhattan, with another 20 percent of their work from other areas (they also do a lot of private label type of subcontracting projects for other manufactures and reps).
"We focus heavily on engineering from the get go, we like to incorporate furniture-like details, and it really shows in our work," Schultz said.  "We put a lot of emphasis on our finish department, multi layering our colors, and applying slightly higher sheens, and different levels of hand rub glosses.
"(In) ninety percent of our projects our veneer is specified and custom laid up. We begin our drafting with installation in mind so our installations tend to fit better."
Also, Schultz said that they are constantly updating construction SOP's as new hardware and methods come out. VRG is an AWI shop and work all aspects of the company to a minimum of the Architectural Woodwork Standards.
Company is a true job shop, specializing in bespoke architectural interiors, mostly in wood, but also metal, glass and stone work.
New York state of mind
Working in New York City is a company-wide mindset, Schultz said.
"We are a New York woodworking company located in New Jersey," he said. "Office, shop floor, finishers and installers all have the mindset that this is what we do, and the process is what we have to go through to compete in this very challenging market. Everyone knows the train and subway schedules, and is prepared to travel each day as needed.
"From scheduling job site meetings, installation and deliveries it is a different world. Every aspect of the high-end millwork business is compounded times three, by working in Manhattan. We have a truck in the city almost every day just for deliveries (sometimes three or four deliveries at different sites a day) so our installers are not sitting in traffic or trying to park. Everything is engineered to fit in an elevator, or sometimes hoisted or even craned up."
VRG installers may be working in buildings as high as 90 floors. At some sites, elevators can take an hour to get up and an hour to get down, shortening the productivity of the workday. All buildings have different rules and hours. Schedules are very tight and fast paced. Some buildings have summer work hours only, when most of the clients are away at their vacation homes during the summer season. All of VRG's workers are required to have OSHA training to work on the job sites.
Dining room table base had custom curved antique mirror and handmade top made of mahogany wood, with walnut burl, Ceylon satinwood, and ebony inlay.
Kickoffs and handoffs
Schultz said everything starts with an invitation to bid. There is a companywide kickoff as a new project enters the system, and the job is entered into the scheduling program and is broken down into work orders. All departments are present at this kickoff, including purchasing, project management and engineering.
Once the design, engineering and submittal processes are completed, site measurements and approvals are gathered. Then there is a handoff to preparation, purchasing and programming, which is compiled by the plant manager. Then a handoff meeting is held, with the shop captain and personnel who will be the leads on the project.
The CNC router is usually the first stop, as well as the solid mill where parts are cut for the cabinetmakers. Cabinetmaking and building begin along with other steps to bring the project to specifications. Once final assembly is complete on the floor, it is walked by the foreman, job captain, project manager and finish manager.
The finishing department has multiple steps involved, and this is the most labor-intensive part of the project. Finish options include polished polyester, ceruse finishes, glazing, antiquing, and matching anything the client requests.
"Once finishing is complete we final assemble and walk the project one last time for fit and consistency in color and finish," Schultz said. "Everything is packaged and wrapped very well. (Because we are) moving product around elevators, stairways and corridors we need to protect the product very well. We then begin the installation process."
Schultz said the company uses a manufacturing software to enter and track projects and purchasing. Everything is programmed and run through the CNC router, and a CNC dowel machine.
The company uses ProjectPAK, Microvellum, and AutoCAD software. Schultz said that the workhorse in the shop is a Komo CNC router. They also have a Gannomat CNC dowel inserter, Brandt edgebander, Altendorf sliding table saws, and two spray booths.
"We do not consider ourselves a high production shop, so there is not a lot of sophisticated equipment beyond that, just a lot of talented craftsman that are exceptional in their skill," he said.
"We do take advantage of subcontracting what we can. Our philosophy in business is to let others do what they do best, and we do what we do best. We subcontract (pending schedule), doors, jambs, all moulding, some casework, veneer layup, metal, stone, glass, drawers and sometimes installation. We do all engineering, assembly, building, fitting, and finishing in house on all projects.
The company's 25 employees serve the Philadelphia and New York markets from the Hainesport, New Jersey, shop.
Tracking job times
Schultz said that VRG is constantly on the lean journey, and is always looking for ways to improve the process. He said that the efficiencies in the manufacturing process are as much in the office as on the shop floor. Communication between the office, the floor and site are all important.
"We have found that tracking job times, and reviewing them weekly, has helped a lot," he said. "Discussing hours with the production crew during the handoff keeps guys working at a competitive pace, knowing their target and keeps them thinking of a better way to run processes.
"We have excellent engineered shop drawings, and constant communication between office staff and floor through daily touch base meetings. Our staff complains we have too many meetings. Consulting with the install team and shop floor prior to deciding how things will be engineered and assembled is a big help. (Manufacturing) software is improving our production process as well.
Schultz was formerly president of CBR Woodworking. "The Victor Robbins Group is a partnership, CBR was not," he said. "Deciding to partner up with partner Chris Robbins, in the new company has allowed me to really drive the business and our marketplace. Focusing on sales and marketing has allowed me to be able to let go of most of the production responsibilities.
"Instead of sitting in the office fielding questions all day, I am able to spend more time developing business away from the office, and working from other locations (there are two other offices off site) which I find really helps clear my head and (creates) hyper focus when I am estimating projects, following up with clients and sales, marketing or brainstorming on business development."
Future plans for Victor Robbins Group include targeted controlled growth.
"We are currently in growth mode, with recently added key staff, and are looking for controlled growth to a certain point, but hopefully not beyond that," Schultz said.
"I have heard from so many people (that said they) did 10 million in sales, but only made profit on six. Our philosophy is to focus on the profitable six. Volume feeds your ego, profit feeds your family."
Mockup curved walls were made in the shop and used them as templates for the job site. These templates went to the job site for the walls to be built concurrently.
Architectural project a Best in Wood winner
A recent project that stood out for Victor Robbins Group was a large interior space that was recognized by Woodworking Network's 2018 Best in Wood Awards.
This interior featured 75 linear feet of a 13-foot high wall, all with curved and staggered 1-inch thick natural birch. Each piece was individually cut, sanded and finished.
"We built mockup curved walls in the shop and used them as templates for the job site," Robert Schultz said. "We provided these templates to the job site for the walls to be built concurrently. We even invented a clever fastening system for attaching everything from the back (hidden fasteners). Everything had to be built and shipped out in 12-inch high sections for handling, and interlocked in the field. (Even with) all of this, the most challenging part was estimating the project."
Best in Wood Awards were selected by a panel of industry judges. The contest, which is given annually, honors custom woodworkers for their outstanding craftsmanship and design.
The 2018 winners were selected from the categories of architectural millwork, custom furniture, custom kitchen/bath cabinetry, residential built-ins and specialty items. See http://vrgwood.com
Have something to say? Share your thoughts with us in the comments below.