October 14, 2008 | 6:08 pm CDT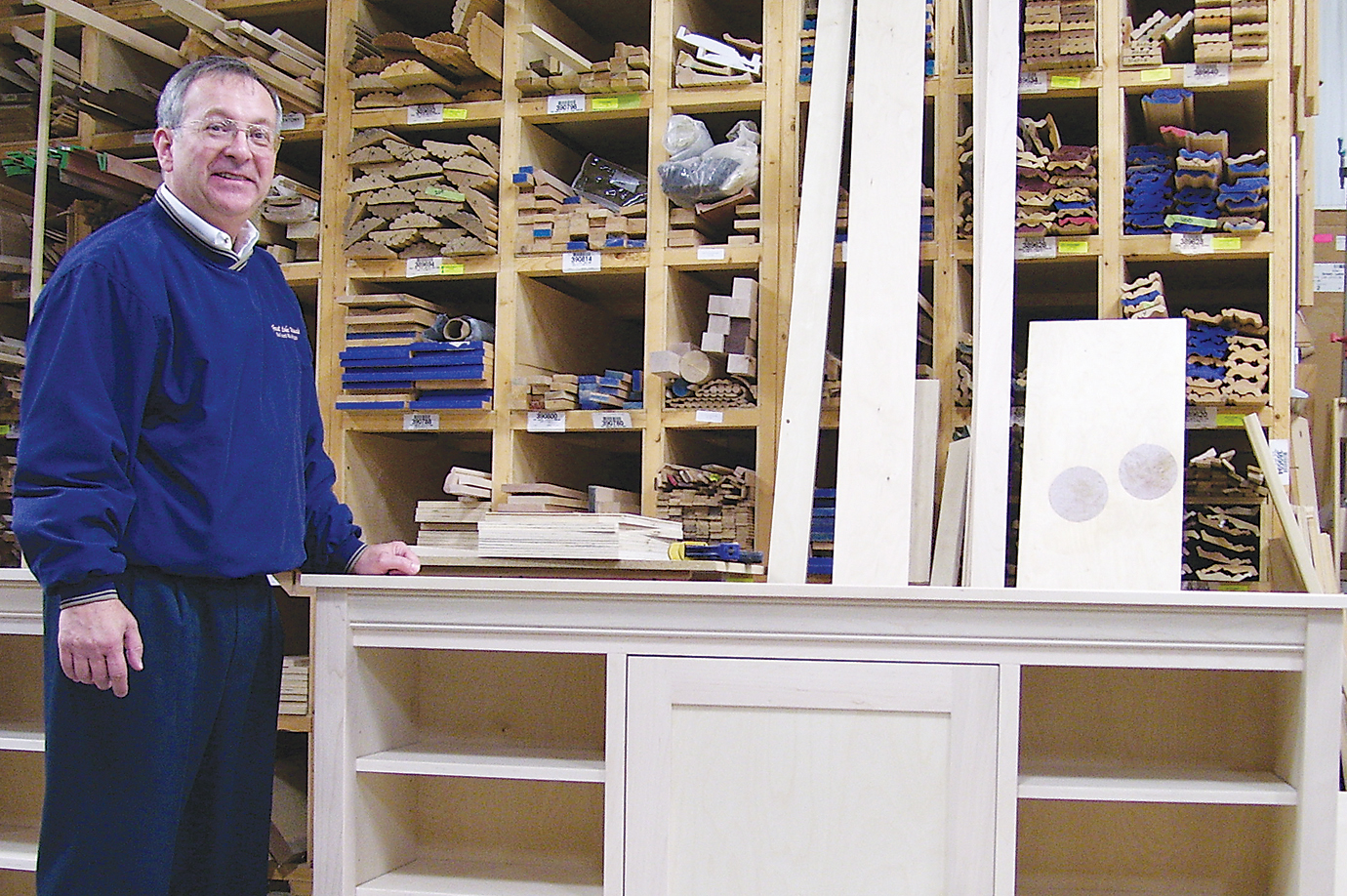 When Keith Malmstadt, recipient of the 2008 Jerry Metz Achievement Award, joined Holland, MI-based Great Lake Woods Inc. in 1993, the company had approximately 30 employees, 35,000 square feet of manufacturing space and offered only a handful of products. Today, having grown under Malmstadt's leadership, the company now has approximately 135 employees, 103,000 square feet of manufacturing space and offers more than 500 active profiles that are shipped all over the United States, Canada and Mexico.
"Ive evolved quickly from just a basic local millwork house to a top quality OEM supplier to many different industries, such as kitchen and bath cabinets, architectural, store fixtures, contract furniture and the window fashion industry," says Malmstadt.
Throughout the company's growth, Malmstadt has maintained a focus on the cornerstones upon which the Jerry Metz Achievement Award was founded, namely safety, training, quality and productivity.
"We're committed to quality as one of the keystones of what we do," explains Malmstadt. "We're committed to safety as job number one. I'm also a proponent of education, and we push for new equipment, new innovation and trying to bring out as many new products as possible to meet market needs."
Malmstadt began his career not in woodworking, but in the grocery business, running the day-to-day operation of his father's business. After earning his MBA from the University of Wisconsin - Eau Claire, he eventually found his way to the woodworking industry. In 1993 he purchased a 33 percent interest in Great Lake Woods. In 1996 he expanded his ownership to 50 percent, and in 2005 he purchased a majority of the outstanding stock.
Also in 2005, the company purchased GLW Finishing, a wet coat finishing operation in Holland, MI. Like Great Lake Woods, GLW Finishing caters to a broad section of the industry.
"My background in finance has given me an excellent background into understanding costs and financial issues within the company," explains Malmstadt. "We've grown, we've been able to use my expertise to properly plan and lay out a good strategy going forward.
"It's demonstrated in the fact that we've strategically added new products, we've added onto this building and we've added new processes from finishing to light assembly work," he adds.
Part of this strategy throughout the years has been to ensure his employees have the knowledge and skills to do a good job, as well as the latest tools and equipment they need to get the job done.
"Great Lake Woods' growth and commitment to manufacturing are fine examples to all in our industry," says Steve Lawser, executive director of the Wood Component Manufacturers Assn., which Great Lake Woods is a member of.
Building a Strong Team
"We've focused for years on various aspects of training and recruiting," says Malmstadt.
Over the years, Great Lake Woods has built up a strong team at all levels of the organization. Malmstadt has gone about this in different ways.
One way in which the company has boosted its work force is by recruiting new employees from across the nation.
"We recruit nationally for specific skill levels," Malmstadt explains. "We've been able to hire people from all over the United States and bring them to work at Great Lake Woods."
After seeing the company's level of technology and its energetic, vibrant crew, people are excited to come to Holland, he adds. The company has also gone aggressively into the local market to attract new talent and train them in-house.
"nternally, we've mentored our skilled people with our semi-skilled people to bring them up to speed," Malmstadt explains.
Great Lake Woods also takes full advantage of the training programs offered by machinery manufacturers and dealers in the United States, utilizing the industry training to foster the development of its employees.
"We've used this extensively. This is an excellent medium to educate our people," Malmstadt says. "I think we've done a pretty good job of fostering good training and educational development in our company."
For Malmstadt, though, training goes beyond the boundaries of Great Lake Woods into the greater woodworking industry.
"Keith is a forward thinking and hardworking individual who has had a significant impact on the woodworking industry," says Mark Smith, WoodLINKS national director.
Educating an Industry
In addition to training the employees at his company, Malmstadt has contributed to training the next generation of woodworkers through the WoodLINKS program.
"Keith has a big heart for WoodLINKS," says Smith. "His impact on the program has been significant."
"Keith has a personal commitment to the WoodLINKS program," agrees Lawser.
Malmstadt first became involved active in the program in 1999, feeling a need to get involved because employees with the proper skill sets were hard to come by. In his role with the program, he has been on the board for the past nine years and has served in the capacity of secretary, treasurer and president.
"We are very much in need of technical education in this country," remarks Malmstadt. "Statistics show that only one out of four people that graduate from high school end up with a four-year degree. What are we doing with the rest of our society?
"What we are doing is we're making a champion effort to make sure that we get as many young people as we can into the wood industry," he adds.
"We, as an industry, are going to have to take leadership roles to foster the development of skilled trades in our community," Malmstadt explains.
"Keith believes strongly that our future is dependent on young, bright people entering our industry, and he is committed to making this happen," says Lawser.
"Keith has a passion for the education system and a wealth of information that he is willing to share," adds Smith.
Trends in Technology
In addition to being a proponent of education, Malmstadt also believes in utilizing the latest in technology to enhance productivity within the shop.
Among the equipment used at Great Lake Woods are three double-end tenoners, three glue clamps, a CNC router, eight Weinig moulders, a Ditmer OptiCut 450 crosscut saw, two Raimann ProfiRip ripsaws, two profile grinders, two Omga CNC machining centers, a Barberan profile wrapper and a Duramac widebelt sander.
"We very much believe in investing in the future," says Malmstadt. "We also believe in a clean, well-organized, efficient facility."
As with his involvement with WoodLINKS, Malmstadt has offered his knowledge and experience to the industry in general.
"Great Lake Woods is a leader in the adoption of new technologies to improve production efficiencies and Keith shared these new techniques with WCMA members during a tour of their production facility," says Lawser.
"Our goal has been to take a leadership role with others in regards to innovation and true training, and we're going to continue to be involved locally and nationally in projects that go in that direction," Malmstadt says.
Great Lake Woods and the Green Movement
Malmstadt is no stranger to the green movement and what it means for the woodworking industry.
"The operating philosophy of Great Lake Woods and its related companies is to be in tune with the environment and the social needs of what we need to do," he explains. "The philosophy has been to be good stewards of our natural resources."
The company takes an aggressive stance on the use of its material and the consumption of resources. Today, the company utilizes approximately 99 percent of the wood fiber it purchases. It also has researched and implemented energy saving systems that are yielding significant reductions in the amount of electricity and natural gas that is consumed by Great Lake Woods.
Additional environmentally responsible measures include the movement to green finishes and the use of more certified wood.
"The future of the company will be focused on value-added products and more assembly work," says Malmstadt. "The key is going to be about bringing creative and innovative products to the market. We're going to continue to innovate and find ways to reduce our consumption without reducing our output."
A Humble Man
Malmstadt is quick to acknowledge that the success of Great Lake Woods is a group effort.
"The important thing to note is that this has been a team effort," Malmstadt explains. "This is the result of a lot of good quality people at all levels of the organization, from managers to administration, to production people, that worked diligently as a team to move our company forward.

"This isn't about Keith -  it's about the team," he adds.
Working with his team, Malmstadt and Great Lake Woods have gone on to win several awards over the past few years. The company is a past participant in the Wood & Wood Products WOOD 100 list of fastest growing woodworking firms. In 2005 the company was named Small Business of the Year by the Holland Area Chamber of Commerce, and it was named Small Business of the Year by the State of Michigan in 2006. Great Lake Woods also was among Inc. 500's list of Fastest Growing Companies in the United States in 2007.
Also in 2007, Mamlstadt was named Distinguished Alumni of the Year by the University of Wisconsin — Eau Claire. And this year, he is a finalist for the Ernst and Young Entrepreneur of the Year.
"I take part in the industry and give back to the industry, which I have been encouraging others to do," explains Malmstadt. "I truly believe this industry is a caring, giving industry."
Have something to say? Share your thoughts with us in the comments below.