11 Tips for Improving Customer Service: WOOD 100 Strategies for Success
August 28, 2015 | 1:00 pm CDT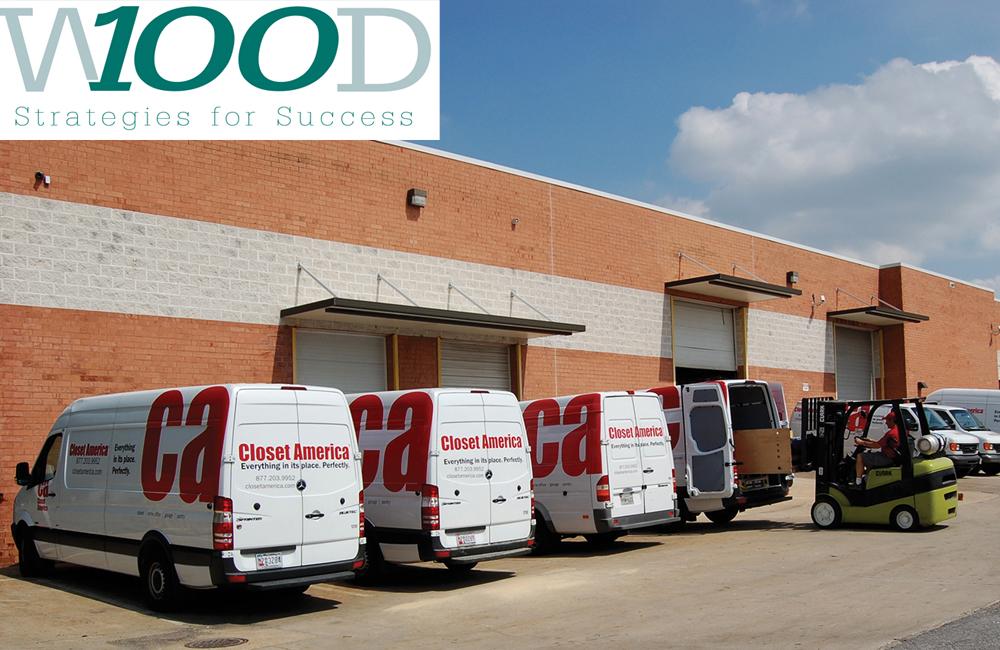 A good plan to grow your company's sales and marketing efforts must include a customer service strategy that is backed up by good quality, delivery and attention to detail. Read some of the strategies put in place by these manufacturers of closets, cabinetry, furniture, components and other wood products.
Closet America, Lanham, MD — Back by a management philosophy for "providing exceptional customer service," the award-winning home organization firm has grown steadily since its founding in 2009, including a sales growth of 8.3% last year.

Giving credit to the employees for high service ratings, Marketing Manager Josh Kiernan notes, "We've analyzed every facet of the process, from design, sales, manufacturing, installation to service and created new and innovative ways to improve everywhere we could." These include providing designers with tablets and proprietary software to create 3-D renderings for customers. Also, each job has a project manager who re-measures each home prior to manufacturing and is on-site for all installations, which are performed by company-trained installers.
 
Photo: transFORM
transFORM, New Rochelle, NY —"transFORM is committed to providing the highest level of customer service because we believe that great experiences result in great outcomes," says Donovan Malloy, marketing director of the custom home organization firm. The strategy has been a success, reflected by a 13.8% increase in sales last year alone.

The company designs, manufactures and installs its products. "In the past year transFORM has founded a new Design Research and Product Development Department headed by Daniel Steps," Malloy says. "The new department has already allowed us to introduce more new products and features to the market at a faster pace. This includes our new line of convertible and space-saving furniture that creates multiple uses from a single installation."

Other changes include moving its baltic birch dovetail drawer manufacturing in-house. The company also acquired two new installation vans and new Festool track saws for its installers. "transFORM also purchased new design and customer relationship management software to improve our competitiveness," Malloy adds.
Here's some more winning customer service suggestions:
 
Transparency in Production/Delivery Schedules
Osborne Wood Products, Toccoa, GA
Service is a high priority at the wood components maker, which invested in infrastructure and technology. "New wide-screen monitors afford our production and shipping teams the visibility of our KPIs," says Lane Taylor, marketing assistant. "At any minute in the day they see where we are at in producing and shipping 100% of today's orders. By the end of the year, customers will know when they place their order, even online, the exact date by which it will ship. This is a true value addition." 2014 sales grew 3.7%.
Greatlakes Architectural Millwork, Chicago, IL
Comprehensive scheduling, the availability of its staff and its service distinguish the millwork firm, the company says.
Personalized Service
Cutting Edge Doors & Woodworking, Maple Creek, SK
"We firmly believe in personalized service, delivering quality products, and stand behind our products 100%," says Arden Bond, managing director. The cabinet components firm also streamlined production, adding an OMGA optimizing chop saw.  A Viet R1 robotic sander is on order, with a possible CNC router and a tenon machine. 2014 sales grew 7.4%. 
J. Alexander Fine Woodworking, Nampa, ID
"Going above and beyond to serve the client" helped drive the custom woodworking firm's sales growth 11.5%. "We have been able to find clients willing to pay a premium for our product because of our service," adds Jared Patchin, owner. 
Taylor Made Custom Cabinetry, Pennsauken, NJ 
"Great customer service creating repeat customers," helped drive the cabinetry maker's sales up 41.6% says Cory Taylor, vice president.  "We will accommodate each of [their] ideas in order to construct the perfect piece for the home."
Sauder, Archbold, OH
The RTA producer received a Center of Excellence certification for the 9th consecutive year for its customer support center.
Finding Solutions
The Maui Closet Co., Kahului, HI
Sales grew 11.1% and look to be even better this year as the home organization products firm works with clients and builders, "utilizing their space to meet their needs and working within their budget," says Debra Finkiewicz, president. Focus is also on new product development with a very creative flair, she adds.
MCS Woodworking, Milwaukee, WI
Specializing in tenant build-outs, the millwork shop's sales grew 19.1%. "Making and maintaining great relationships with our employees and customers has played a significant role, along with keeping our costs low," says Rachael Ornelas, office manager. Opening a new division and purchasing a Weinig Profimat moulder "has given us the ability to furnish custom profiles in house, and it has allowed us to expand our market."
Metrie, Vancouver, BC
The interior furnishings firm launched Metrie², Made to Measure, the first division, the company says, dedicated to providing custom trim and millwork design solutions and service to the hospitality industry and high-rise developers.
Read more WOOD 100 2015 Strategies for Success:
Marketing Initiatives
Go-to-Market Strategies
Business Strategies
Productivity Enhancements
Technology Integration
Product Innovations
Customer Service
Return to WOOD 100 Main Page
Have something to say? Share your thoughts with us in the comments below.