Cabinet components finishing reaches new levels: Technology tour to Italy
October 18, 2017 | 9:07 am CDT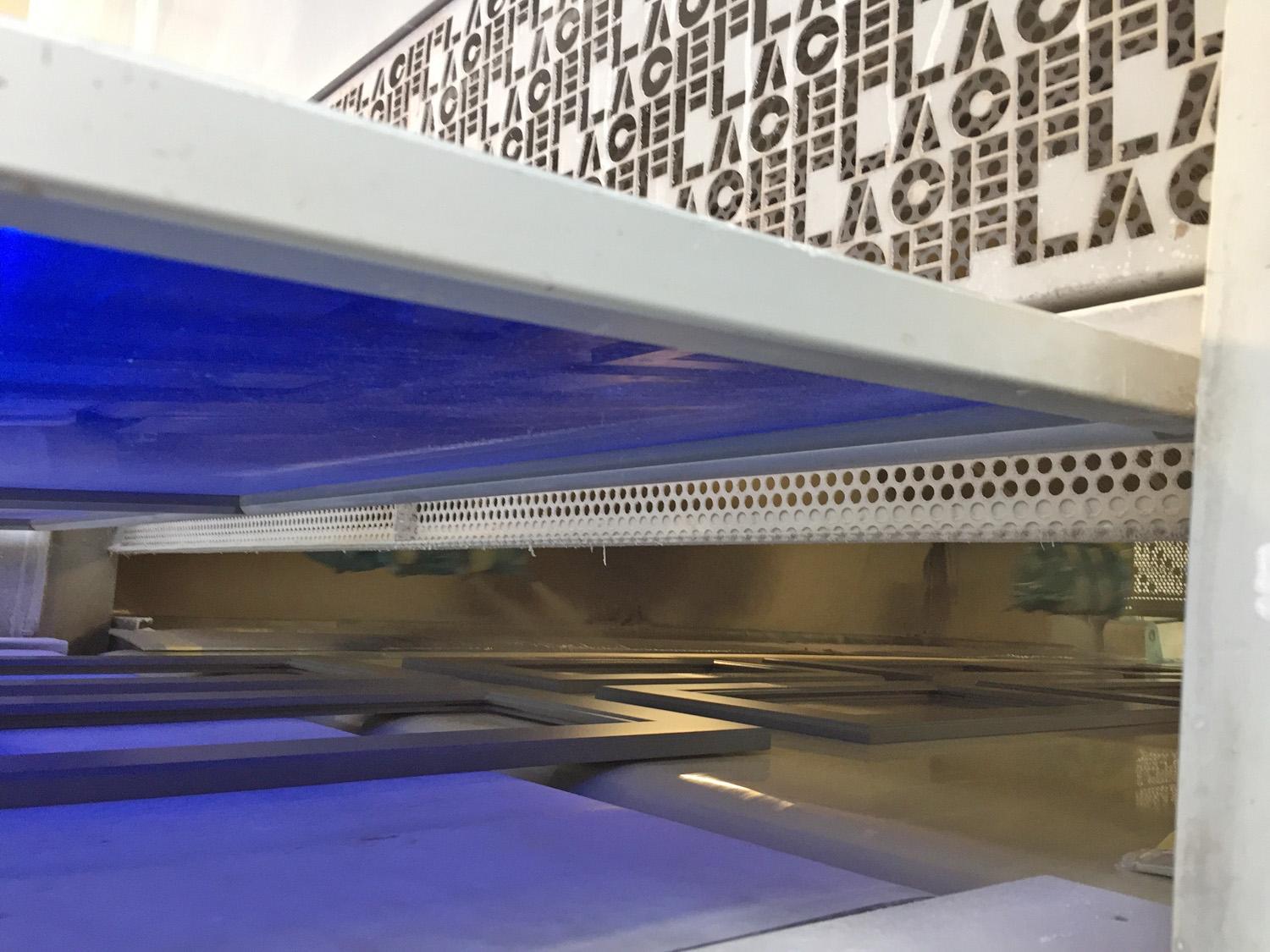 Wood finishing technology and other European woodworking best practices are getting a firsthand look by approximately two dozen North American woodworking professionals as they join Cefla North America on a technology tour of Italy.
Highlighting the week-long tour events will be a visit to the Cefla Live event in Imola, Italy. Held Oct. 18-20, the international Cefla Live includes displays of Industry 4.0 technology for the finishing and decoration of wood and other materials.
The Cefla technology tour is being conducted in two groups. The first contingent, which included representatives from Cabinet Specialists, Caribou surfaces, Doorland, Fenplast, Jeld-Wen, Round Wrap and Woodworking Network, kicked off the plant tours with visits to cabinet components manufacturers Ilcam and Mobilclan on Oct. 16, followed by tours of L.A.P.M. and Italdecor on Oct. 17.
On the fast track for cabinet door finishing
Following a day in Venice, the tech tour kicked off Oct. 16 with visits to Ilcam and Mobilclan.
Door production at Ilcam
Based in Cormons, Ilcam is the definition of fast production. Not only does the cabinet door manufacturer produce 70,000 parts per day, but it claims to be the only manufacturer in the world that can produce any type of cabinet door at its 52,000-square-meter (560,000-square-foot) facility. Ilcam offers a variety of door styles ranging from traditional and contemporary.
The company, which has approximately 1,060 employees, uses robotics extensively, particularly in the assembly process, where we saw many examples of robotic lines feeding into others. In addition to CNC machining, Ilcam's capabilities also include: veneering, flat lamination, membrane pressing, profile wrapping, edgebanding, and finishing – curtain, roller and spray coating – of solid wood and MDF.
Quality control is critical for the company, and it's reflected in the finishing area. For example, the U-shaped paint and stain line for the wood doors is about 200 meters long, and runs between 8 to 9 meters per minute. Parts are conveyed from the Biesse Viet Opera sander to the Cefla rotary stain machine for the first coat. The line utilizes Cefla's Smart conveyor system which uses sensors to optimize panel positioning for charging into the ovens.  After receiving the first coat, parts move through the UV ovens, after which a CMB turner flips the panels for finishing on the front. After sanding on a Quickwood, the panels go through the Cefla Rotostain, are dried, then directly into Cefla sprayers and Quickwood sanders for the sealer and topcoat applications before drying in Cefla vertical ovens.
The matte line for finishing MDF doors included Cefla Roctre reciprocating sprayers in line with Viet sanders. Unique on this line were the two sets of Cefla Omnidry vertical ovens, which were shown at the 2017 LIGNA show and feature the Flexpro function which can handle variable load thicknesses.
Ilcam also had Cefla lines for high gloss and other finish applications. According to Giuseppe Calzolari, production specialist, approximately 95 percent of the company's doors are exported throughout Europe, with a small portion sold to the North American market.
One of the Cefla finishing lines at Mobilclan
Cabinetry doors and components are also the primary products of Mobilclan, which produces approximately 16,000 parts per day (4 million parts per year) of veneered, solid wood and MDF components. Founded in 1967, the cabinetry components firm has approximately 600 employees and 90,000-square-meter (969 thousand square feet) of manufacturing space spread across its facilities.
The company also exports a large portion of its products. In addition to custom cabinetry components, Mobilclan offers two standard lines of product: Casa Italia, which is available in classic and modern styles inspired by Italian furniture, and Country House, which reflects the style of English country houses. Full cabinetry, as well as individual component, are available through a network of distributors, explained Maurizio Tellini, sales director.
Part of the tour included a brief look at the door production, where Weinig moulders were used in the manufacturing process. As seen at Ilcam robotics are used here as well, with a Faxorobot seen loading the door frames onto a line made up of Biesse Viet and Costa sanders, as well as Celaschi machines.  Watch Mobilclan's YouTube video:
The attention to detail in the finishing department is evident, where a variety of glosses, as well as specialty effects are produced. Parts are fed into the Quickwood sander, and then conveyed into the Cefla Rotostain. A Cefla Smart Conveyor lines up the parts for optimal charge for feeding into the Cefla oven, then into the Cefla UnoSpray reciprocating spray system, before the final drying.
Door frame finishing at L.A.P.M.
Slab, Shaker, integrated handle and curved doors are the specialty of L.A.P.M., based in Pasiano di Pordenone. Founded in 1987, L.A.P.M. specializes in polyester coating, lacquering, and polishing of cabinet components at three facilities encompassing 22,000-square-meters (approximately 237,000 square feet) of production space, a company representative said. The company processes approximately 12,000 parts per day at the one facility, he added.
The focus of the tour at the first L.A.P.M. facility visited was on the pre-finishing of the edge and face. The company utilizes Cefla Smartedge technology on MDF parts to coat and sand the straight and shaped panel edges. In this instance, MDF panel edges were sanded and prepped for finishing. In an adjacent area within the plant, the panels were run through a Biesse Viet sander and Sorbini panel cleaner, then into the Cefla Roctre reciprocating sprayer for application of the primer and base coats onto the face and edges before drying in a Cefla six-chamber vertical oven.
Final coating application is performed at a nearby location. In an estimated 50-meter (164-foot) line, L.A.P.M. utilizes a Roctre reciprocating system to apply the topcoat; a variety of gloss levels can be achieved, ranging from super matte to high gloss. The Smart Conveyor charges the parts for feeding first into a Cefla four-chamber vertical oven, then into a six-chamber oven, followed by another six-chamber oven, for a total drying time of approximately 11 hours.
Along with sales in Italy, cabinet components are exported to other European countries, Germany one of the primary markets for the high-gloss doors. According to L.A.P.M.'s website, the company is looking to expand into non-European markets.
A look at Italdecor's inert coating line. Photo: Italdecor.biz
The technology tours concluded with a visit on Oct. 17 to Italdecor, a manufacturer of painted MDF doors and cabinetry components using a polyester base coat and polyurethane topcoat. Originally founded in 1988 and based in Pramaggiore, the company processes approximately 4,000 parts per day at the 30,000-square-meter (approximately 327,000-square-foot) plant.
Doors are available in a variety of styles, in both matte and and high gloss finishes. Italdecor uses Cefla Smartedge inert coating technology, in a two-sided model, to sand and seal the exposed MDF edges with an acrylic basecoat applied by vacuum and UV dried.
Another line at Italdecor has parts moving from the Sorbini panel cleaner into a Roctre reciprocating sprayer and, with the Smart conveyor, into three sets of vertical dryers. Nearby, a UV line has parts moving down a series of Sorbini//Cefla SmartCoater EVO roll coaters, and UV dryers, including a Superfocus, with Viet sanders strategically located along the line.
Also in use is a Sorbini SmartCoater with a Smart Conveyor feeds into the curtain coater and linear oven for the building of the high-gloss finish. In addition, the company is in the process of installing another Roctre spray line with a four-chamber and six-chamber vertical ovens.
Along with its finishing capabilities, Italdecor also offers laminated backs to match the front finish.
Watch the YouTube video of Italdecor's inert coating technology line:
Tour participants will have a chance to further view the finishing technology to Cefla's headquarters in Imola at Cefla Live, beginning Oct. 18.
Participating in the first group of the 2017 Cefla North America technology tour are (l-r): Jean Marchand, Fenplast; Ted Vincent, finishing consultant for Cabinet Specialists; Dino Gobbato, Cefla; Doug Clark, Jeld-Wen; Alan Henderson, Cefla; Brent Warren, Cefla; Ric West, Cabinet Specialists; Fabio Caroli, Cefla; Joe Sanders, Cefla; Karen Koenig, Woodworking Network; Andrea Granzotto, Doorland; Marc Andre Lemieux, Fenplast; Megan Marchand, Fenplast; Crystal Brightwell, Caribou surfaces; Cory Brightwell, Caribou surfaces; and Gurnek (Niki) Sandhu, Round Wrap Industries.
Have something to say? Share your thoughts with us in the comments below.