Powermatic launches 3-axis CNC routers
August 31, 2016 | 3:56 pm CDT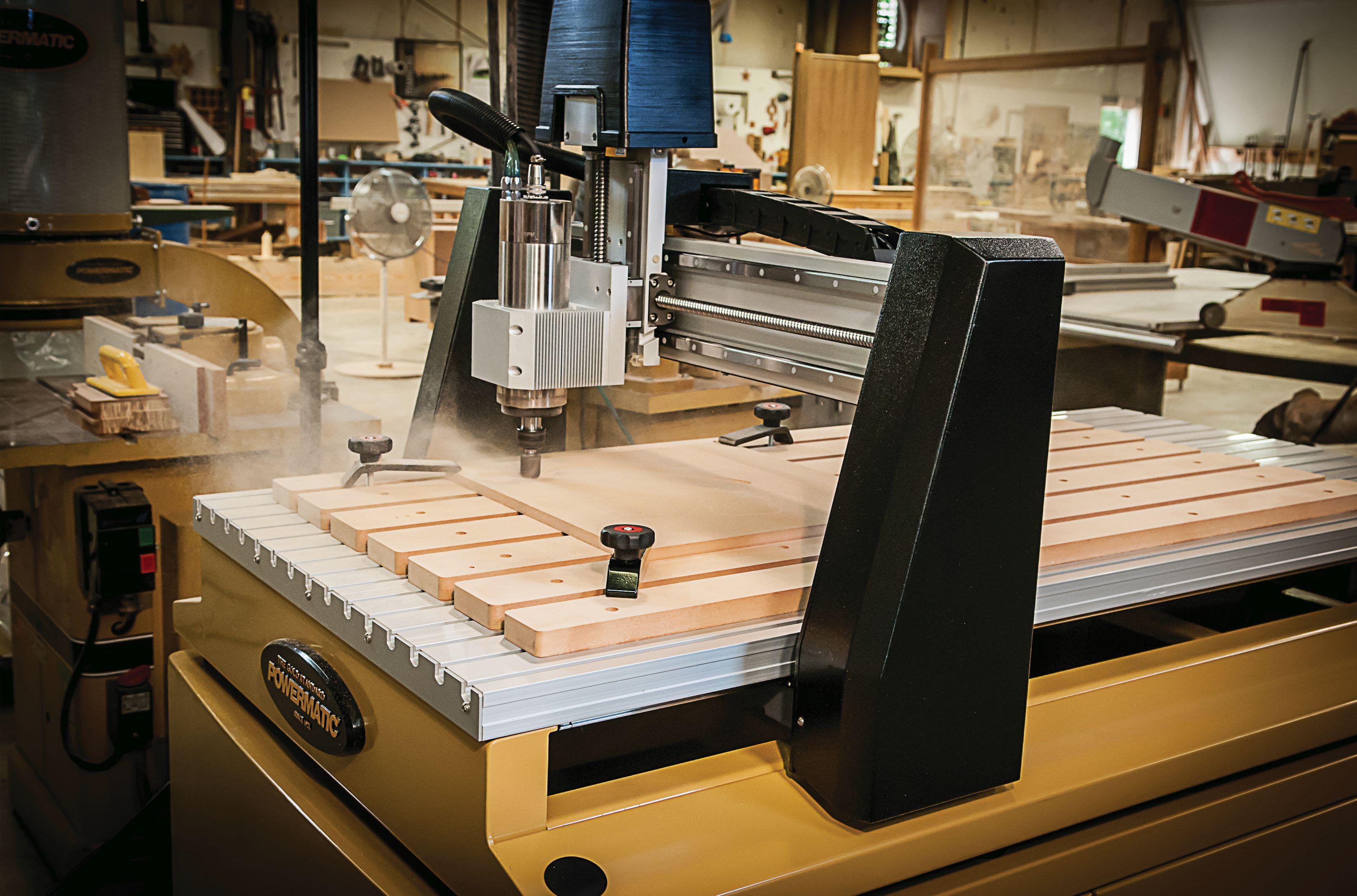 LA VERGNE, Tenn. – Powermatic has entered the multi-dimensional world of computer numerical control by introducing two CNC woodworking routers. Available in 2x2-foot and 2x4-foot sizes, the CNCs are priced starting at $5,719.
These mid-sized 3-axis CNC router machines move the spindle in the X, Y and Z planes (X = side-to-side, Y= back-and-forth and Z = up-and-down). The Powermatic CNC routers accept international mainstream CAM software, including VCarve Desktop, VCarve Pro, Vectric Aspire and others. 
The Powermatic PM-2X2K provides XYZ travel of 24" x 24" x 6" and the Powermatic PM-2X4SPK features XYZ travel of 24" x 48" x 6". 
"Our new CNC routers answer the demand by many woodshops and enthusiasts for the wide-ranging applications and precision of these computer-controlled cutting machines," said Katie Davidson, Powermatic's Product Manager. "These versatile machines can accurately and efficiently produce quantities of identical items, as readily as intricate one-of-a- kind creations."  
The new Powermatic CNC routers are designed to cut many types of wood, as well as plastics, composites, aluminum and foam.  They can perform a tremendous range of woodcutting tasks, including intricate 3D carvings, furniture components, cabinet door panels, moldings, joinery, sign boards, picture frames, engineering prototypes, woodcrafts and more.   
A handheld controller is connected to the CNC router's DSP (digital signal processor) box with an 8-foot cable, which provides convenient oversight of projects from different positions.  It's not necessary to connect a computer to the router. The controller is equipped with a USB port for efficient file transfer.  
The CNC machines feature welded-steel frames for rigidity and vibration dampening.  Exclusive, heavy-duty gantry supports are constructed of gravity-cast, aluminum alloy.  Their enclosed, steel stands include storage drawers, as well as independent leveling feet and swivel casters for mobility.
A sturdy work surface is provided by an extruded aluminum table featuring integrated T-slots that allow hold-down clamps to be positioned in multiple locations.  The PM-2x2RK table measures 39-1/4" x 28-1/2" and the PM-2x4SPK table measures 63" x 28-1/2".
Four hold-down clamps are included with both machines.  An MDF spoil board protects the table from damage and can be quickly resurfaced by using a program that is pre-loaded on the machine's controller.    
The PM-2X4SPK is pre-wired for 230V operation.  It is equipped with a 7.5A, 3 HP spindle motor, and has a speed range of 0-24,000 RPM.  The electro spindle is liquid-cooled by a system that forces coolant through the spindle, and a radiator and fan assembly dissipate heat. 
The PM-2x4SPK's spindle is equipped with an ER20 collet that accepts both ¼" and ½" chucks.
The Powermatic 2x2RK is equipped with a universal 3½" router mount that accepts several compatible woodworking routers.
Spindle movement on each axis is controlled by high-torque stepper motors mounted above the spindle on the gantry bridge.  Precision ball screws with re-circulating ball bearings allow rapid movement on each axis, while maintaining precise spindle placement.  The rapid feed rate of both CNC routers is 200 IPM (inches per minute).
Linear guideways also feature re-circulating ball bearings for accurate positioning of the tool bit. Flexible nylon track chains protect cables from rubbing and stress. 
A puck is included to quickly and easily re-zero the Z axis using a button on the controller.
The CNC routers can be connected to a dust collection system via a 4" port on the included dust shoe, mounted beneath the spindle.  At least 300 CFM collection capacity is recommended. 
The PM-2x2RK Router weighs 598 lbs. and requires 52" X 45" of floor space. The PM- 2X4SPK Router weighs 748 lbs. and has a footprint of 52" X 69".
Visit
www.powermatic.com
for more information and to locate the nearest dealer for the Powermatic PM-2X2RK CNC Router (1797022K, $5,719.99) and Powermatic PM-2X4SPK CNC Router (1797024K, $8,499.99). Optional accessories include the Powermatic PM-HD CNC Hold Downs (set of 2) (1797000, $19.99), Powermatic PM-DS CNC Dust Shoe (1797001, $49.99) and Powermatic PM-RBS CNC Router Bit Set (1797003, $289.99). 
Headquartered in La Vergne, Tennessee, JPW Industries, Inc manufactures and markets a wide range of machinery and equipment under the JET, Powermatic and Wilton brands. In addition to its La Vergne headquarters, the company has operations in Switzerland, Germany, Russia, France, Taiwan, and China. It sells through a vast network of distributor partners worldwide. Visit JET Tools at
www.jettools.com
, Powermatic at
www.powermatic.com
or Wilton at
www.wiltontools.com
.
Have something to say? Share your thoughts with us in the comments below.