MJB Wood Group opens new 500,000-square-foot facility
August 9, 2022 | 8:14 am CDT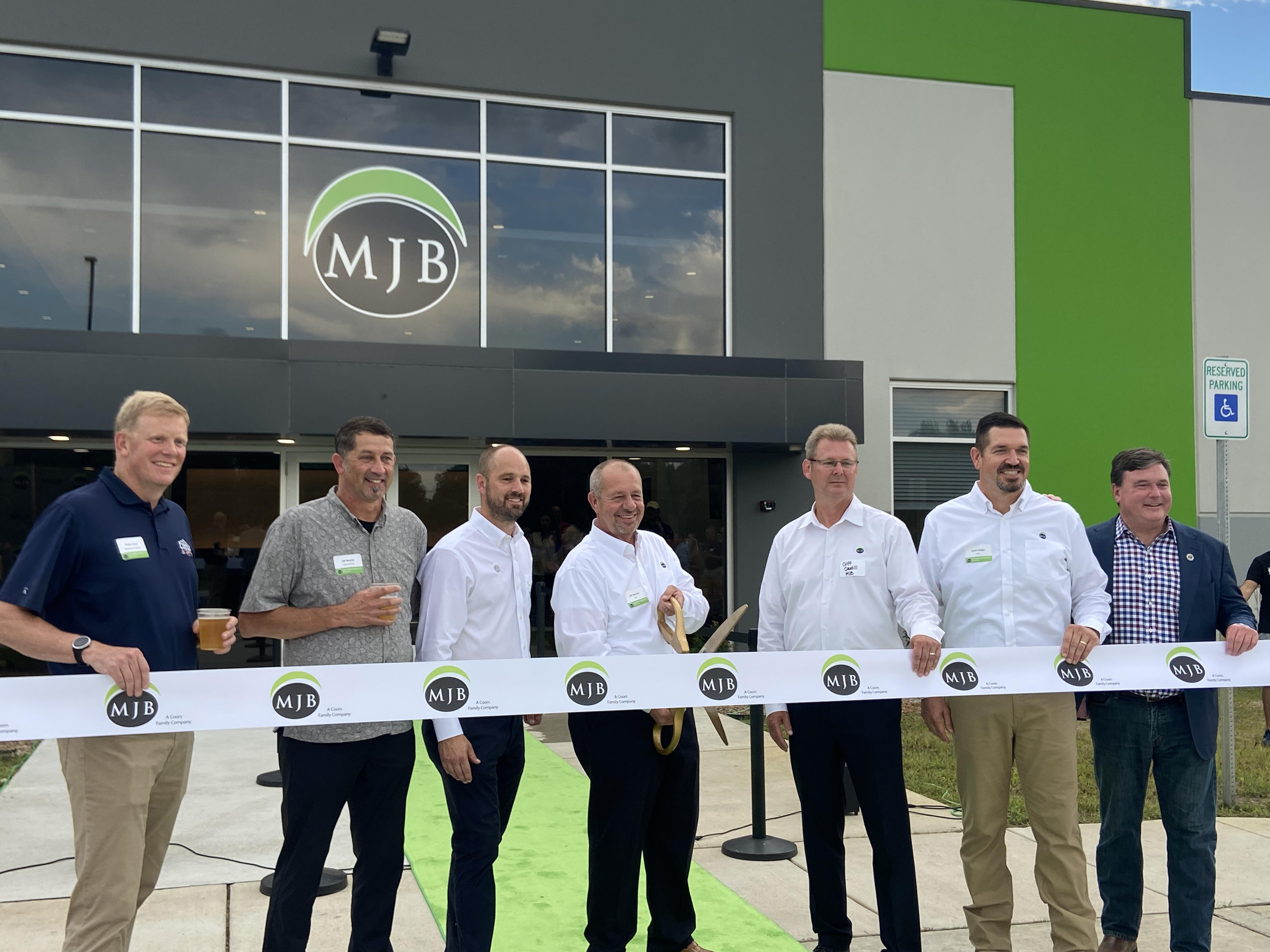 BRISTOL, Ind. - MJB Wood Group, a manufacturer and distributor of industrial wood products, recently opened its new 500,000-square-foot facility located near Bristol, Indiana. The new plant, which sits on a 38-acre lot, is MJB Wood's largest facility in North America, and it replaces the company's nearby 228,000-square-foot facility in Elkhart, Indiana.
"We have invested tens of millions of dollars in our new facility in Elkhart County because of the area's strategic importance to the RV industry," said Jeff Messick, executive vice president of MJB Wood Group. "Elkhart County manufactures 80 percent of the recreational vehicles on the road today, and the industry dates back nearly a century. More than a dozen major manufacturers of RVs call Elkhart County home, and we're proud to call Elkhart home as well."
According to MJB Wood President and CEO Scott Griggs, the new plant was a long-time coming and has been in development over 10 years. Record RV sales in 2020 during the height of the pandemic made it even more necessary to move to a larger site to handle and expand the company's ability to meet the needs of its customers. Over the past five years MJB has experienced tremendous growth in the region, exceeding 18 percent year-over-year revenue growth. 
"So, we made a determination in August of 2020. I think this is important that this was in the middle of COVID, by the way. But we all said, 'We're never going to be able to grow in the RV industry and Elkhart in our existing building. We're never going to do more than what we're doing right now. So, we're either going to do this, and we're going to do it now because we believe in the marketplace, or we're not,' Griggs explained. "And we said, 'You know what, stop looking for a building that fits us because no building is ever going to fit us. Let's build a building that fits us.' And that's what we did. We met with ARCO, we sat with a contractor, and we determined this is the building we want."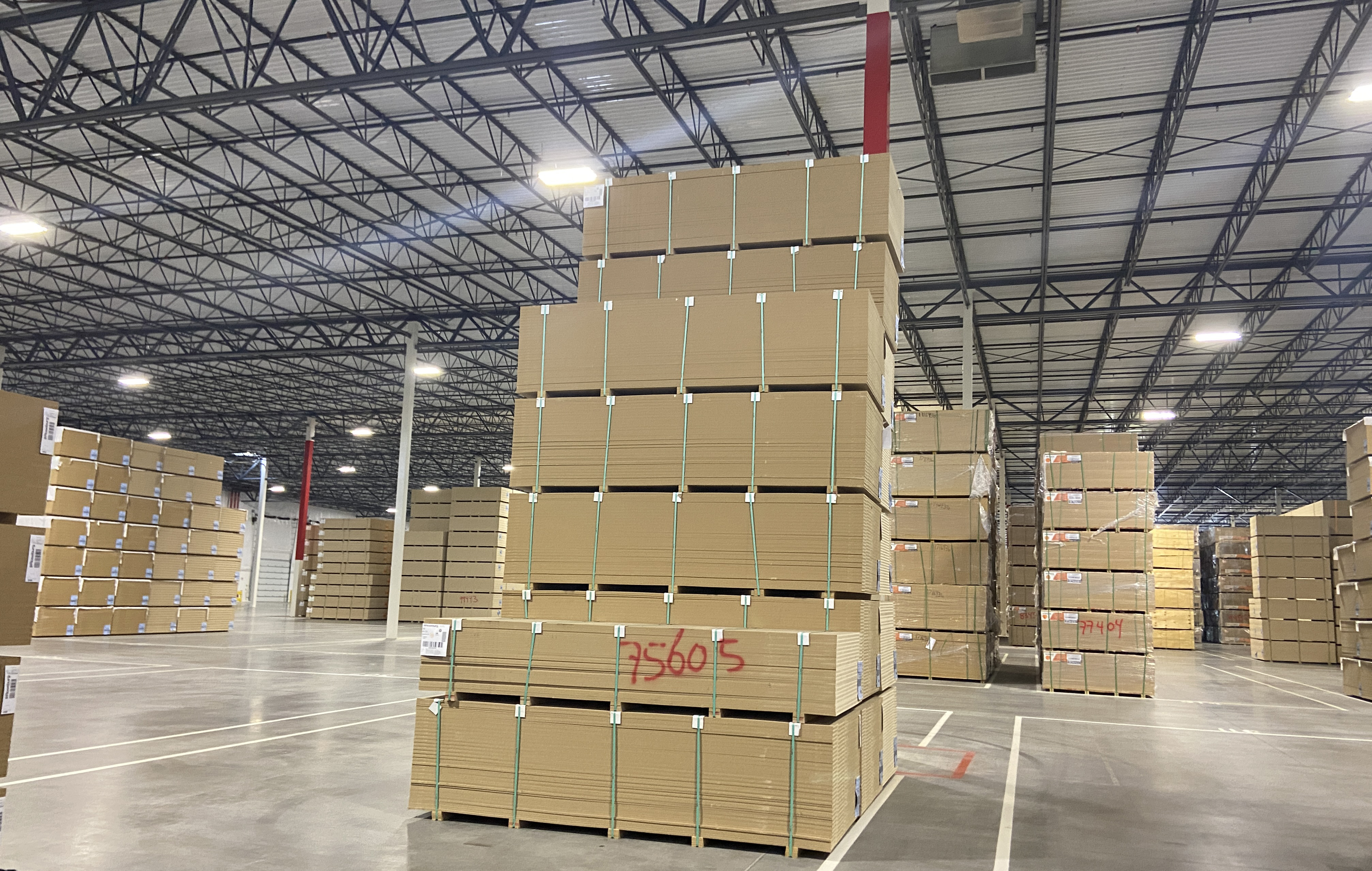 Mike Simpson, operations manager for ARCO National Construction Company, said the design-build firm was brought on board to streamline design and construction. The initial part of that process was getting to know MJB Wood and what its needs were. They met with the team in October 2020. By May 2021, they broke ground on the new site, and by June 2022 received a certificate of occupancy.
"Just about 12 months ago, we stood here. This was a farm field of about 30-32 acres," Simpson said during the open house held July 27. "So, there was a lot done in a short amount of time."
The building size originally started at 200,000 feet, then went to 300,000, and then to 400,000. "Then we said, 'You know what, by the time we put manufacturing in here, and you integrate the rail, and that takes up some space, we really need a half million square feet,'" Griggs said.
Working with ARCO they were able to secure all their requirements for the new space. According to Simpson, a few of those key features include:
16 drop pick bases - at the last facility, there were only two positions where you could back trucks in and pull the new ones out 
480-foot-long interior rail spur 
3 separate offices - the main office, the shipping, receiving and manufacturing offices for 18,500 square feet of office space 
100,000-square-foot integrated fabrication facility, which allows for material handling in between distribution and manufacturing - that was previously at two different facilities 
400,000-square-foot distribution area with a 32-foot-clear height 
Heated building allowing for more productivity 
Heavily reinforced and thickened the slab in areas for MJB Wood's jumbo, 24-foot-long Huber enhanced OSB plywood sheets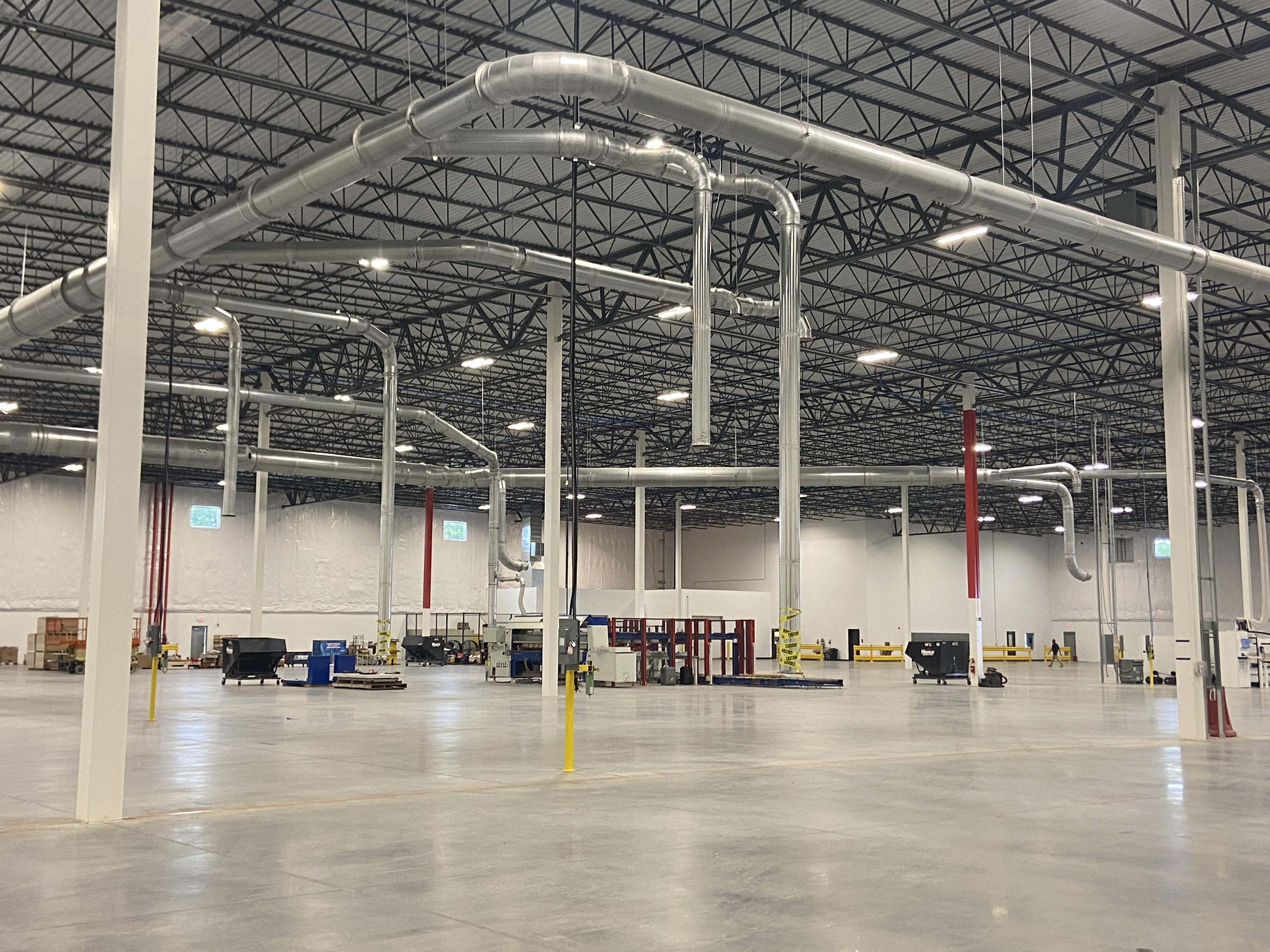 Another key feature is that MJB Wood's new fabrication facility will allow the company to offer custom services such as cut-to-size, CNC machining, moulding, kitting and light assembly.
"I'm confident that these resources will allow us to exceed customer service expectations, said Cliff Caudill, vice president of RV/Transportation, during the opening ceremony. "Our teams worked very hard to meet demand, they now have the platform to get the job done."
"I think this facility is showing that we have now stuck the flag in the ground in Elkhart County, so we're here, we're going to grow," added Messick. "And we're going to continue to add capabilities and products to the mix to service, everybody in this room, whether you're a vendor or a customer."
One of the new products added to the mix includes the import of thin plywood called Meranti.
"Meranti plywood historically has moved from the port to the customers, and that's a real clunky process," Griggs explained. Now the material is stored in the new facility and can be shipped directly to the customer when the order is placed. "So instead of having to give an order that says, 'sometime in the next two weeks ship me those products from the port,' we get our orders by 2 p.m. and then that's on the 4 a.m. truck out the door. No one was able to do that with Meranti."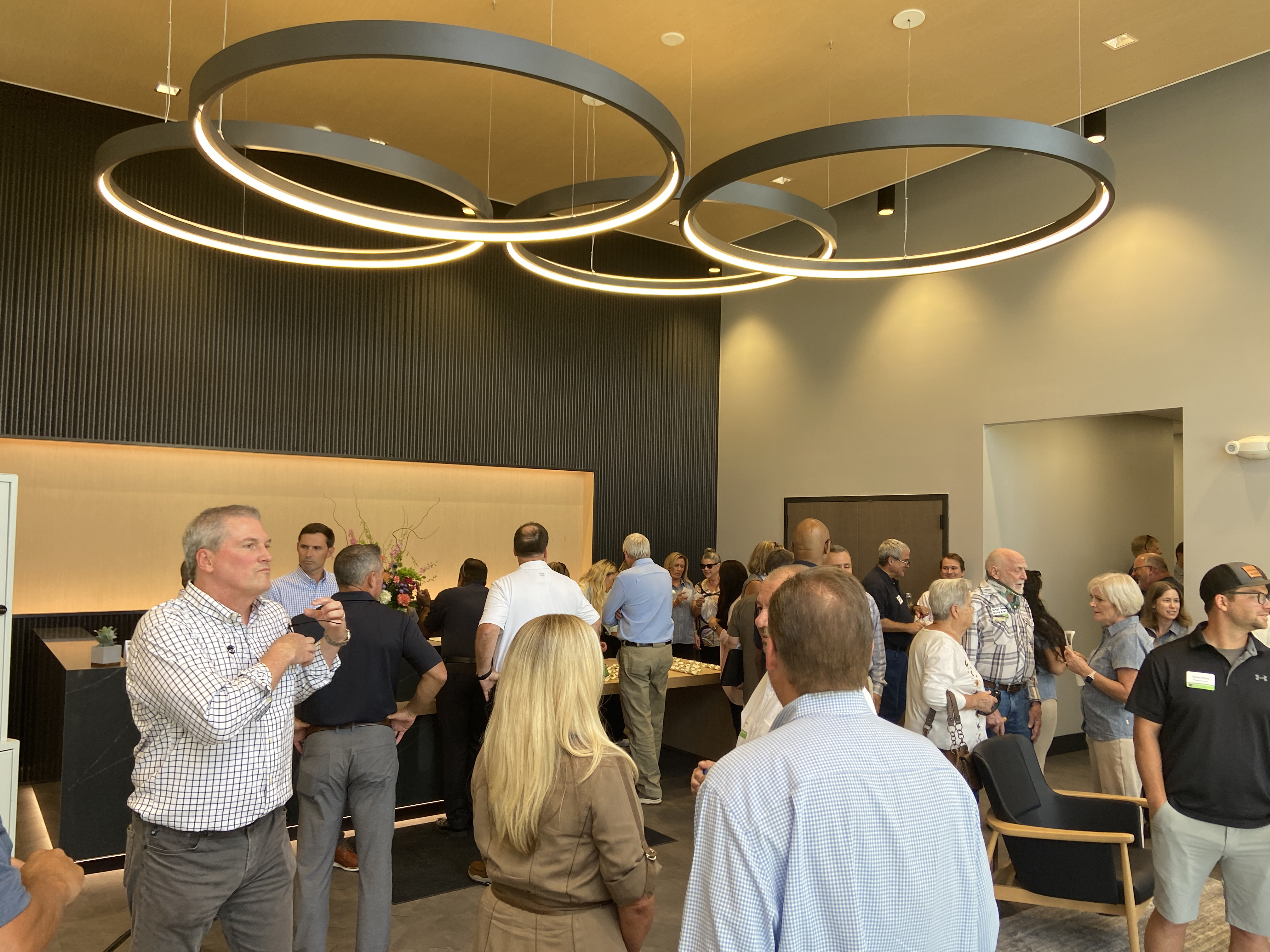 Griggs also pointed out that when they started planning this building 10 years ago, they had no idea that the current supply chain would be broken, so the timing of the new facility is "fortuitous." While its RV clients represent a large portion of the business, the other business groups – cabinet, door, fixture and furniture – will utilize the new space.
"Number one, we're making sure RV is taken care of first. But once that is all fully established and we're comfortable, then the other business units will be able to introduce their products to service their customers in a five-state area - Michigan, Ohio, Illinois, Indiana, and Wisconsin. Even down to Kentucky. We have a high concentration of customers in a small geographic area. And we have multiple businesses that can use this platform. So, you saw the rail coming in that allows us to bring goods in from all of North America, all the ports can come here to the central US and avoid the truck freight. And then we can hub-and-spoke out to that collection of customers."
The opening ceremony also included remarks from Timothy and Peter Coors (MJB Wood Group is a Coors family-owned company); Todd Rokita, Indiana attorney general; and Nathan Klomp, MJB Wood Group director of business development/marketing. 
For more info, visit www.mjbwood.com.
 
Have something to say? Share your thoughts with us in the comments below.