IWF Challengers Awards nominations released
May 31, 2022 | 1:02 pm CDT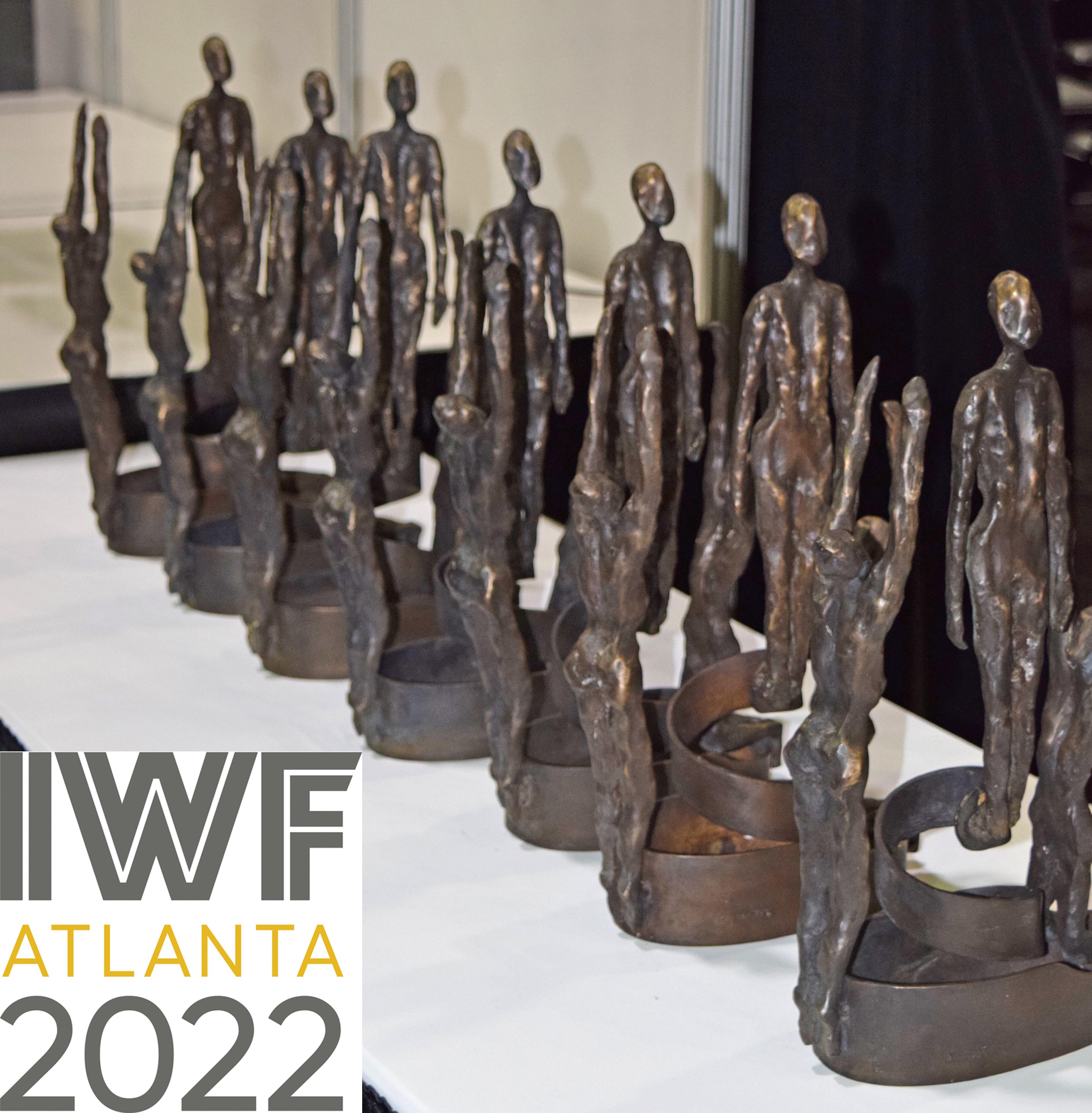 Companies from around the world entered this year's IWF Challengers Distinguished Achievement Award. In all, 67 companies entered 86 products into the contest that recognizes companies demonstrating exemplary achievement in the development of "product, service, or manufacturing technologies and techniques created to advance the industry."
A panel of nine judges, consisting of recognized professionals drawn from across the industry landscape, reviewed and analyzed each entry.
 
From the full field of contestants, 20 finalists are selected on June 20 to perform live demonstrations for judges' review on the day preceding show opening. Judges render final decisions to select winners based on demonstration outcomes. Seven winners will be announced on IWF 2022 opening day, Tuesday, August 23. The finalists will be on display in The Challengers Award Gallery throughout the duration of the show.
 
The 86 contestants for the IWF 2022 Challengers Distinguished Achievement Award competition, are listed here:
3B S.p.A | OVERLINE
abcd, jr. enterprises, LLC | Modular Cabinet System
AikenControls | nAble-Advanced Board Labeling System
All*Star CNC Products, Inc. | SpoilTiles
Altendorf Group America, Inc. | Hand Guard
Alvic USA LLC | Croma
Ardis US | Ardis Analytics
BACCI America, Inc. | 5-Axis CNC Machining Center with Disappearing Jig-Less Clamps
BACCI America, Inc. | CNC Turning Lathe with 4 Vertical Spindles
BACCI America, Inc. | Robotic Feed System for High Volume Batch One Outside Profile/Sand Process
Bella Terra Interior Solutions/Clean Armor Technology, LLC | Clean Armor Wood 700
Biesse America | Automated MDF Shaker Door Production Line
Biesse America | Biesse Rover B FT High Dynamics
Biesse America | Stream A Single Motor Corner Rounding Unit
Biesse America | T-Jet: Dust Mitigation System
Biesse America | XPS eXtreme Positioning System
CalPlant | Eureka MDF
Casadei Busellato | Vitap K2 2.0 with Flow Automation
Circle T Manufacturing LLC | Easy Lock Miter Machine
Colonial Saw | STRIEBIG Edition 60
Colonial Saw/Lamello USA | Zeta P2 Cordless
Crows Nest Software, Inc. | CROWS NEST
Delmhorst Instrument Company | Navagator Series Wood Moisture Meter with Bluetooth®
Donaldson Company, Inc. | Rugged Pleat Baghouse Collector
Eagle Machinery & Supply, Inc. | Eagle StraitLine Gang Rip Saw
Felder Group USA | glueBox
Felder Group USA | PCS (Preventative Contact System)
FGV America Inc. | OMNIA L AnyClick Hinge
GEMA USA Inc. | OPTIFLEX PRO
Guffey Systems | PivotLine™
Guffey Systems | PivotPoint™
HSD SpA | MY HSD
Hymmen GmbH Maschinen- und Anlagenbau | Digital Staining
IFS Coatings, Inc. | IFS PureClad
Innovashelf | EZ-Loc adj Floating Shelf Bracket
JOULIN North America LLC | Joulin Gantry
Kanefusa, USA, Inc. | ECO ENSHIN KNIFE
Kastamonu | Kastamonu Entegre- Safe Surface
Kiwi Vision LLC | The Morgan Square
KOCH LP | PAUL-KICKOUT
Krautzberger North America | Material Pressure Regulators
Kundig USA Inc. | Cados
Kval Inc. | KvalCAM CNC Programming Software
Lentz Machinery Group/PADE USA | Finishing Robot with ORB
Lentz Machinery Group/PADE USA | New Turning and Sanding Mill
Martin Woodworking Machines | MARTIN ConnectControl
Mattersmith LLC | Mattersmith Platform
MB Maschinenbau GmbH | ROBA Fusion Double end tenoner
Nederman | LBR SmartFilter
Next Wave CNC | RS1000
Nordfab Ducting | Quick-Fit Visual®
Northtech Machine, LLC | Northtech Machine's iDovetail
Northtech Machine, LLC | Northtech Machine's L5 No Lock SLR Fence
Nutek Machinery | Ott Edgebander Storm Plus with Combimelt Glue System
Oneida Air Systems, Inc. | 10" Single Phase Rotary Air Lock Valve
Oneida Air Systems, Inc. | Benchtop Dust Collector
Oneida Air Systems, Inc. | Dust Deputy® 2.5 Cyclone Separator 14-Gallon Delux Kit
Oneida Air Systems, Inc. | Dust Deputy Bagger Cyclone Separator Kit
Oneida Air Systems, Inc. | Super Dust Deputy 4/5 Cyclone Separator 14-Gallon Delux Kit
Oneida Air Systems, Inc. | Supercell Mobile 14 Gal. High Pressure Dust Collector
OVVO Ltd. | OVVO Drilling Connection System
Paintline | Portable Jobsite Spray Booth
Paintline | ProDryingRack Transport (PDRTR)
Peak Toolworks | Endurance Diamond Finger Joint Cutter
Pillar Machine | HP5D-Horizontal Bore Dowel & Groove
Pro Edge Technology | Lockdowel CNC Machining Center
RAMPA TEC Inc | RAMPA Threaded Insert Type E
Rev-a-Shelf | 448 Swivel Pullout
Salice America, Inc. | Bifold Door System
Salice America, Inc. | CQ Full Access Hinge
SCHENK LTD | 8mm Schenk Drawer Box
SCM North America | Maestro Power TMS
SCM North America | Robotic Nesting/Dowelling/Banding/Sorting Cell
Shaper Tools | Workstation
Stevens Industries, Inc. | Dura-Lam
Stevens Industries, Inc. | IM-PAX
Super Jig | Super Jig DF12X14
Taylor / Cameron / JLT | Rack & Stack Flooring Nester
Thermwood Corporation | AutoProcessor 43
Topp Line Incorporated | The Blind Stapler
Uneeda Enterprises, Inc. | EKADIAMOND Abrasive Sponges
USNR | AddVantage Chop & Rip Saw Optimizer w/ Deep Learning
Voorwood Company | A5615 Stile and Rail Machine
WEB-CAB | Planning Assistant
Weinig Holz-Her North America | SafeDetect Radar System for CNC Machines
WoodTech Sales (Pty) Ltd | TruCut Automated Panel Saw Fence
Have something to say? Share your thoughts with us in the comments below.