Interview with Ukrainian furniture leader: 'We will win this war'
March 18, 2022 | 12:44 pm CDT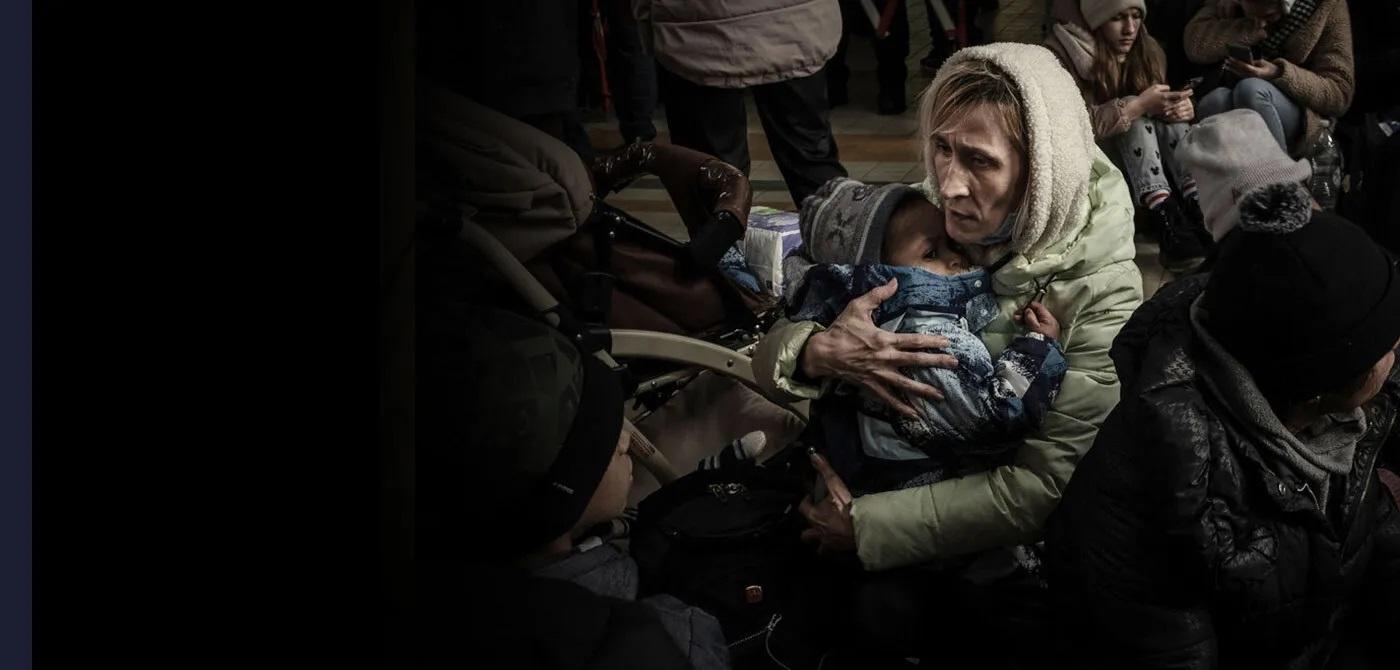 Oksana Donska, the CEO of the Furniture of Ukraine Business Expo and board member of the Ukrainian Association of Furniture Manufacturers, remains in Ukraine even as Russian armed forces continue to shell cities and towns.
Donska spoke by e-mail with WoodworkingNetwork.com from her suburb of Kyiv, near enough that she could hear the bombs fall, and know what type of rocket was in the air just by the sound.
Q. How are things are going with you, family and colleagues?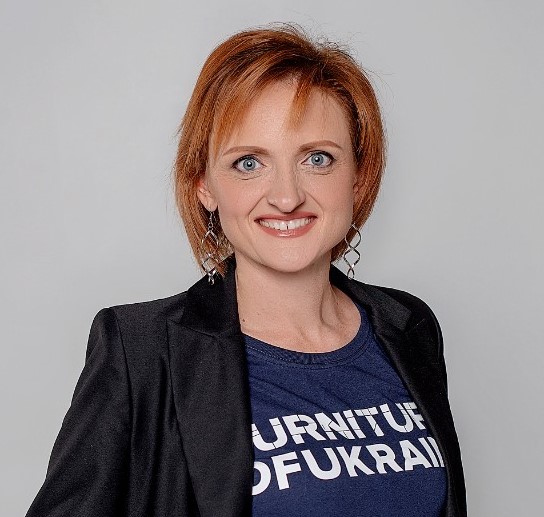 A. Three weeks of being in the war have passed. On the one hand, we are in a terrible dream and wish to wake up. Today, the main question instead of "how are you?" is "are you alive?"
We share information about happy endings of stories when our relatives, friends, or colleagues have left the occupied city after 10 to 15 days of staying in a basement without light, warmth, food, and water.
We pray for people who are on the way by "Humanitarian corridors" as there is a huge risk that they could be fired on by the occupiers. We sleep in shelters. Any time, we can hear an air alarm. By noise, we have learned to know what type of rocket is in the sky, what is the direction of flying. And how many seconds do we have to hide? 
On the other hand, we are used to living in a war. Yes, it sounds terrible. We should do that - to adapt. We have created a number of groups in messengers where we can share needs and where we can get any kind of help.
Just as an example. I'm in a village next to Kyiv. Yesterday, I got a call from my colleague from Kyiv. He needed somebody in Berdyansk (800 km from him) who could accommodate 5 women who were on the way from hell -- from Mariupol. In 30 minutes, we organized everything. 
My classmate from Donetsk region lost connection with his daughter in another hell -- Irpin. The city where Russian occupants are killing everybody bombing building by building. From Kyiv, we contacted our friends and colleagues by the furniture market that had become a self-defense unit in that region. They checked the location and they saved the girl and her friends. 
Q. Is the industry able to continue any operations? 
Millions of people have lost their houses. And, at the moment, they just have faith and hope. More than 10 million people moved to the West of Ukraine or abroad.
Sure, internal demand is going to be dead during the next few months. As a business union, as the industry association, we have supplied thousands and thousands of beds and mattresses for refugee centers. And, for the moment, that is all. Unfortunately, we have lost a number of great furniture factories in Kharkiv, Irpin, Chernigiv, and other cities. And most of the export-oriented factories are in the West of Ukraine. They do continue exporting. Of course, there are a lot of changes and challenges such as:
Logistics by sea: 
Ukraine continues shipping by trucks to European countries. In 2021, we exported $1.05 bln to 120 countries; 87.6% of export in 2021 was to the EU.
Unfortunately, the Black Sea area is really dangerous for shipping. Due to the reports of the State Ukrainian Custom [agency] by sea transport, we used to deliver 3.3% through Odesa region ports. Today, we have changed the direction to ports Gdansk in Poland and Constanta in Romania. And the price for delivery is almost the same.
The first week of the war we had a problem with delivering by trucks because of a ban on men crossing the border aged 18 to 60. It has been solved with the kind help and support of neighboring countries' logistics companies. Also, some women were hired and men aged 60+.
Ukraine has increased delivery by trains. Ukrainian Railways has started the development of several terminals at the European border.
Refusal to use raw materials from Belarus and Russia.
About 65% of plywood we imported in 2021 from these countries. Today, we increased imports from Latvia, Estonia, Poland. 
Also, from Belarus, Ukraine used to import paper for chipboard manufacturing, some chemicals, oak, MDF etc. And, the Ukrainian furniture industry has changed suppliers to Romania, Poland, Austria, Turkey, and other countries. 
90% of the Ukrainian foam rubber market has been owned by Russia. These factories have been stopped. At the moment, we order from Ukrainian foam rubber manufacturers. We feel a temporary deficit of foam that we do need for sofas manufacturing, and we solve it at the nearest time. 
Labor changes
Due to the significant number of refugees and the replenishment of the Ukrainian army and territorial defense, Ukrainian furniture manufacturers change the working staff. And n,ot so much as somebody could think.
First of all, a lot of male workers have been in the Ukrainian army since Russia invaded 8 years ago. Ukrainian furniture manufacturing is industry 4.0 where you don't use a lot of handworks. SMEs, who used to work for the internal market, at the moment can be hired by huge factories.
Q. Are factories reconfiguring production to meet war needs? 
Three weeks ago, [a woodworker] produced beautiful kitchens and home furniture in the high-end segment. Today, he produces anti-tank hedgehogs; he learned how to produce plates for bulletproof vests from tractor springs.
Someone had produced furniture for restaurants and hotels, today his factory produces bulletproof vests, mattresses for refugee centers, bags for first aid kits.
Ukrainians today are a real union. Before the war, we used to be a furniture national cluster. Ukrainian Association of Furniture Manufacturers unites 292 companies. From the beginning of the war, we have organized the headquarters. Using our business network today we solve the following tasks:
1.    coordination refugees in Ukraine and abroad. A lot of international furniture buyers help us a lot;
2.    supplying furniture for refugee centers;
3.    collecting donations to the fund of the Association https://uafm.com.ua/en/;
4.    ordering production of food in the West of Ukraine and supplying aid to hot regions;
5.    developing programs of relocation of the industry from the temporarily occupied regions;
6.    developing programs for rebuilding our cities and furnishing new beautiful homes for Ukrainians.
7.    actively promoting furniture of Ukraine to export.
Q. What is your day like? 
I'm in Ukraine. I'm here with my husband, kids and pets. We are safe. Each morning starts with "hello" to my family to check that everybody is safe from the East to the West of Ukraine: in Kyiv, in Donetsk, and in Lviv. We are asking each other how the night was. Then we have online meetings every morning with colleagues, state organizations. During the day, we have a lot of calls with colleagues, foreign buyers and suppliers. Our life is going on.
And we do have to work to save our country.
Q. What would you like to say to our readers? 
We are sure that Ukraine will win this war and get through all the problems and challenges! We are also confident that we will quickly rebuild the industry and the whole economy, so we are already inviting you to the Ukrainian furniture B2B exhibition: https://en.fube.com.ua/.
Ukrainian manufacturers are very much looking to meet new partners and present the quality and taste of our furniture products!
Glory to Ukraine!
Have something to say? Share your thoughts with us in the comments below.