Chicago program trains adults for woodworking careers
June 1, 2018 | 5:15 pm CDT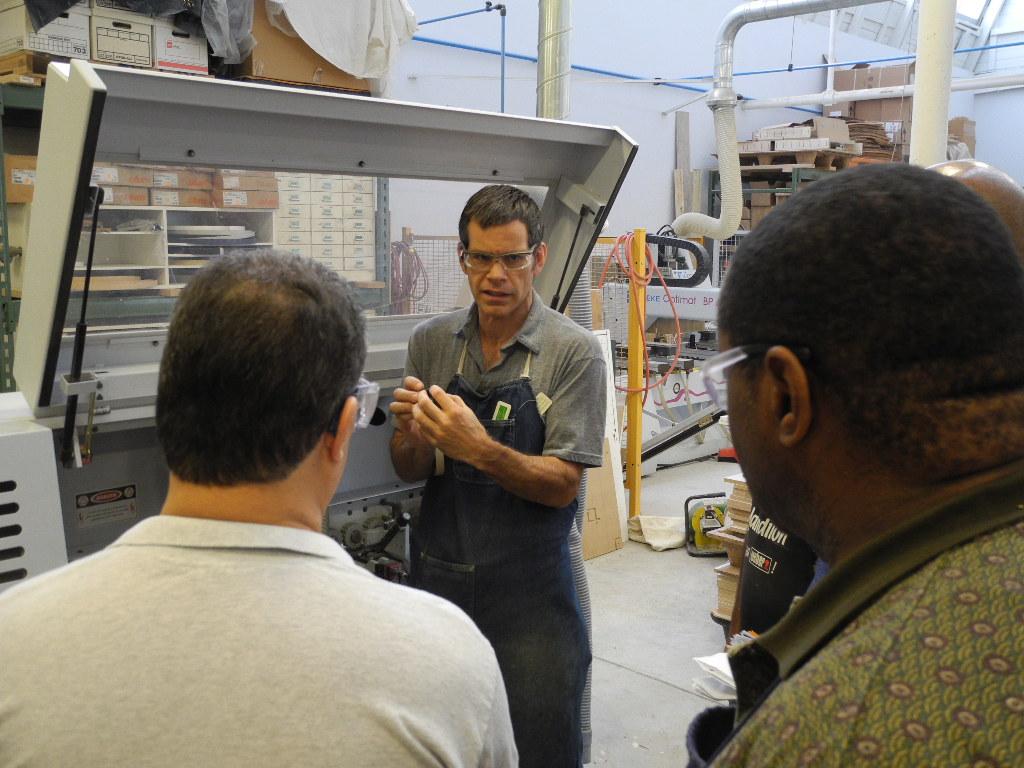 CHICAGO -- The Greater West Town Training Partnership of Chicago is one of the more unique EDUcation members of the Woodwork Career Alliance of North America, writes Richard Christianson for WCA. The program aims to link the education and training of disadvantaged area residents with economic development efforts and workforce needs of local businesses. 
Since being established 25 years ago, the GWTTP has trained and placed some 900 low-income adults with jobs at local woodworking businesses. In recent years, the GWTP has issued a WCA Passport to each of its graduating students. The Passport is the student's personal record of the woodworking skills he or she has successfully demonstrated during the credential evaluation process.
Doug Rappe, program coordinator and a WCA accredited skills evaluator, has been involved with GWTP since its inception. "Conveniently this program was just starting up as I got back from serving with the Peace Corps teaching woodworking in rural Sierra Leone," Rappe says.  "I applied and 25 years later, here I am."
In recognition of his long-standing dedication to workforce development, the Woodworking Machinery Industry Association honored Rappe with the 2014 Educator of the Year Award.
Program Is Free, But Not Easy
GWTTP is part of the Greater West Town Community Development Project, a not-for-profit entity that gets its funding from a variety of public agencies and charitable foundations. In addition to woodworking, GWTTP offers a hands-on shipping and receiving training program. The two training programs each occupy space in a 55,000-square-foot facility that formerly housed an envelope manufacturer. The building was extensively renovated prior to GWTTP moving into it in 2010.
There is no cost for students to attend the training programs provided they meet the qualifications. "Typically, anyone who is receiving unemployment or some other kind of public benefit can qualify for the program," Rappe says. "Once we have someone's interest, we want them to come out to visit us and see the program because when they see it they understand how real it is. They can see the projects that are being made and ask staff and students questions."
In addition to substantiating their financial need, applicants have to pass a drug test and demonstrate basic math and language skills.
"We really want to make sure that our students are ready to succeed when they graduate," Rappe says. "I tell them up front that we're going to give them a lot of hard work to do. This is not open shop time. We make sure they understand right away that they are going to go through this very rigid curriculum and projects. At the end, we're counting on them taking a job.
"This is almost like a backdoor into the industry that very few people know about or have access to," Rappe adds. "There is no other place in the Chicago area where you can get this quick, intensive hands-on experience with real up-to-date equipment."
The centerpiece of GWTP's well-equipped woodshop is a Weeke Vantech CNC nesting router. "We're fortunate that over the years our agency has managed things very conservatively so that when we needed to invest in equipment the money was there," Rappe says. 
Overview of the GWTP Program
The GWTP program typically has up to 12 students per each 15-week session. Students attend class seven hours a day, five days a week. In addition to learning woodworking skills in the shop, students attend classes to learn how to read blueprints, strengthen their math skills and software programming.
In the shop, safety is paramount, especially considering that nearly all of the students have no or little woodworking experience. "We have to get people confident to operate equipment quickly," Rappe says. "Our safety curriculum revolves around a series of quizzes about the safe operation of each machine. Our students are always very closely supervised but over time they get more autonomy to operate a machine."
During their first four weeks in the shop, students learn about different wood construction methods by making a series of four small upper cabinet boxes.
"The dimensions and materials for each box are identical. What we change is the type of construction starting with staples and screws, then plate joiner, pocket screws and CNC dowel construction," Rappe says. "The goal is to give them success right away by making a physical project but also covering a lot of ground without going off in too many directions."
With each succeeding box, students add new skills like print reading and applying math needed to develop a cut list. "Of course, they learn the technical skills with the tools," Rappe says. "They typically start with precut parts for the first box. They do some cutting for the second box. Then they cut all the material for the third box and generate all of the material and parts for the next class with box four."
"The class projects vary, but they are all designed to cover all of the basic equipment: table saw, jointer, shaper and planer," Rappe says. Students also get exposed to working with a variety of materials including composite panels, wood, and solid surface materials. "Solid surface is great for helping them learn how to use hand-held routers and polishers. My strategy when I think about adding anything to the curriculum is how does it create the most value for our students and their future employers. We don't want to teach skills that nobody needs."
"We're trying more and more to introduce technology sooner so that we can give them more time with the CNC," Rappe adds. "As an advanced skill it would be easy to save if for the end but we understand that our students can graduate and go to work at any level with a CNC machine. They might be just an operator loading and unloading parts, an intermediate operator who is loading programs and loading parts or someone who is creating programs and editing them."
Nearly every student who completes the 15-week training program graduates. "Essentially if someone is here every day and working to the best of their ability, then our commitment is to help them get a job," Rappe says. "If they struggle with certain machines, then we find them an appropriate job. If they are the top their class and they aced everything, then we are going to find them an appropriate job at that level, too. We don't leave anybody behind. There are employers who happily hire them knowing what they are getting."
"One of the biggest stumbling blocks that prevents people from making it through the program is organizing their life around it," Rappe adds. "This is a big-time commitment. It's 35 hours a week and we demand punctuality and attendance. Probably the number one reason for someone getting separated from the program is they just can't show up."
Proud Member of the WCA
GWTTP boasts its membership with the WCA on its website. In addition to receiving a diploma, GWTTP grads leave the program with a WCA Passport loaded with points for each skill they have demonstrated through the evaluation process.
"We are trying more and more to align our curriculum with the Woodwork Career Alliance skill standards," Rappe says. "They are a great teaching tool. We are able to point to a nationally recognized group that says this is the way something is supposed to be done. This is how you know it's right.
"I think that our students know that while it's not a ticket to a job, the credentials are another important recognition of their achievement," Rappe continues. "That in itself is a big deal."
Being a WCA EDUcation-member also is important to making a favorable impression on the program's funders. "Being a non-for-profit, it really helps to be part of an industry standard organization. I know that it is a huge deal in the metal working industry and over time I think woodworking employers will come to recognize the WCA credentials more and more."
"Ultimately what gets me coming back year after year is seeing our students go to work in an industry that I love," Rappe says. "Seeing them succeed and knowing that Great West Town has helped teach them skills and achieve a career is extremely rewarding."
Have something to say? Share your thoughts with us in the comments below.