Gibson Guitar Corp. Becomes Gibson Brands
June 16, 2013 | 11:03 am CDT
The Gibson name is about more than just guitars. The Gibson brand is about leading innovations in music and sound into the next century. To represent Gibson's growing selection of products and evolving lifestyle orientation, today, Gibson Guitar Corp. has become Gibson Brands.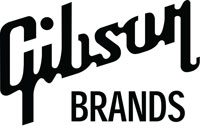 "Of course, the Gibson Guitar Corp. remains a vital, and crucially important, division of Gibson Brands," Gibson Brands Chairman and CEO Henry Juszkiewicz said in an official statement. "But with the recent acquisitions of TEAC, the Stanton Group, KRK, and Cerwin-Vega!, as well as a major investment in Onkyo, Gibson now encompasses the entire music and sound chain—from the first chord played by a songwriter on a Gibson guitar, until the music reaches the consumer through Onkyo's premium high-fidelity systems."

Gibson Brands has dominant market share positions in multiple business segments, including the number one dollar market share in electric guitars and pro audio studio monitors, and enjoys an ever-expanding global presence.

"Gibson guitars have always represented a fusion of technology, art, innovation, and craftsmanship, resulting in a premium range of musical instruments," Juszkiewicz stated. "Gibson Brands will continue to carry that ethos into all our products. Most importantly, we've never forgotten that Gibson Brands are about bringing the joy of music and sound to a world hungry for a positive quality of life."
Source: Gibson Brands
Have something to say? Share your thoughts with us in the comments below.