2016 Almanac Market Segments: Contract Furniture
November 28, 2015 | 2:31 pm CST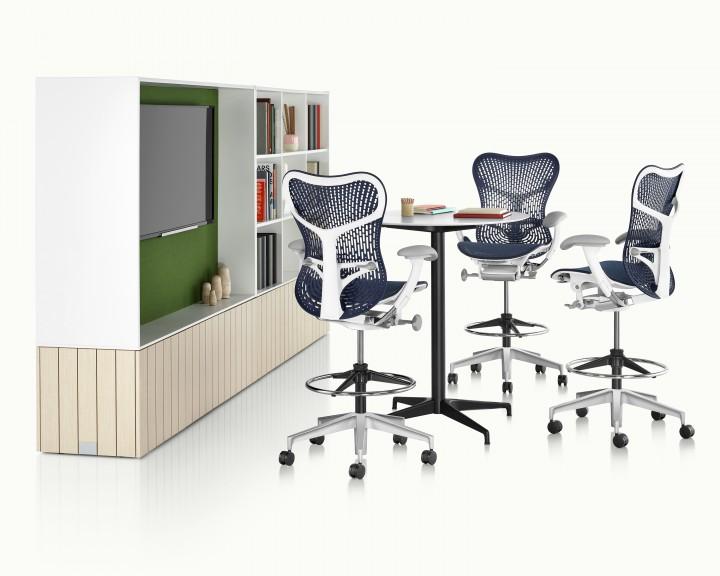 Photo By Herman Miller
The U.S. office furniture industry continues trending upward, buoyed by a strengthening economy. 2015 production is expected to grow 4.0% to $10.2 billion, and to hit $10.4 billion in 2016, according to the latest industry projections from IHS Global Insight/Business & Institutional Furniture Manufacturers Assn. Likewise, consumption will jump 7.0% to $13.0 billion this year, and another 7.4% in 2016, to $14.0 billion. 
Furniture sustainability continues to be at the forefront of the industry. BIFMA announced it will revise the ANSI/BIFMA e3 (level) Furniture Sustainability Standard for 2016, including: enhanced clarity of the green building rating systems; updated chemistry assessment; and increasingly life cycle based.
On the design front, ergonomics are key in today's office, and that includes at the desk. Employee comfort includes being able to move about and change postures during the workday, with some lounge seating capable of going from static to motion. Data needs are also blending seamlessly in the new furniture systems, both in micro and open office environments.
Contract Furniture: business/office furniture, government furniture, home office furniture, education furniture, healthcare furniture, hospitality furniture
Quick Stats
The average lifespan of a piece of office furniture is 8-11 years.

The Southeast region has the largest concentration of business locations in the office furniture manufacturing industry, accounting for 21.6%.

U.S. imports rose 6.5% in 2014, while exports dropped 2.4%.

Sources: BIFMA, IBISWorld, MarketResearch.com, ReportBuyer.com, Statista, Technavio
Major Players
Steelcase Inc.
Herman Miller Inc.
HNI Intl
Haworth Inc.
Knoll Inc.
Global Group
KI
Kimball Intl
Teknion Corp.
Brown Jordan Intl
OFS Brands Inc.
Have something to say? Share your thoughts with us in the comments below.