FINISHING: Robotic finishing for a perfect custom look
June 13, 2022 | 1:46 pm CDT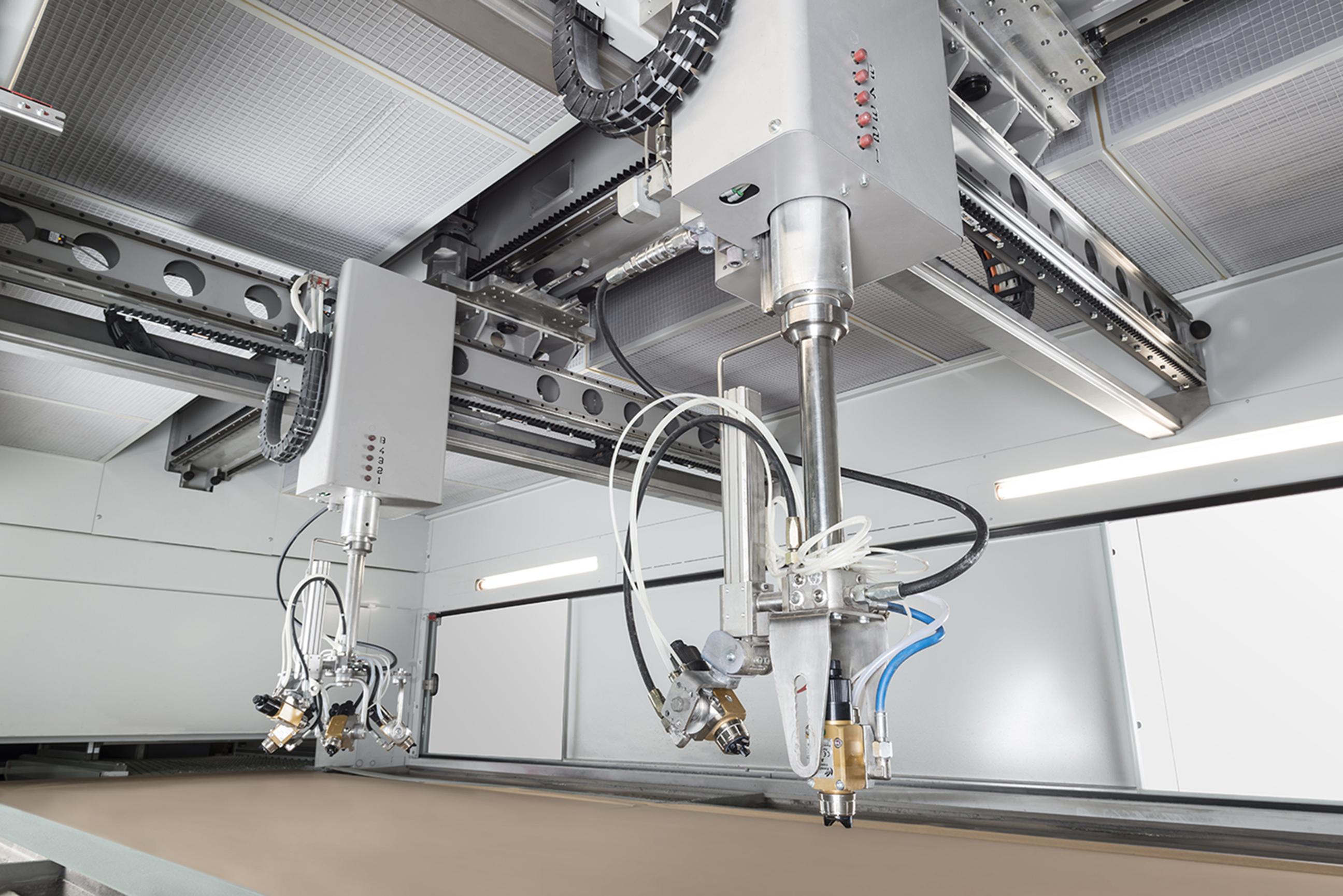 The company finishes. Actually, it Finishes. It makes cabinets, yes. The box, face and frameless, and the backs and the doors and drawer fronts, it makes these too. But, what Crestwood Inc. of Salinas, Kansas, does that separates it from its competitors is its ability to create custom-finished looks. Its list of 'stock' finishes is vast, and that is before any unique and specialized custom looks are added to the mix.
A custom finish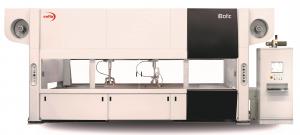 Crestwood has evolved over the last five decades from a small cabinet shop serving the local Salinas market to a nationwide supplier to the higher-end semicustom and custom market. Founded in 1969 by Paul Junk, Crestwood is a second-generation family business with Mike Junk now serving as president.
Junk came back to the company in 1995 after graduating from the Air Force Academy and serving in the military. Shortly after that, the market started asking for more. Customer requests and market needs drew Crestwood Inc. into more custom finishing.
"The market pushed us that way," he said. "We started evolving and we started making a lot of our own colors in house, so we didn't have to worry about inconsistencies of the finishes we received."
Crestwood currently operates a 300,000-square-foot state-of-the-art production facility and employs about 200 skilled workers. The company's finishing and production capabilities also helped raise its profile and sales figures. The company was recognized in the FDMC 300 ranking of top wood product companies. In 2021, the company ranked #280 with approximately $13.8 million in sales.
Increasing production capabilities has been a company trait from the beginning, Junk said.
"Starting with my father, we've always looked at upcoming technologies and trying to always keep our plant updated," he said. "Given that we're family-owned, we don't have a problem putting a lot of that money that we do make back into equipment to allow us to keep growing and offering a quality product."
Updating finishing capabilities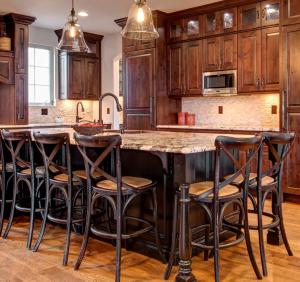 To keep up with customer needs, the company has added new robotic finishing equipment to an already highly automated finishing capacity. The company had five automated finishing lines, but even with this high-end ability, it wasn't always perfect.
"When working with automated spray booths," Junk said, "It was always a compromise about face quality and edge quality. You have guns spraying at about a 45-degree angle or so and sometimes you have to put a lot more material on the product than is necessary just to get a nice edge."
That is where a multi-axis, robotic finishing system called the iBotic from Cefla came into consideration. The system's multi-axis capability and camera-detection system — along with the company RFID labeling system — allows it to spray the edges perfectly no matter the 3D shape or thickness of the part, and then follow it up by spraying the faces.
Junk said that he had been researching robotic finishing for the last 10 years, but in the past, he found them more suited to larger more specialized parts, not the custom, varied looks that Crestwood offers. Still, his interest was piqued.
With the new capabilities of the Cefla robotic system, he found that the time was right to make the purchase. "We found the technology had advanced enough, especially with the camera system that allows it to know where to spray the edges. I was very excited because I knew that that was ultimately an answer to keep our first pass yield at a very high level."
The robotic spray machine chosen was a two-arm iBotic from Cefla. (Cefla offers both one-arm and two-arm versions.)
The iBotic is a cartesian spraying robot, meaning it can swivel and move its spray guns in multiple directions to facilitate high production volumes and achieve an ultra-high quality finish. It features a dedicated edge gun that ensures accurate and thorough spray coverage onto the sides of flat, 3D, and other parts with complex trajectories; all of which Crestwood incorporates into its finished goods, said Junk.
The company purchased two iBotic systems, one of which will be used for clear coatings and one for painted coatings. The two arms work together to achieve the high-end look the company desires, and also give them redundancy in case one of the arms goes down for maintenance.
The company recently was awarded a prestigious international award for integrating the iBotic into its production. Crestwood was given the Innovation of the Year award from the Wood Machinery Importers Association.
When presented with the award, the WMIA said that the iBotic allows Crestwood the "opportunity to improve quality and finishing consistency while reducing coating material consumption when compared to the use of pre-existing traditional automatic reciprocating spray machines and manual spray booths. The iBotic gives total control of how the coating is applied which results in less rework, improved quality, and reduced waste."
Challenges of custom finishing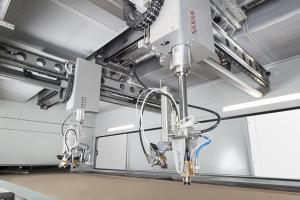 The amount of finishing options that the company offers was another consideration, Junk said. Color changeovers are frequent, which might translate to waste.
"When we started to look at the iBotics, that was one of the issues we had to consider. Especially with paints," he said. "We change paint colors all of the time."
Crestwood buys its finishes from a supplier in Italy. For instance, Crestwood uses a two-component polyurethane that gives them a super high-end finish, Junk said. Previously, the two components, the hardener (catalyst), and the base urethane component were mixed outside the booth. If mixed in large batches, every time a color is changed it might result in material that would be wasted. And, that could be a lot of material.
"We might waste a quart of material leftover every time we change colors, and we are probably changing colors 10 or 15 times a day back and forth between colors," he said.
To address this problem, Crestwood turned to another of its suppliers, Graco, to develop a system that reduces waste.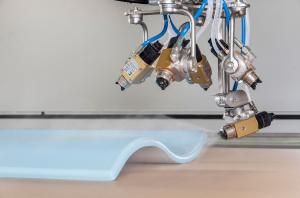 The solution was to mix the components right before spraying and at the quantities needed for the run. "Now," Junk said, "we, waste almost no material in changeovers. Because the iBotic booth is so big (40-feet), and having to feed two robotic arms, that would have wasted a lot of material. They built a system to mix the material right on the iBotic arm itself so it is mixing on that arm right before it sprays the gun.
"If we were doing just a few colors a day or high-product runs of color, we wouldn't have to go to that expense to figure that out, but we are a custom shop and we are continually shifting colors. And, to be lean you don't want to make a bunch of material that you are not going to use right away."
Have something to say? Share your thoughts with us in the comments below.