Cocobolo Is a Dramatic Hardwood with a Beautiful Figure
February 27, 2015 | 3:37 pm CST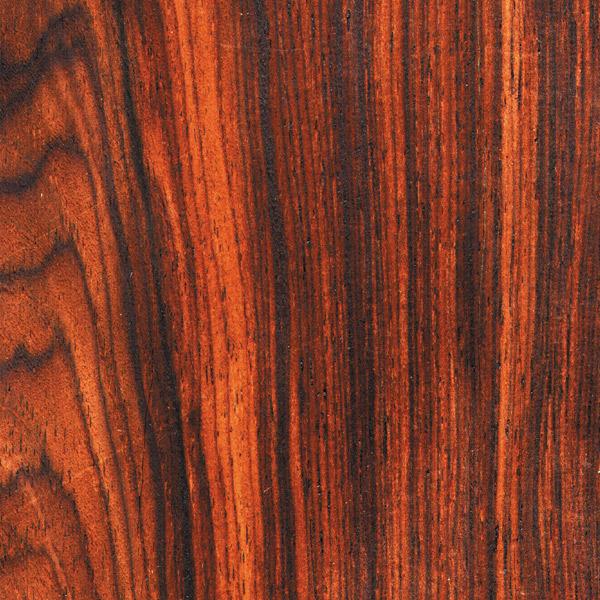 Sponsored by: Northwest Hardwoods: Lumber that's Graded For Yield®.
In Mexico, the tree is called granadillo, but in most places around the world, dalbergia retusa is known as cocobolo. Cocobolo timber is sturdy and yields some very interesting, beautiful figures. The wood is usually cut into veneers for use in inlay work and fine furniture.
The Encyclopedia of Wood includes information about cocobolo and describes its relation to other members of the dalbergia family. Collectively rosewood denotes various species of dalbergia; in particular Rio or Brazil rosewood, Indian or Bombay rosewood and Chinese huang-hua-li. Close cousins include the diverse colors of tulipwood, kingwood and cocobolo, all of which were used in the elaborate marquetry decoration of the furniture and joinery of the 18th-century Europe. The wood is seldom seen in the solid, except in oriental furniture.
Cocobolo can be found in the Pacific regions of Central America, extending from Panama to southwestern Mexico. The trees grow best in the drier uplands and tend to be small in stature. Cocobolo is usually shipped from growing areas like Costa Rica and Nicaragua in small, round billets. It is most often available in turning blanks or veneer.
The sapwood of cocobolo is so pale it is almost white, but the heartwood is a mix of brilliant colors ranging from deep reds to an attractive mix of streaks and markings of red, black, purple, yellow and orange.
The palette of cocobolo as considerably denser than Brazilian rosewood and the color is remarkably variable; the bright hues of the freshly cut wood tone down to a deep-red, streaked or mottled with black.
Good Looks Matched by Toughness
Cocobolo is heavy, strong, durable and resistant to preservative treatments. Its uses include architectural woodwork, turnery, tool handles, musical and scientific instruments and specialty items. The wood is also very popular for use as cutlery handles.
Although cocobolo is a fine turning wood and most consider it easy to work with, sanding and machining the wood produces a fine dust that can cause dermatitis or a poison ivy-like rash. The dust can also cause orange stains when it comes into contact with skin.
Have something to say? Share your thoughts with us in the comments below.