CabParts Cabinet Case Construction
July 2, 2015 | 4:23 pm CDT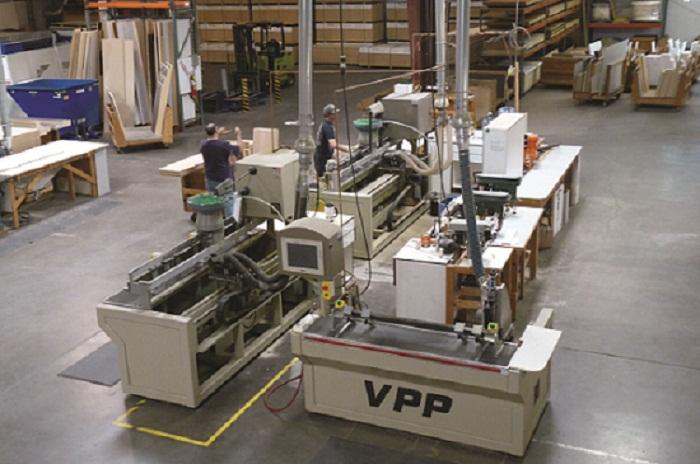 CabParts, located in Grand Junction, Colorado, began business as Bookcliff Manufacturing, Inc., a full service custom cabinet manufacturing business with regional distributors. Started in the early 1980s, they specialized in high-end, European style frameless cabinetry for both residential and commercial applications. They invested in top notch machinery to speed the manufacturing process and devised ways to assemble cabinet boxes quickly and accurately. For example, a sink cabinet had to have flush, even joints and be square the first time – with no racking and tapping to align joints or to square the case. Much of the work was centered in the ski and resort areas of the west, and as such, was seasonal. It is nearly impossible to install high end kitchens and vanities during ski season, so they filled in with commercial work. Those cabinet boxes were noticed on jobsites as being very square, flat and level and in early 1987 they began to think, "What if?"
As a result, since March of 1987, CabParts, Inc., has produced easily-assembled, high-quality, frameless-style cabinet boxes shipped factory direct to cabinet makers, general contractors, millwork shops, facilities managers, design / build firms and more. Their approach to cabinet case construction incorporates the best features of European-origin case construction and 32mm boring patterns using precise, European, CNC machinery and top notch employees, many of whom have been with CabParts now for 10, 15 or 20+ years.
The 23,000 square-foot CabParts facility services shops of any size all over North America, into the Caribbean, Central America, Guam and even Saudi Arabia. They are an outsource partner to the trade for cabinet boxes, drawer boxes, closet components, doors and drawer fronts as well as functional hardware from Blum, Accuride, Hafele, Rev-A-Shelf, and more.
CabParts insists on the highest quality raw materials. CabParts components are machined to very exacting tolerances providing a high quality piece-to-piece fit, which yields finished products that customers rely on. Every step in the manufacturing process is critical for total quality assurance, including order entry. To this end, CabParts has spent the last year developing a new order entry system which will speed order entry, increase accuracy and be available for customers to download and use, offline, for quotes or orders. Any workstation has the ability to reject a component for quality reasons and all components are inspected for size and overall quality prior to palletizing. CabParts is also installing a panel cleaning system which will remove fine "dust" and static from components prior to packing. Complex cabinet box configurations are assembled "dry fit" prior to palletizing and shipping, thus assuring the customer that they will receive the casework they specified. Cabinet boxes are manufactured to AWI Custom Grade specification when properly assembled and installed.
Serving the customer is paramount at CabParts. They are available to answer your questions, address your concerns and work hard to earn your trust. Need just one adjustable shelf? They produce it. Experienced a freight damage on a shipment? They will replace it. Need a special boring pattern to accommodate some hardware? They will program it and run it. Did not receive what you expected? They will warrant it. CabParts even provides a complimentary list of door and drawer front suggested sizes specific to each order. CabParts products are sold individually, with no minimums, allowing you to order just what you need – no "packages." Their personnel, expertise and production facility become an extension of their customer for that order. 
CabParts Cabinet Boxes are produced from an extensive catalog of over 1,500 modular sized and configured cases, but retain the ability for full customization. In fact, more than 60 percent of CabParts' production is custom sized and/or configured. All orders are cut and milled for that specific job. Each component is clearly labeled with the customer's (not CabPart's) name, item number and part name for efficient identification and assembly. Assembly is accomplished with Confirmat screw, hardwood dowels or a combination of the two methods. All hardwood dowels are factory inserted and Confirmat screws, when ordered, are provided with each order. A wide range of materials, both 3/4-inch and 5/8-inch thick, are available, including thermofused melamines MDF, either raw or veneered, plywoods, prefinished or raw, laid-up high pressure plastic laminates and, of course, the certified "green" products. Edgebanding choices are comprehensive as well – PVC in .018mm thick to 3mm thick, wood veneers, 3mm solid unfinished wood and high pressure plastic laminates. The box edges may also be left unedged in order to accept a customer-applied face frame. They have recently invested in a laminating system allowing CabParts to do custom layups from individual components up to full sheets. 
CabParts standard drawer boxes are sized order specific so they match the cabinet boxes on a customer's order. Standard drawer materials are 5/8-inch thick, thermofused melamines with a fully housed 1/4-inch thick bottom, ready for glue and dowel assembly. They may also be ordered to a custom specification. Like the cabinet boxes, drawer boxes may be modified in a number of ways, including a variety of 3/4-inch thick materials, 5/8-inch or 3/4-inch thick rabbeted-in bottoms, and Confirmat screw assembly to name a few. CabParts also offers optional solid wood, factory finished, dovetailed drawer boxes in a variety of wood species and configurations including sizing and pre-machining to accept under mount guides. Additionally, CabParts can supply Blum TandemBox, LegraBox, MetaBox and Hafele Moovit drawer box systems for truly custom applications.
CabParts produces in-house, contemporary, slab-style, flush-overlay doors and drawer fronts which may be ordered either with CabParts boxes or separately. The many available panel and edgeband options make for a tremendous number of possibilities. CabParts can also grain match fronts, either vertically or horizontally, within cabinet units meeting AWI Custom Grade. For other door styles and types, CabParts is happy to assist in outsourcing fronts from a number of quality cabinet door manufacturers.
CabParts manufactures a flexible, wall hung panel system for closets and storage application. The system includes the end panels, locking shelves, adjustable shelves, drawer boxes, rollout shelves, shoe shelves, doors and drawer fronts, wire baskets, tie racks, and more. Closet components may be combined with CabParts cabinet boxes for a complete closet solution and the materials, edgeband treatment and design / layout possibilities are nearly limitless. CabParts builds pallets to fit each individual order and components are hand stacked on a pallet, then protected by a top sheet and corner protectors, strapped down and machine stretch wrapped. CabParts can box-in, or "hardside," a pallet, which affords extra protection in shipping, especially off-shore.
Customers are often pleasantly surprised by CabParts' low freight charges – they earn excellent LTL freight rates anywhere in North America. For example, the freight cost to Raleigh, NC would be $370 for a 1,500-pound pallet of components. CabParts orders include an estimated freight cost to delivery point. Orders are frequently shipped to a job site for onsite assembly and installation. cabparts.com
Have something to say? Share your thoughts with us in the comments below.