IWF Education charts direction that wood industry is likely to be heading
August 21, 2018 | 11:21 am CDT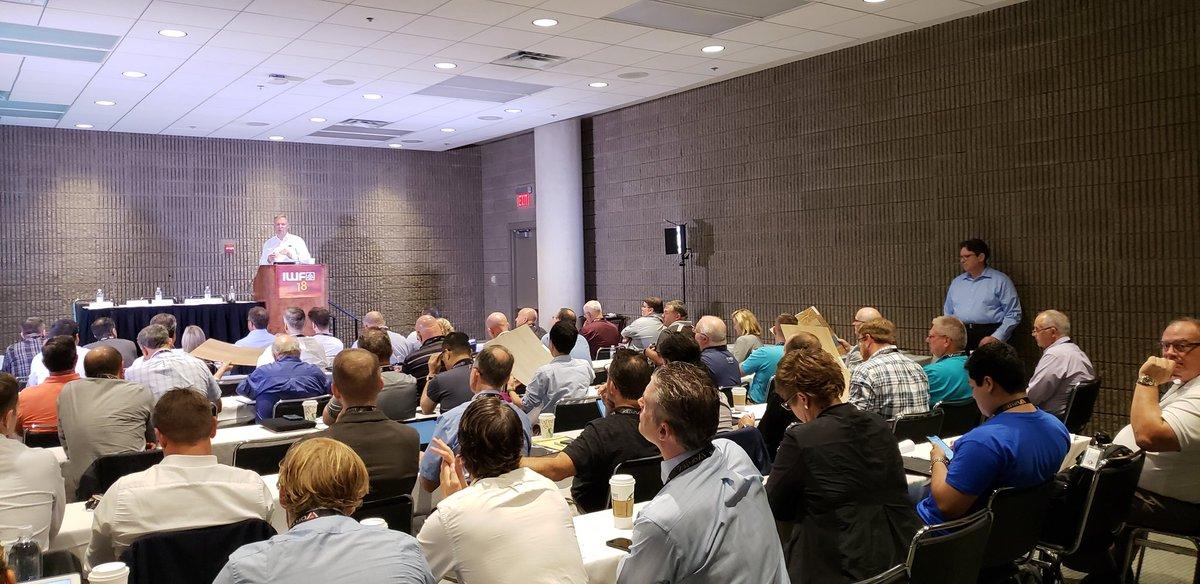 Photo By Bill Esler
ATLANTA - As more than 30,000 woodworkers and industry suppliers converged in Atlanta week, they also encountered an extensive education and training curriculum – more than 70 individual sessions during the show, as well as 11 day-long subject-specific symposiums taking place the day prior to opening on August 21. 
These programs, as well as numerous live sessions on the show floor at exhibitor booths, also provided a measure of the state of the wood industry is, and where it's headed. To be sure, fundamentals reigned – a day-long symposium on Finishing and CNC technologies (both produced by Woodworking Network) and eight 90-minute sessions on Marketing & Business Development – were among perennial favorites with attendees. 
But emerging manufacturing trends are also evident, with two day-long events on Powder Coating on Wood (presented by a supplier consortium) and Digital Printing on Wood (presented by graphics industry researchers Keypoint Intelligence-InfoTrends) suggest these segments are coming into their own. Both subjects were treated in previous IWFs, but on a more limited basis. 
Likewise for another major manufacturing management trend, Industry 4.0, which this year sees a 90-minute intensive organized by Virginia Tech, with a range of experts including Haworth Inc. manufacturing Dan Gibbons from the office furniture giant's main corporate campus in Holland MI. 
Henry Nisiobincki, RFID Program Manager at American Woodmark
Even farther forward-looking is the Leadership Forum, a day-long event produced by Woodworking Network, that takes a longer-term view of wood industry management trends in a more deeply analytic way. This program, which takes up residence at a range of major industry venues (it was at AWFS last July and will be at the Charlotte Wood Pro show in March 2019), featured a range of intriguing topics, from "Leadership by Design" by Keith Morgan, owner of fine millwork firm Bespoke. 
Other presentations so far included one by Iain Macdonald, director of the TallWood Design Institute, the new U.S. incubator for mass wood and even wood skyscraper construction (yes that's a real trend). Whitney Powers of Advance Cabinet Systems will discuss performance metrics of an HR diversity program at her Marion, Indiana cabinet company.
And a presentation on RFID-based real-time plant manufacturing data was just concluded by Henry Nisiobincki of American Woodmark, the nation's second largest cabinet manufacturer with nine massive plants around the U.S. Nisiobincki, who talked about the use of RFID at American Woodmark to produce 18,000 cabinets daily at nine plants employing 5,500.  He explained how American Woodmark embeds the Radio Frequency ID chips into individual cabinetry components such as doors, prior to finishing and assembly.
Despite traveling through sanders, sprayers and elevated temperatures in ovens, the chips remain intact and scannable. The RFID chips can be scanned in bulk on carts avoiding the need to scan individual elements for inventory, the speed of scan and wood species affect this process. As with other cabinetmakers, American Woodmark has transitioned from mass bulk production to production cycles of single projects – and RFID has helped with that as well. 
"RFID has enabled so much for us, giving us clear visibility of individual transactions," Nisiobincki says. It is the first time American Woodmark has presented at the IWF Atlanta show. 
Another category growing in popularity is New Business Development, with the Closets Symposium continuing to rise in popularity each year. The home storage market opportunity is exemplified by the presentation of today's lead speaker, Lisa Carlquist of Artisan Closets, "How to Grow Your Business." Carlquist recounted her closet firms dramatic growth, going from zero sales to nearly $9 million in its first seven years. 
Also in the "New Business" funnel were presentations Friday on moving into high-end concrete and Urban Wood - the growing use of reclaimed wood and harvests from fallen city trees. 
Have something to say? Share your thoughts with us in the comments below.