Furniture for small humans, with big imaginations
July 21, 2022 | 3:56 pm CDT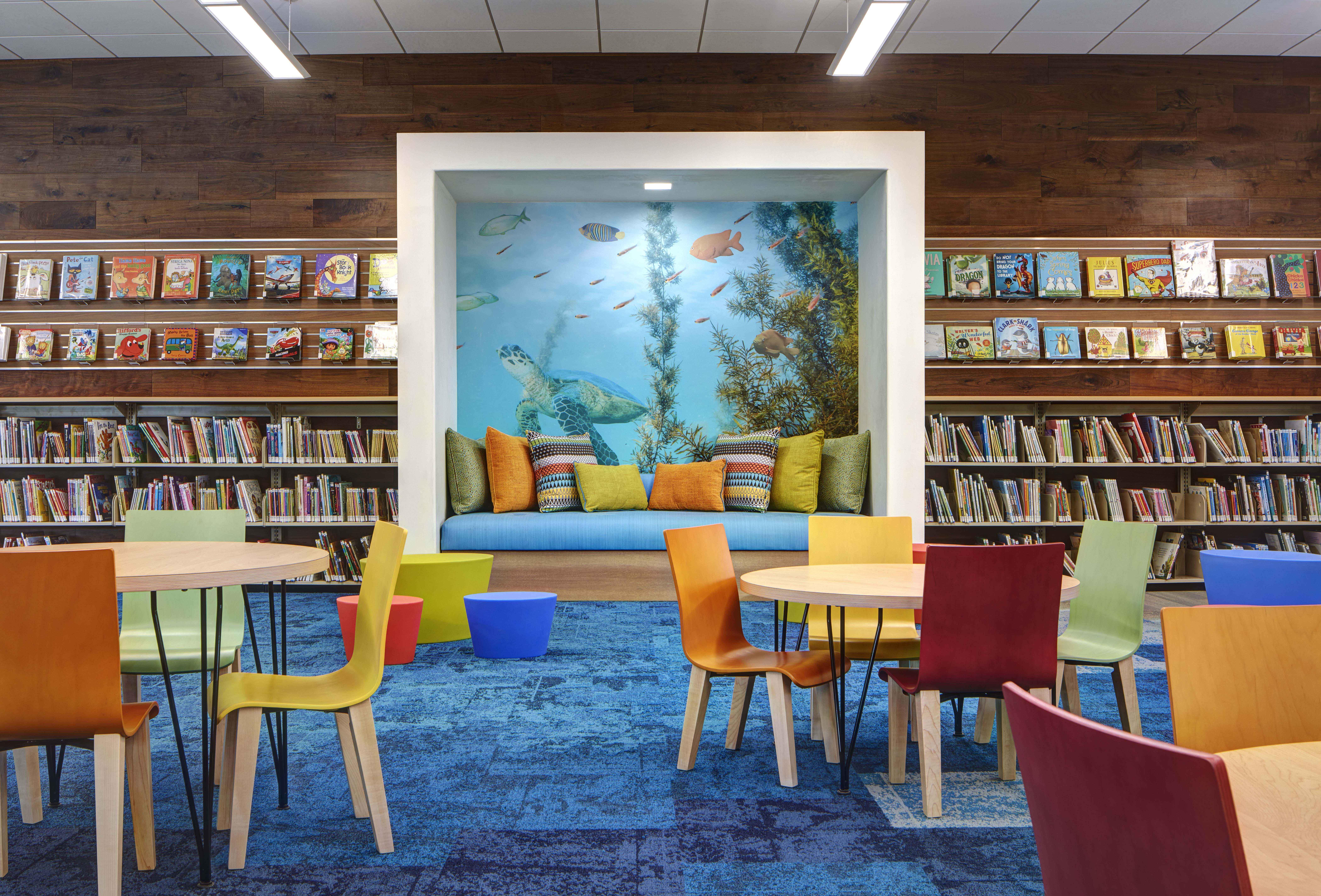 TMC, The Makers Creative's facility in Grand Rapids is not your typical factory. There are presses and saws, a finishing station and drying racks, vertical panel saws, old school bandsaws and widebelt sanders, and other equipment, so in that respect, yes, it is a factory. But it is more.
Here, colors pop, designs flow. Sheets of veneer are painted with a scene of a colorful castles; in another area, pink cows and yellow chickens comingle against a floral background. Yellow, laser-cut butterfly wings are stacked in one area, while blue birds soar atop chairs in another. Intricate components with unique laser cutouts dry on racks. A wooden tractor sits, seemingly waiting for the imagination of a child to drive it across fields.
One must remember that this is just the factory. Many of these unique pieces are just test goods. Samples. Experiments. The real stuff is out in the libraries, schools, healthcare facilities, and even corporate environments. "Anywhere," the company founders say, "the human spirit is fueled by inspiration."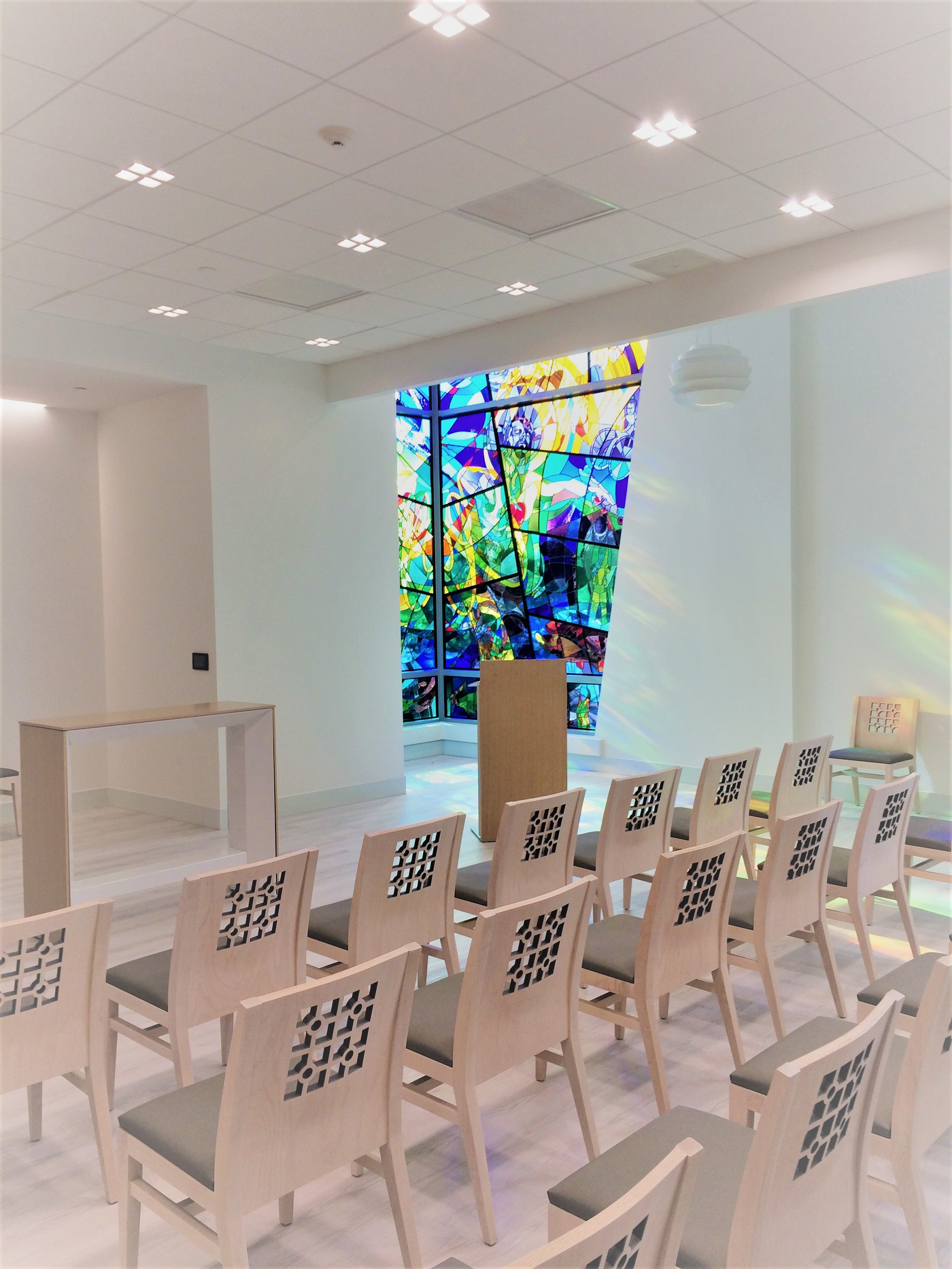 Learn and play
The company is TMC The Makers Creative, and it is based in Ann Arbor, Michigan, with a factory in Grand Rapids, in the heart of some of the heavy hitters of furniture manufacturing.
TMC, or The Makers Creative, was started in 1998 at the kitchen table of Blake and Sherri Ratcliffe. The couple met after college, graduates of the University of Michigan. They were both artists making a living in the vibrant Ann Arbor arts community. Over the years, they would take a circuitous path that included founding a design business. He would get an MBA, and she a teaching certificate to go along with her arts degree. Blake did web development work that brought him into contact with libraries. 
Eventually, they founded the furniture business, got married, started a family. In fact, their child was one of the first "employees" providing inspiration on the needs and wants of kids.
This knowledge became part of the company's play-and-learn philosophy. Sherri connected with university faculty, including Dr. Susan Newman, an expert in children's learning who co-wrote t he American Library Association's Every Child Ready to Read material. Learning through play became one of the company's mantras, and some of Newman's writings can be found on the company's website. 
Children, according to Newman, learn best through first-hand experiences. Play motivates, stimulates and supports children in the development of skills, concepts, language acquisition, communication skills, and concentration.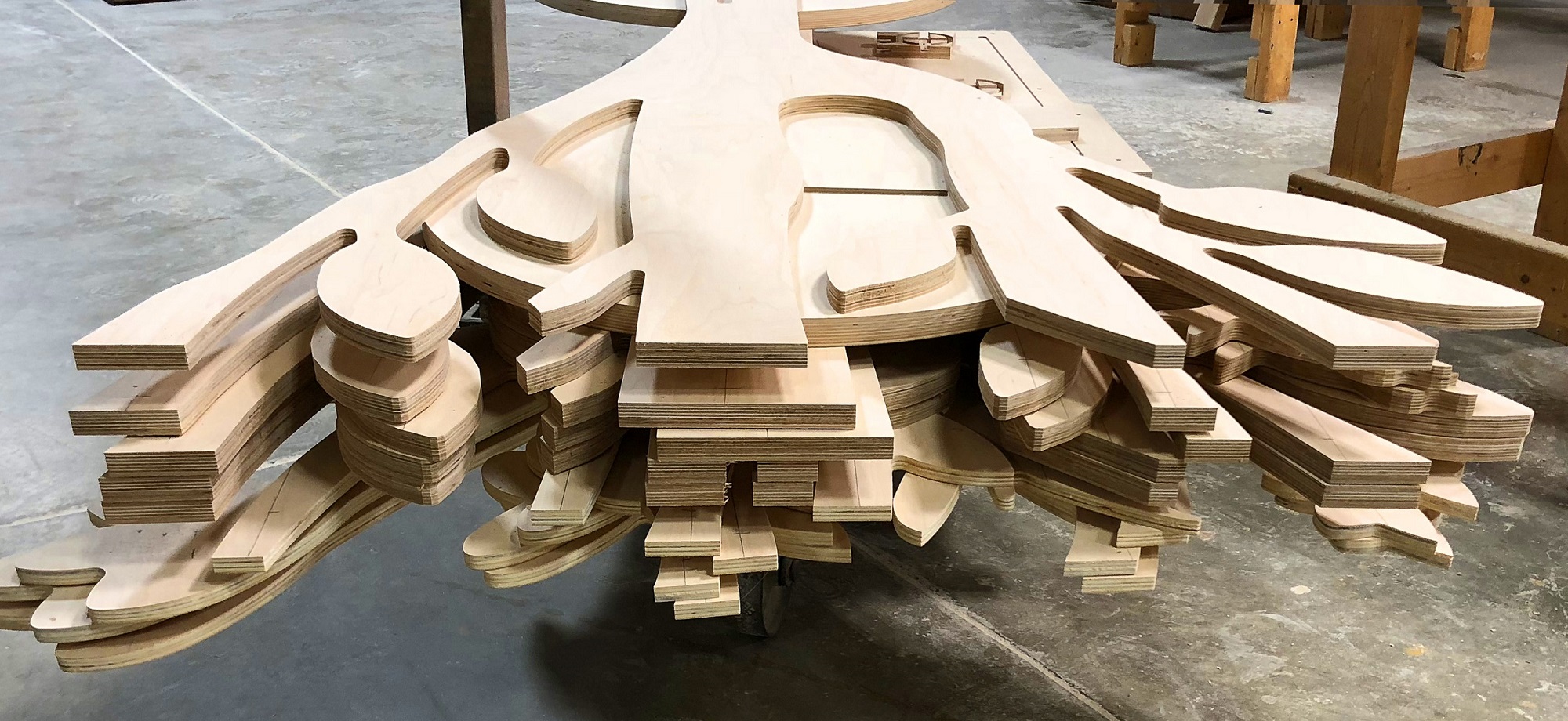 This focus on children can be seen in some of the company's most favorite works. The Fairfield Parent+Child Carrel product, for instance, offers a convenient spot for parents to work while their babies or toddler play next to them in a safe and stimulating LearnPLAY environment. 
Another major project was the McAllen Public Library in McAllen, Texas. After Walmart abandoned one of its retail stores, the city decided to reuse the structure as a new main library. The primary challenge of reusing the building was to create a highly functional, flexible library of 124,500 square feet on a single level. This area is equivalent to nearly 2 1/2 football fields, making the new library the largest single-story library in the U.S. 
The custom ceiling consists of 316 individual 4'x4' laser cut wood panels, incorporating a flowing design that reflects the beauty of the surrounding landscape and the seasonal migratory patterns of native birds.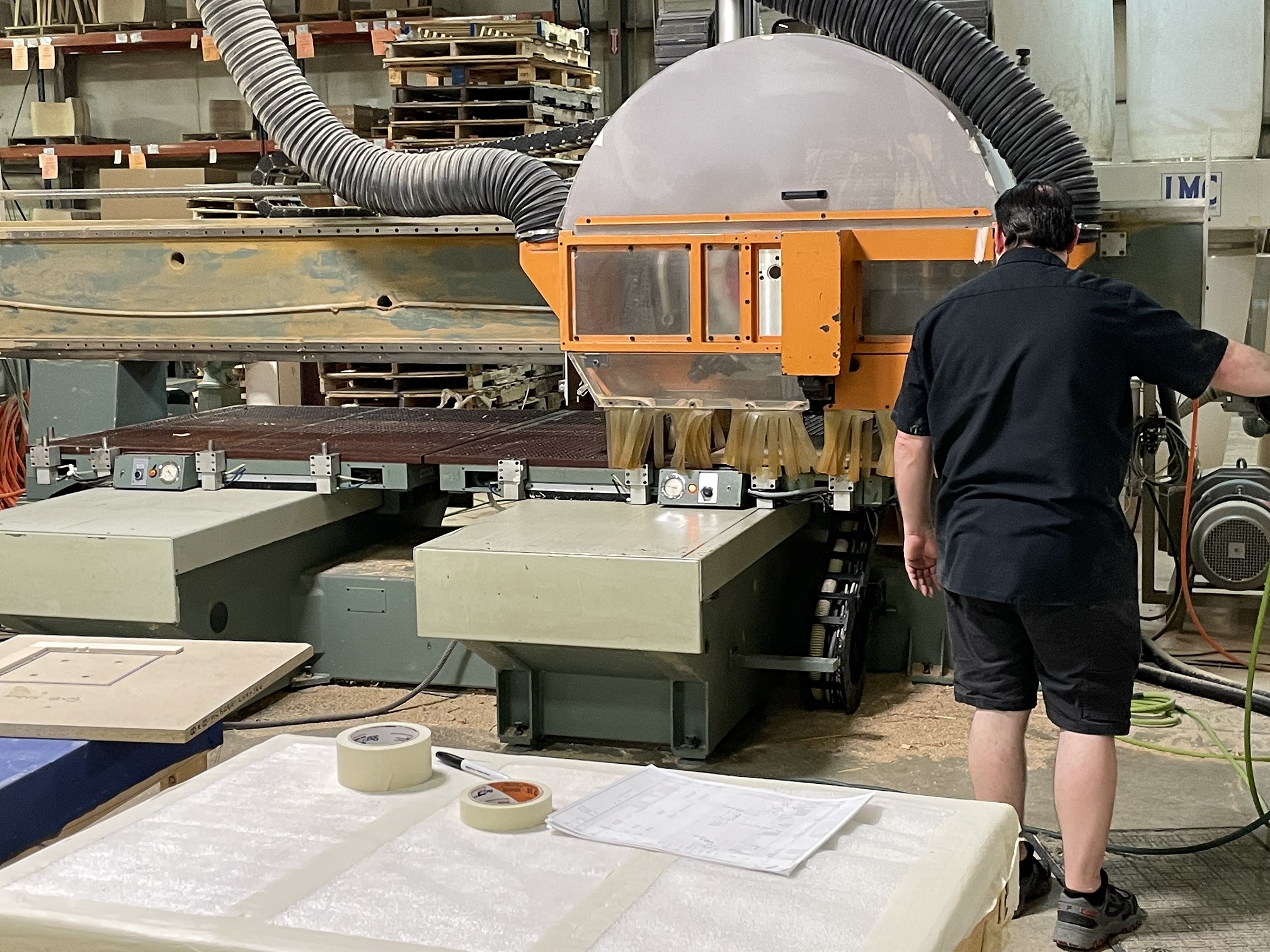 Bootstrapped
Many of the TMC design ideas started at that kitchen table while, in the early days. Actual production was done in the back of a supplier's shop before purchasing a factory building in 2009, said Ratcliffe. The company still outsources component manufacturing but does the more creative jobs in house in what Ratcliffe describes as a boutique factory.
"Our own factory focuses on the one-of-a-kind, craftsmen-style processes that other volume-focused factories won't do for us, or the work is part of our 'trade secret' techniques," he said. 
Some of these techniques include the colors used in the designs. In the mid-1990s, Sherri Ratcliffe developed techniques to produce and utilize the bright and aniline dyes that are still used to help make birds soar and butterfly's fly in their designs.
For his part, Blake Ratcliffe was experimenting with laser techniques. "In the early days," he said, "I would go to an auto supply company that had massive six-axis lasers, and I convinced them to let me come in on third shift and wipe the grease off their machines and run wood on it to experiment."
Those techniques, including experimenting with masking options and lower temperature settings on the laser cutter, were developed in the wee hours of the night.
Today those techniques are used to create the perimeter-shaped products that turn a regular chair into a launching pad for bright blue birds, for example, or provide a flourish to a standard chair by adding a laser cutout design that adorns chair backs.
"We were doing that on our chairs and the case goods and really making a name for ourselves for the first five years," he said. "No one could figure out really what we were doing. And it was perfect because we needed that since we were bootstrapping everything. We didn't have investors, and we weren't independently wealthy, so we needed that five-year lead to get established."That began to change in 2009 when TMC bought their furniture factory.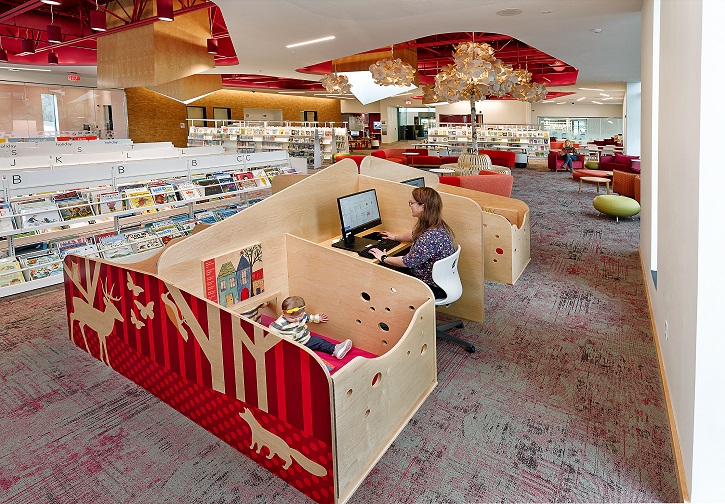 Continuing growth
TMC has always benefitted from family — their parents were always ready to lend a hand — as well as the talents of the local community. Many of their first employees were third and fourth generation woodworkers from the surrounding region.
One of their first employees helped them develop techniques that from first glance appears to be wood marquetry pieces, but it is not.
"We figured out a way using lasers to cauterize the wood," Ratcliffe said. "As far as I'm aware, no one has figured out how we do this technique, so we remain unique almost two decades   later."
The lasers cauterize the wood, Ratcliffe explained.
"This allowed us to create closely nested patterns on the veneer and then spray bright colors next to one another without the dye wicking across the cauterized line," he said. "The old-school alternative was an ugly 1/8" router vein-line sealed with black paint between colors (or the more tedious veneer marquetry tape-up)."
Doing the heavy lifting
Another worker who started within the first year or two of the company and was one of those who sat around that first kitchen table is Julie Deator, who continues active with the company today.
Deator was the plant manager until recently getting promoted to SVP Operations and charged with developing an e-commerce platform that the company plans to launch. 
Another worker, current plant manager Tom Heitz, was hired to organize and improve manufacturing capabilities. He had worked in management for decades at some of the biggest names in the furniture business such as Herman Miller. 
These two, said Ratcliffe, do a lot of the "heavy lifting" at the company, allowing Blake and Sherri to focus on the creative sides of the business.
For instance, they have helped to incorporate Kaizen (continuous improvement) and other lean manufacturing principles into the company. 
About six years ago, the company coined an internal term, called "simplyTMC" to simplify processes and get the entire team to start thinking about how best to do their jobs. This included organizing supplies such as lumber and components into bins and reorganizing the factory floor to create a better flow.
"It was our own spin on lean manufacturing," he said. "We asked everyone to question the way they were doing things and wonder if there was a better or simpler way."
"Could an eight-step process be reduced to a five-step process?," Ratcliffe recalled. "We asked them to question whether we chose to make a part in-house or outsource it; to question whether we needed to sell a product with three dozen finish options when only seven colors sold on a regular basis."
 
Have something to say? Share your thoughts with us in the comments below.