Furniture maker's change for a new decade
January 23, 2022 | 6:00 pm CST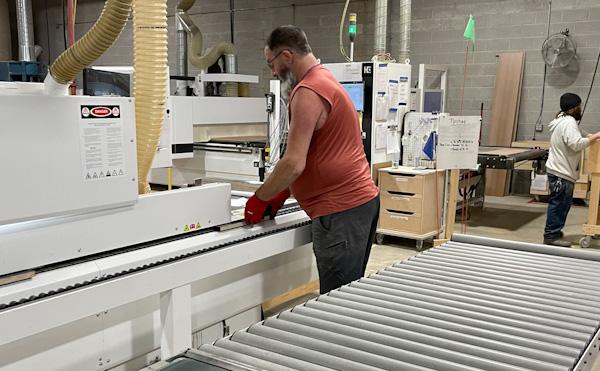 Change is not always easy. Especially when changes are being considered for a more than 40-year-old woodworking company. But, standing still isn't the answer either. 
At least that was the case in 2018 when Paul Golden acquired the assets for Shu Industries in Random Lake, Wisconsin, about 40 miles north of Milwaukee. While Golden believed the staff was skilled and the product was of high quality, he also believed that the brand should be broadened, efficiencies improved, tolerances tightened, and variances minimized so that the cabinets and casegoods produced would be repeatable and reproducible.
Change was needed, he said, but not change for change's sake. Instead, the changes had to be strategic to propel the company into its fifth decade. 
A new beginning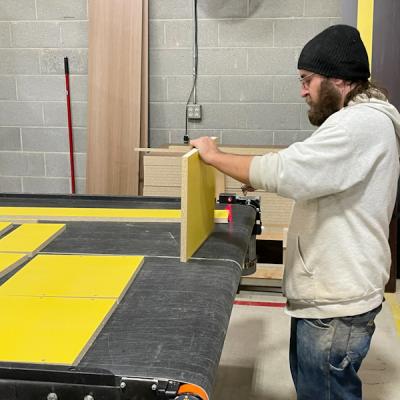 Schu Industries was a mid-sized business that served major customers in the hospitality, long-term health care, residential, and point-of-purchase markets both nationally and internationally. Clients included DoubleTree, Camelback Resorts, Days Inn, Ho-Chunk Casino, and a newly minted contract with Wyndham Hotels & Resorts. 
So, when Golden took the reins there were a lot of positive things on the right side of the ledger. But, Golden was looking to expand Shu's customer base and to make the company more profitable. To do so, multiple changes were implemented. 
Rebranding was one of the first actions. Schu became WoodgeniX, a name that incorporates wood, to reflect the company's 40-plus year history, and "geniX," which reflects the company's future as an "emerging brand in wood and mixed media case goods with a focus is on innovative design, new materials, new technology, and an advanced workforce." 
Golden wanted to increase capacity, and one of the ways he did so was by integrating two disparate factories into one building. The company had been operated out of two locations, one on each side of the small Rando Lake, and Golden wanted to bring the company under one roof. When completed, the new under-the one-roof facility would measure about 50,000 square feet, including about 6,000 square feet of desperately needed office space. While construction is still ongoing, and office workers are still separated, Golden said, "It has been a big benefit to having production under one roof. We're not splitting maintenance; we're not splitting material handling or our engineers. Everybody is now concentrated in one location." 
Combining operations and integrating new construction concepts was a challenge. A challenge the company met with new technology, and a workforce willing to adapt to new technology and processes, he said. 
To improve compacity, new CNC equipment was purchased — more than 1.5 million dollars of equipment. Previously, while CNC equipment was used, it wasn't "true CNC" said Golden. Operators had to enter individual part parameters to develop programs in situ. "That's a high skill, but also a lot of opportunity for mistakes," he said. "With our newer equipment, we're able to take it from our SolidWorks 3d model software, and drive it to the machines, and as long as the drawings are good, the program and parts will be good." 
Integrating new technology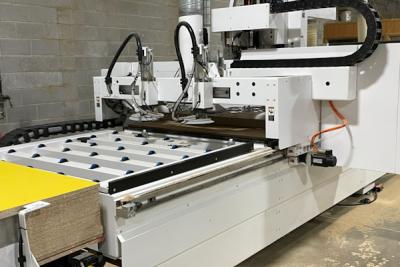 This equipment used in manufacturing includes flat-panel nesting technology, multi-axis CNC machining, high-volume edgebanding, and a drill and dowel machine. The new technology was chosen to meet the needs of a major change in product construction.
Previously, each worker built a piece of furniture or casegoods at their station. And, workers were good at this station-build concept because they had the skillset to do so, said Golden. But the skillsets were not all the same, and newer employees didn't necessarily possess this tribal knowledge. 
In the station-build production concept, each assembler "had to know how to put an entire unit together," Golden said. This led to some variances in tolerances. "You could make adaptions and adjustments, and introduce differences based on your skillset and based on your view of things."
To remove these variances, and standardize its products, the company has changed much of its production to a drill-and-dowel concept. With this system, production was broken down into individual steps. 
"Over the last couple of years, we've redesigned everything to be drill-and dowel based, which eliminates a lot of the fuzziness of putting the product together, and frankly, I think we produce a better-quality product today because there's less variation in the product, and the tolerances are tighter and more consistent." 
To supply this dowel-construction concept, the company purchased a Homag CNC flat-panel router for nesting components. The machine, a Homag Centateq N-500, can get the most components out of each individual panel, Golden noted.
While the Centateq N-500 can handle sheets as large as 12-feet long, WoodgeniX uses sheet stock that comes in 4 x 8- or 5 x 9-foot sizes and it gets the most product out of these dimensions. 
This is critical because these panels are the company's highest category of expense. Prices can vary but can be more than $100 per board, so getting the most out of each board is critical. With the Homag's precision, Golden said, about 98 percent or so of each board is used in production. The remaining strips are used for buildup or ground up for use by local farmers as animal bedding. 
Product flow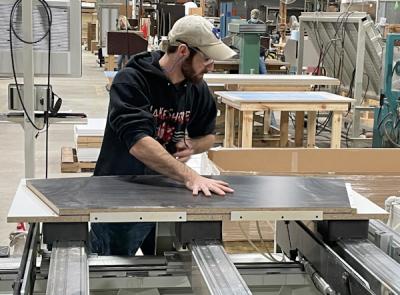 These cut-to-size components are moved to the next step in the production process. The operator will move the cut-and-drilled board to an appropriate job bin, in the correctly oriented position to ease production as its flows through the plant.
"Because of this," said Golden, "Assemblers don't have to worry about trying to have to determine orientation, they can immediately use the component because they know it's going to be oriented in the right direction." 
After being cut to size, many components are moved to the Homag Drillteq D-200 drill-and-dowel machine. The 4-foot long, multi-zone machine, drills and dowels individual components in seconds. The machine features a stop in the table, a stop in the back, a clamp to hold the part, and a sensor to make sure there is the part is there to make sure the operator doesn't drill down into the table. The parts are drilled, and a dowel is inserted. 
Components are then typically moved to the Homag edgebander. The company has incorporated a single-sided Edgeteq edgebander that trims the banding and allows the company to easily change out banding material, thicknesses and glues as needed. A return system allows one operator to work the machine. 
The Edgeteq can integrate other glue. For instance, the company sells products for the long-term health care market, which means that the products must be as impervious as possible to liquids and chemicals of any sort. For this reason, the company uses PUR glue that provides a strong bond to keep out liquids. 
From there, components will likely make their way to the assembly areas in rolling bins that are designated for individual assembly jobs. The carts will roll up to the assembly area in a sequenced fashion in the order of assembly. 
Components and material handling will be handled by a "floor coordinator that is responsible for making sure products are delivered where they're needed, whether it is to the edgebander, to the assembly cell, or multi-axis machines," said Golden.
Hardwood construction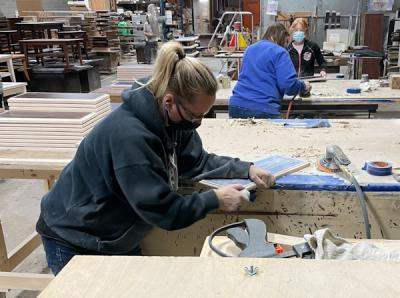 While many materials and components flow through this nested-construct process, the company also markets a line of hardwood products that are geared toward consumers and are sold through major retailers.
These products can be customized with different finishes, fixtures, and wood edging, and often use a high-end CNC machine. 
The hardwood product lines are often fed by a Schelling saw that cuts sheets to size. These panels are then moved to the SCM Morbidelli M90 CNC machining center, where they are finely machined.
Many of the wood parts will need to be shaped and holes drilled horizontally, as well as vertically, and that is why Golden purchased the pod-and rail system. The vacuum system uses pods to lift the part and provide access to the panel around all sides. So, if the operators need to use a ball nose router or do a round over, they can use the system to do a horizontal bore, vertical drill or rout anywhere on the component. 
The parts are then moved to assembly, and finally to the finishing area.
"After the product's components are built, they'll go into our spray booth. After sanding, it gets an initial coat, and after it dries it will get a light sand and go back in the booth for a second coat that typically gets light sand again and then gets a topcoat," said Golden. 
Drying times, he said, can take roughly four hours. "So, we can cycle through these pretty rapidly. But, we typically have it drying for 24 hours before we put it into shipping." 
WoodgeniX, like many woodworking companies, is dealing with shipping issues because of a shortage of trucks and drivers. Perhaps, the company will come up with a new concept to solve that problem, as well.
For more on WoodgeniX visit woodgenixllc.com.
Have something to say? Share your thoughts with us in the comments below.