Vauth-Sagel opens collaborative design center at headquarters factory in Germany
September 21, 2016 | 4:14 pm CDT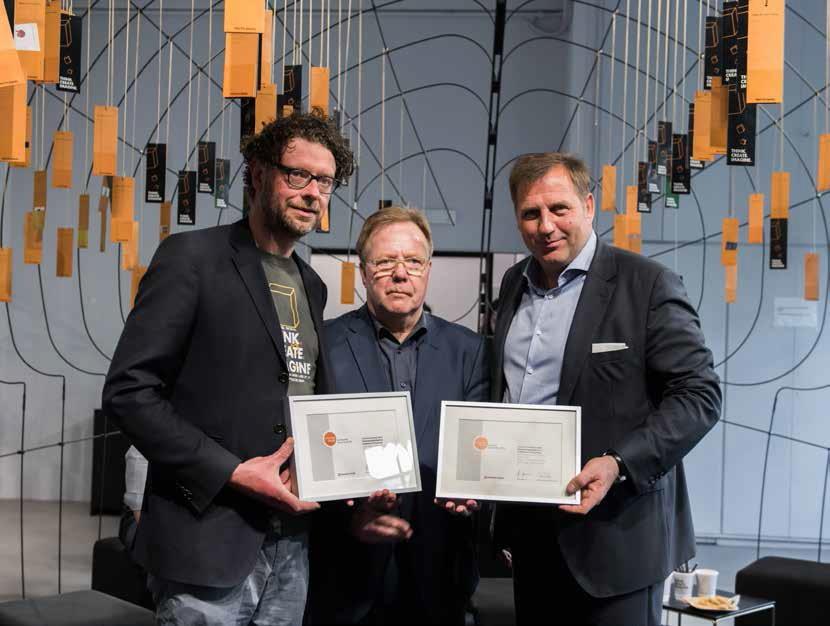 BRAKEL-ERKELN, Germany - Organization hardware manufacturer Vauth-Sagel is taking an about-face in its approach to new product development, partnering with its major cabinetry and furniture manufacturers and their clients for collaborative design and development. 
A ribbon cutting and press opening for its new design center in Brakel-Erkeln, Germany, delved into its new corporate maxim: 'Think. Create. Imagine.' Privately held and in its third generation of family management, Vauth-Sagel has been developing its new approach over the past 18 months, testing out and presenting results of its collaboration efforts at European design shows in 2015 and 2016.
The opening of its new design center this week was the next step in what it is calling a "dialog-based" product development process, which rests on the adoption of the principles of Universal Design and Industry 4.0 as guidelines to its customer engagement. 
Last week, Vauth-Sagel welcomed a cadre of journalists from around the world for the unveiling of its 6,000 square foot center, which features kitchen spaces decorated in urban, country, family, and "bell epoque"designs. 
Breakthrough moment for one of the journalist design teams at Vauth-Sagel.
Often such events are simple journalist walk-throughs. Vauth-Sagel took a bit different approach. After a tour showing off its adjoining factory's pull-production approach and robotics-assisted wire rack production, reporters moved into the new design center for a crack at playing new product developers. Each team was joined by Vauth-Sagel product managers, who  commandeered the factory floor to fabricate models or prototypes of the new product ideas.  
The assembled editors - hailing from Turkey, India, Russia, China, Australia, and the U.S.A - formed into teams and developed new product concepts that might conceivably be developed by Vauth-Sagel. The center itself is inspirational, incorporating an area in which the development of Industry 4.0 integrated manufacturing efforts are being developed. 
A prototype blind corner organizer developed by Vauth-Sagel with cabinetmaker SieMatic. 
Vauth-Sagel management believes the views outsiders have of the company, its products, and its workflow, can supply important insights it can use for its "Mission Future" project. 
For two days following the "design jam," Vauth-Sagel ferried the journalist group to six different cabinetry firm showrooms and factories, including Nobilia, at €1 annual revenue Germany's largest; and SieMatic, a high-end cabinetry manufacturer. Both firms are intent increasing their cabinet exports beyond Europe. A week-long national event comparable to KBIS in the U.S., called "Kuchenmiele A30," was being staged at these and other major cabinetry manufacturers in the area Germany. 
Robots assist humans in parts picking for Batch One cabinetry production at Nobilia, Germany's largest. 
Nobilia opened its factory floor, Germany's biggest and most autoamted, for a tour. SieMatic demonstrated its new designs for 2017, and show a joint development with Vauth-Sagel, a blind corner cabinet shelf. Milled for demonstration purposes from solid aluminum, the production version will be available next year. 
"This dialogue is not primarily about specific products. It is about space concepts, about how we are going to live in the future," says CEO Claus Sagel, a third generation family owner who shares management responsibility with his brothers and their father.
"A journalist is bound to have a different perspective than a design engineer or an established home furniture manufacturer. And these numerous different perspectives are important as they will enable us to get on with the next step, to develop unique space solutions that perfectly match the needs of the users."
Vauth-Sagel says its new development approach extends across the entire company, in its new design showroom, which is designed in the form of a think tank. It hopes to take the focus from products, and place it instead on wide range of solutions.
Vauth-Sagel says it wants to establish a permanent dialogue  "In this way, we want to develop scenarios and new approaches for a positive (living) future together with the media representatives, our customers – the furniture manufacturers, designers and of course the peo-ple who live with our solutions. Furthermore, the publications can be our mentors and help us by communicating our mission and position in their markets."
Have something to say? Share your thoughts with us in the comments below.