Modular construction and high-tech gadgetry combine in Virginia Tech's home of the future
January 17, 2017 | 2:26 pm CST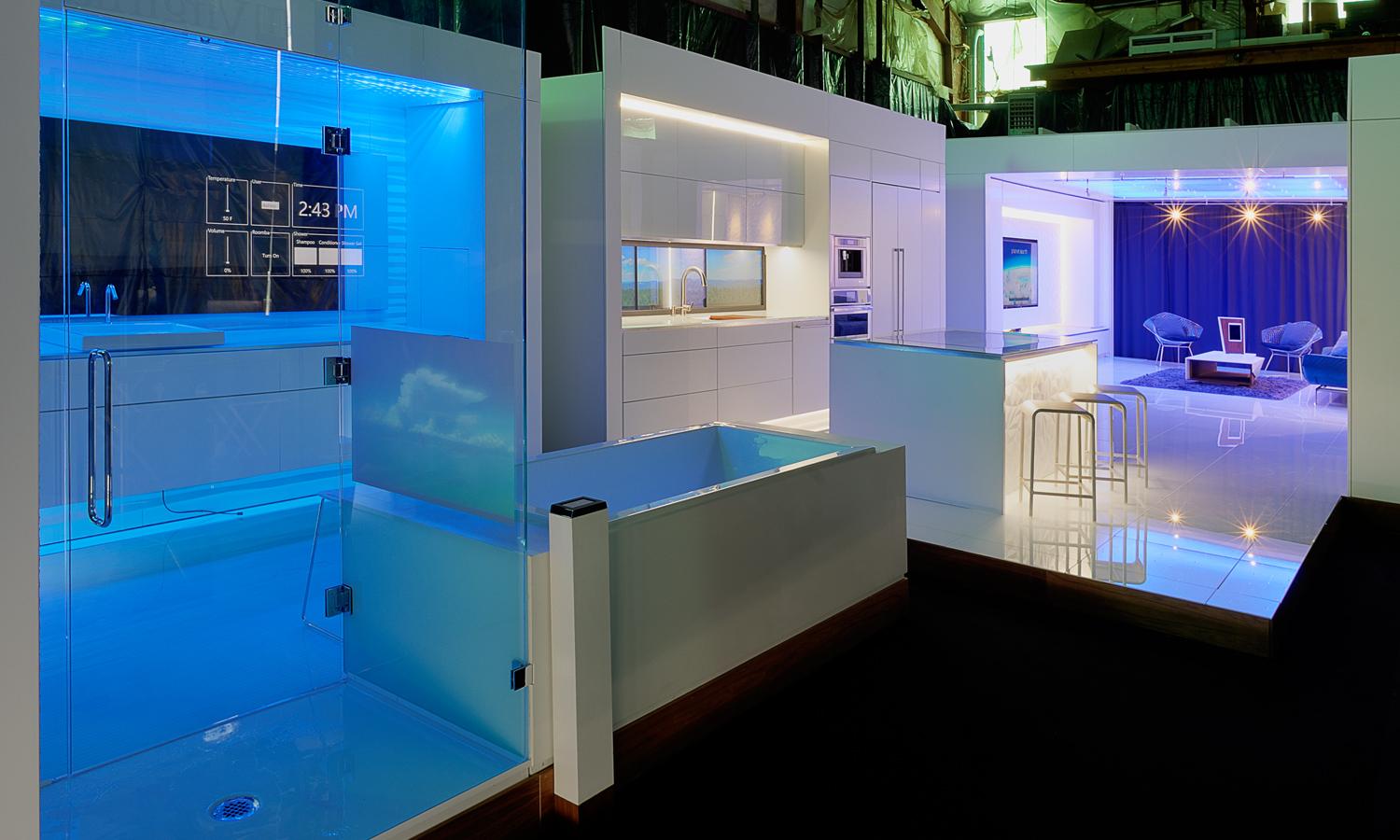 High-tech gadgetry, modular "cartridge" construction, transformable rooms, and sleek design converge in Virginia Tech's FutureHAUS, a concept home of the future.
Each year the multi-disciplinary effort develops more components of the home - this year taking on bedroom and home office to showcase how digital technologies, cutting-edge products, and smart building design will make homes more responsive to our future needs.
Debuting last week at KBIS 2017, FutureHAUS proposes an alternative to conventional construction: a pre-fab delivery method for assembling medium and high-density urban housing, which can be less expensive, safer, energy-efficient, and of the higher quality, says Virginia Tech. Advanced electronics can be immediately integrated into the construction and assembly process.
Kitchens, bathrooms, audio/visual walls, mechanical rooms and closets can be assembled in a factory as plug-and-play "cartridges" that are fully pre-finished, pre-plumbed, and pre-wired. The process creates a controlled environment to integrate and test advanced technologies, electrical, plumbing, and other home systems. Once at the construction site, cartridges can be quickly installed and linked.
FutureHAUS allows clients to:
Flex space: Adapt rooms for different space needs and functions by simply moving walls or furnishings. Flex Space includes movable walls that enable occupants to adjust living spaces for different activities and times of day. The closet conveniently expands to include a sitting room, dressing room, and laundry room, or contracts to create extra space in the bedroom or office. If an extra guest bedroom is needed, the office wall converts into a Murphy bed with a simple gesture or voice command.
Smart closet and wardrobe: Select clothing items on a smart mirror touchscreen to be delivered on demand. The Smart Closet and Wardrobe include a smart mirror touchscreen that enables users to quickly find and select items in their wardrobe to be delivered on demand. The dressing room wardrobe has self-opening drawers and an automated clothing carousel. Tiny RFID (radio frequency identification) tags in the clothes enable the smart closet to scan and locate items - ensuring you'll never lose a sock again.
It also allows: 
Smart window wall: Allow for high-performance environmental design and technology with an exterior wall that makes intuitive adjustments for shading, privacy, and insulation.
Bedroom: Voice and gesture-activated bed, room controls, and a canopy multimedia screen make the bedroom a sanctuary for sleep or entertainment.
Laundry room: Conveniently tucks away to minimize noise and clutter.
Mixed-reality home office: A telecommuter's dream, blending virtual reality with the real world.
Audio/visual wall: Spins 180-degrees to serve as a computer screen, video conferencing monitor, television, speaker, dry-erase board, or decorative art wall.
Cartridge construction: Pre-wired, pre-finished "plug-and-play" cartridges (such as kitchens, bathrooms, and audiovisual walls) allow for quick and easy integration of advanced technologies and home systems at the construction site.
FutureHAUS features innovative products and expertise from more than 25 industry partners, including California Closets, DuPont, Häfele, and Plain & Fancy Cabinetry. 
Closet designer and marketing expert Denise Butchko witnessed FutureHAUS firsthand at KBIS. Learn more
here
.
Have something to say? Share your thoughts with us in the comments below.