Mightier Pens: Milwaukee Tool Reinvents Job Site Writing
July 16, 2015 | 10:19 am CDT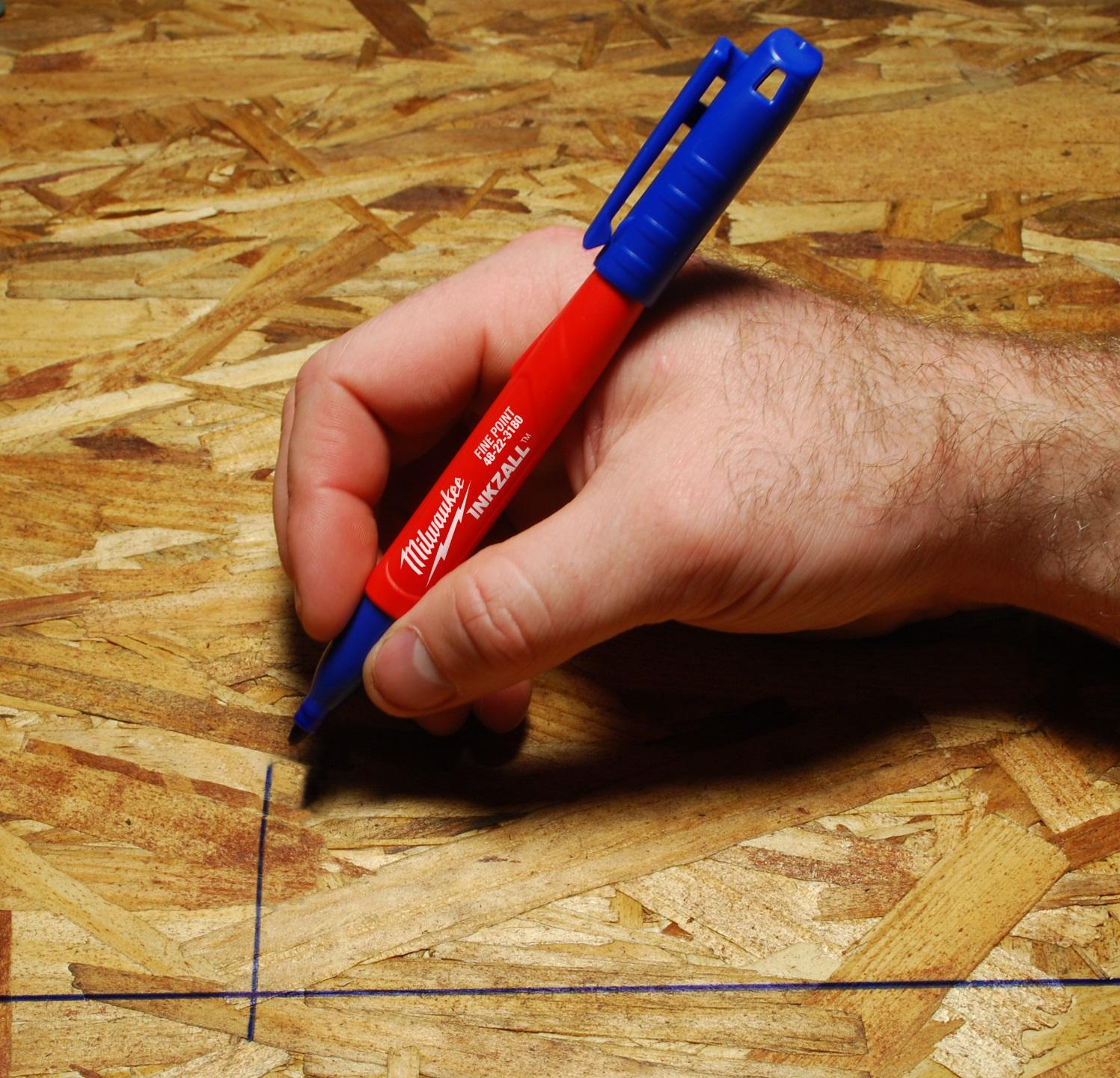 I recently had the pleasure of attending Milwaukee tool's latest product showcase event. For someone who doesn't like tools it would have been a long 2 days, but for me, I was in heaven.
Focusing on new tool after new tool I barely had time to register what I liked about one before I feel in love with another. I came across highlight after highlight, but in an event dominated by power tools one of the things that stuck out the most to me had no power source at all, INKZALL, a revolutionary new worksite pen.
The fact that Milwaukee would reinvent and reimagine tools is a given, and they do a great job of it, but the fact that they thought to do the same thing to the lowly job site pen really blew my mind. Now here is a company that is really thinking about the Work Industry as a whole. 
That Milwaukee would reinvent and reimagine the lowly job site pen really blew my mind.
When I look at a tool company, I am just as interested in the people working behind the scenes as I am in the tools that they produce. So instead of writing an article I wanted to do a little interview with someone there for a more personal look into the Milwaukee brand. For this interview I spoke with Bobby Shaw, Director of Product Marketing, who was there when the Inkzall first came about:
Ethan Abramson - Bobby, thanks for sitting down with us. Can you give us a little look into your background and how you came to work at Milwaukee Tool?
Bobby Shaw - I started with Milwaukee Tool right out of college, working in field sales in New York City. The business world and consumer products/consumer durables was always something I was drawn to. I have always valued quality brands and learning about what makes them tick and how they continue to drive innovation in their respective fields.  For me, the opportunity with Milwaukee was a great fit in that regard. A powerful brand with tremendous brand equity in the professional power tool space.  
Once I started with the company in New York, I knew marketing and product management was where I wanted to be long term.  In late 2008 I moved to Milwaukee, WI and took a position on the product management team.  Today, I am Director of Product Management for our Hand Tool business, managing a team of very talented product managers, who day in and day out, focus on our core end users and their respective needs on the jobsite.  We collaborate with a team of the best engineers in the business, to develop and launch disruptively innovative hand tool products.  The Milwaukee Hand Tool business is on fire and continues to grow at a rapid pace.  
EA - What were your first thoughts when you learned that the team was being tasked with reinventing something as seemingly standard as a 'marker'? 
BS- As part of our new product development process, we spend a lot of time out on the jobsite, trying to better understand what professionals are using on a daily basis, what their key needs and frustrations are, and even how they are modifying existing tools to make them work for specific applications. Through this process, we saw a ton of opportunity to bring innovative, fresh ideas to the market for hand tools that have been fairly stagnant for years. This ultimately led to the launch of our hand tool line in 2010 that has continued to grow exponentially.
It is easy to look at something like a marker and say "how could we possibly bring innovation to this category?
Like many of the products on our hand tool line, it is easy to look at something like a marker and say "how could we possibly bring innovation to this category?"…at the end of the day, we started this project like all others….through research on jobsites.
We continued to see jobsites littered with markers that simply weren't holding up to the applications at hand. Every time users have to take a measurement, they need to make a mark on the material. Often times that means making marks on oily, wet or dusty surfaces, so regular markers just don't hold up. We saw an opportunity to innovate, and were up for the challenge.
EA- In stark contrast to a lot of the tools being debuted, the INKZALL is much smaller and has a lot less moving parts. Where do you even start with redesigning something like this?
BS- That is the great thing about our team. No matter how big or small the challenge or opportunity, we look at every possible way that we can enhance productivity for the user and bring innovation to the market. We start by looking at two things…1) What does the user need out of this product, and 2)How do the products on the market today live up to those needs? By doing this analysis, we saw an opportunity with markers to fill a need that was not being met today.
EA- For the uninitiated, give us a little run down of the features of the INKZALL.
BS- INKZALL Jobsite Markers feature clog resistant tips and the ability to write through dusty, wet or oily surfaces. The durable marker tips are designed for writing on rough surfaces such as OSB, cinder block and concrete and the ink dries quickly to reduce smearing markings, without drying out quickly when the cap is left off. 
EA- Any of those prove to be harder to execute then you anticipated?  
BS-The most challenging part of this project was diving into chemical engineering…something we rarely have to do with other power tool projects. Not only did we have to get the ink right, but also the type of material for the tip. The team had a lot of fun working through new, challenging problems to come up with the very best solution for the end user.
EA- Can you give us a sneak peek into new features or similar products we should keep an eye on for the future?
BS- As you saw at our recent New Product Symposium, we will be expanding the INKZALL line with new paint markers and metallic markers in early 2016. Users love the INKZALL line, but needed something that could write on darker surfaces like black pipe. We will continue to look at opportunities in the jobsite marking category, and where we can bring relevant innovation to the space, so keep an eye out for more new products in the future! 
Have something to say? Share your thoughts with us in the comments below.