Many architects still use Lacey Act-banned endangered woods if client requests, study finds
November 12, 2017 | 4:16 pm CST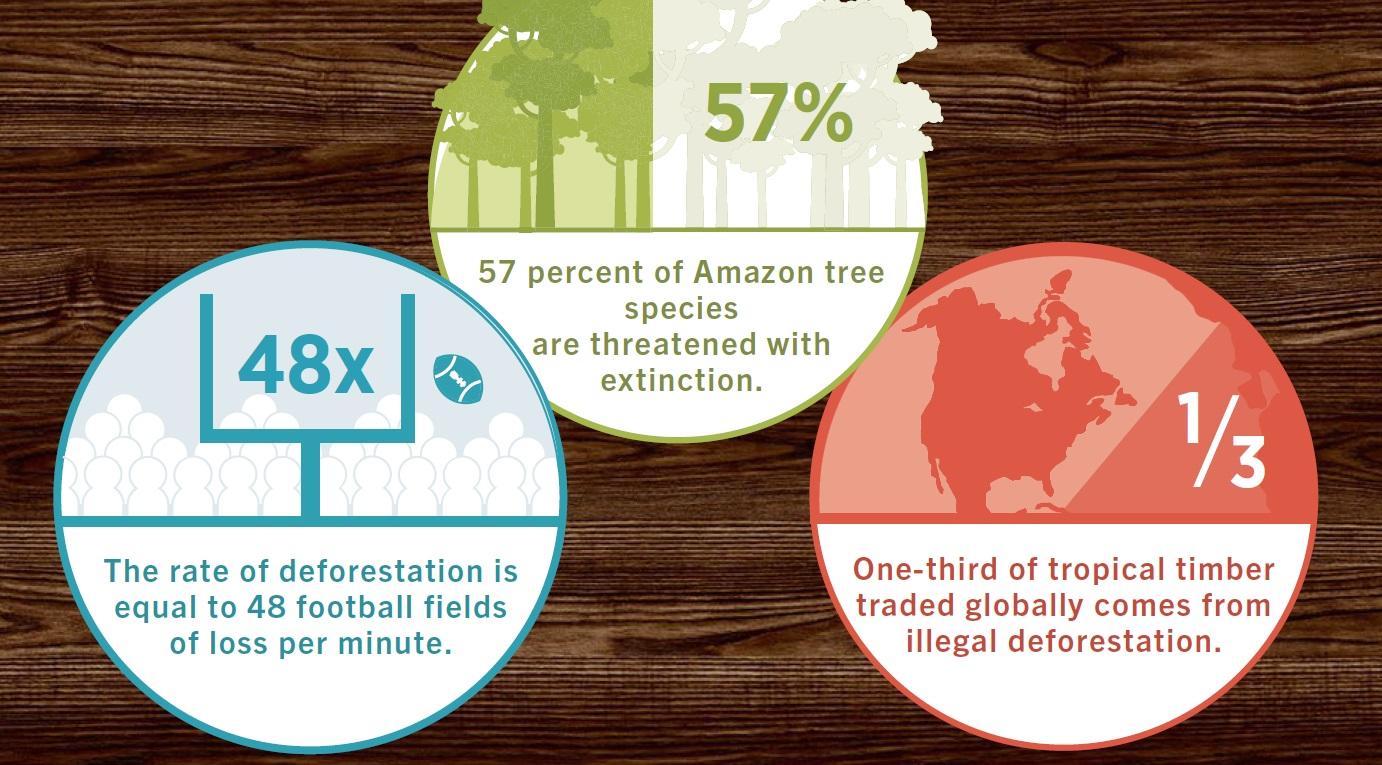 understanding-wood-infographic-wilsonart.pdf
NEW YORK CITY - A national survey of architects and designers limited knowledge of endangered and threatened woods, protected forests and potential legal liabilities under the Lacey Act - which prohibits use of endangered wood species. 
Almost all of those surveyed - 99 percent - could not correctly identify the majority of endangered woods from a provided list. Conducted by SMS Research Advisors for laminate manufacturer Wilsonart, the survey revealed that even designers who know a wood species is endangered are still willing to use it. More than half - 51 percent - of endangered wood users are aware that the wood specified is threatened, but 40 percent of respondents said they would still choose an endangered wood if a client specifically requested it.
While architects and designers largely agree they shouldn't use endangered wood species -70 percent agree that using responsibly sourced wood materials is a priority - they are lacking specific knowledge of which species are off limits, and what alternate materials can be successfully substituted. 
"We learned from this survey that professionals in the industry need to be more informed about the materials they specify," said Tammy Weadock, Communications Manager at Wilsonart. "The largest knowledge gap exists where it could impact architects and designers the most, in their own practices."
Of those surveyed, 43 percent were designers, 38 percent were architects, and 11 percent were specifier, between the ages of 25 and 44, with 44 percent of them women, 55 percent men. Projects that were described by respondents were: 
Office (18%)
Single residential (16%)
Education (15%)
Healthcare (12%)
Multi-residential (11%)
Retail (11%) 
Hospitality (11%)
Wilsonart revealed the study results - and moved to remedy that information gap - last month at a "Day of Knowledge" staged October 18 at the New York Center for Architecture, headquarters of the influential regional chapter of the American Institute of Architects. The event also was the setting for the launch of a broader initiative by Wilsonart, called "Understanding Wood: Sourcing Against the Grain." 
The Day of Knowledge featured a presentation by design historian and materials expert Grace Jeffers for group of designers and arhcitects gathered for the occasion. In an effort to spread the knowledge, Wilsonart also streamed the presentation live to more than 1,000 online attendees who could earn Continuing Education Units (CEUs)  applicable to their professional certifications. An interactive microsite,
www.Wilsonart.com/understanding-wood
, was launched with resources including white papers and an infographic summarizing the survey results. 
In her presentation, Jeffers briefly summarized the results of the survey, then provided a detailed context for how and why wood species become endangered, and clarified distinctions between commonly used terms, like "renewable resources" and even "forest" that can mask trends that continue to threaten wood species. Jeffers described the ecosystem of a forest, the lifespan of a tree, and the rise of harvesting technologies that can decimate an entire forest in just hours."But the number one cause of deforestation is agriculture," Jeffers said, as growing populations around the world encroach on forestland. 
"Wood is renewable," Jeffers said. "But how rapidly? And yes, trees are renewable. But forests are not." Jeffers also identified the 10 most endangered woods, and explained why trees cannot thrive without a forest. Another danger posed is that legally substituted woods can easily become endangered given the speed of harvesting technology. On the positive side, Jeffers said, "Twenty-one percent of the world's primary old growth forest is still standing." And most American hardwoods, which enjoy popularity around the world, are plentiful and safe to use. 
Listing the Top 10 commercial woods (which generally aren;t threatened), Jeffers named pine, spruce, larch, birch, fir, poplar, oak, maple, beech, and shorea (also known as luan.) Jeffers named the most threatened woods as well: mahogany, teak, zebrawood, rosewood, and wenge - woods that frequently appear in projects. 
Through these efforts, Wilsonart hopes to educate architects and designers about endangered and threatened woods, protected forests, and alternate materials that meet their aesthetic and functional needs. But it's business interest also rely on the preservation of the health of forests, since its engineered  laminates are dependent on the same sources that produce veneer and hardwood. 
Have something to say? Share your thoughts with us in the comments below.