Interview with California Closets designer Alice Riiski-Kempton
March 11, 2021 | 12:15 pm CST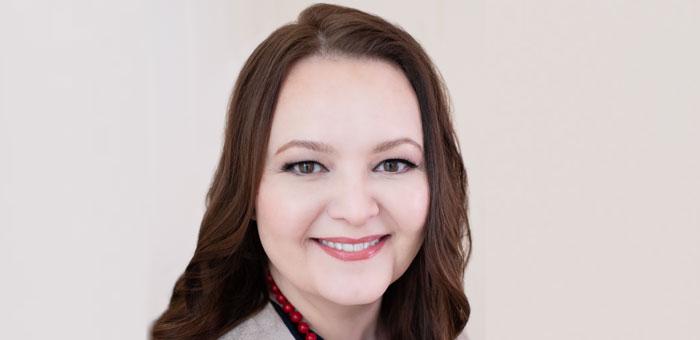 Alice Riiski-Kempton is a registered Storage Designer through the Association of Closets & Storage Professionals. She grew up in her native Finland. After moving to the U.S., she worked for an independent closet company in the San Francisco Bay Area before joining California Closets where she works as Design Lead serving the Los Angeles market. 
1) How did your heritage mold your design style?
I like to keep my designs simple with clean lines. I look at the functionality and practicality of the design to serve the homeowners' needs. 
2) Do you have a favorite color?
I'm a little different, magenta is my color. I definitely use it in my personal life. However, I do not use it in my professional designs as I have to look at my client's aesthetics. I need to give them what they want. But a vase of magenta flowers on a counter for the final reveal can work. 
3) What is your favorite part of being a closet designer?
I love the creativity, and the days go by so quickly. I'm constantly learning something new and I never get bored. It's like a large puzzle. Sometimes I look at a tight space and I'm like what am I going to do with this space? But then the light bulb goes on and I have a solution.
4) What motivates you in your life and profession?
My husband, he kicks me out of bed. No, seriously, I love what I do, and I want to continue doing it better. I've had jobs before that didn't excite me and I didn't want to get up in the morning. This one does and that's motivating. 
5) What inspires you in your surroundings?
I like going to furniture stores and look at different pieces and how they put things together or design elements and textures. I also get ideas from our association Facebook page and other designers share ideas. Also, California Closets has its own Facebook group where I can get inspiration from other designers. There are a lot of places to get inspiration.  
6) What do you feel are the most important qualities a designer and professional possess?
Being organized and the quicker I can get back to my clients to keep things moving. It's a fundamental skill to be successful. You have to love the details, it's a detail job, and be proud that you are getting your measurements and submitting the job details correctly. Also, people skills and communication are super important. 
7) What makes you happiest? 
I like simple things, a clean house, a good meal, a good movie, being with friends. That's all I need.
8) What is your greatest achievement?
It's a classic story. I'm an immigrant. I got my US citizenship just over a year ago. Being here but I was in a bad place about five years ago. My relationship ended. I was in a dead-end job and I felt I needed to reinvent myself and I found closets. I never even new the industry existed. It has given me a reason to wake up every morning, make decent money. I feel like I'm important and contributing to my community. I've met so many great people. I feel like I'm home now.
9) What is your greatest challenge right now?
I feel like right now, I've overcome my greatest challenge. One year ago, I started a new job with California Closets, an amazing company. Even coming with experience, I had to complete three months of training. So, I moved from the Bay area to LA. I had to find a place to live. I was new to the company, but the pandemic hit. So, I was furloughed for a few months. However, when they called me back, I knew I had to be super-fast, no time to ramp up. I had to move quickly, work hard and move fast. And I was able to do that.
10) Is there anything that would surprise people about you? 
Well, I certainly like my share of bad TV. Right now, I work so hard that folks think I'm a workaholic. But actually, I could easily spend a week in bed binging on Real Housewives. Maybe it's the European in me. 
See the interview below:
Have something to say? Share your thoughts with us in the comments below.