Arizona closet company opens new showroom during COVID-19 crisis
June 19, 2020 | 11:03 am CDT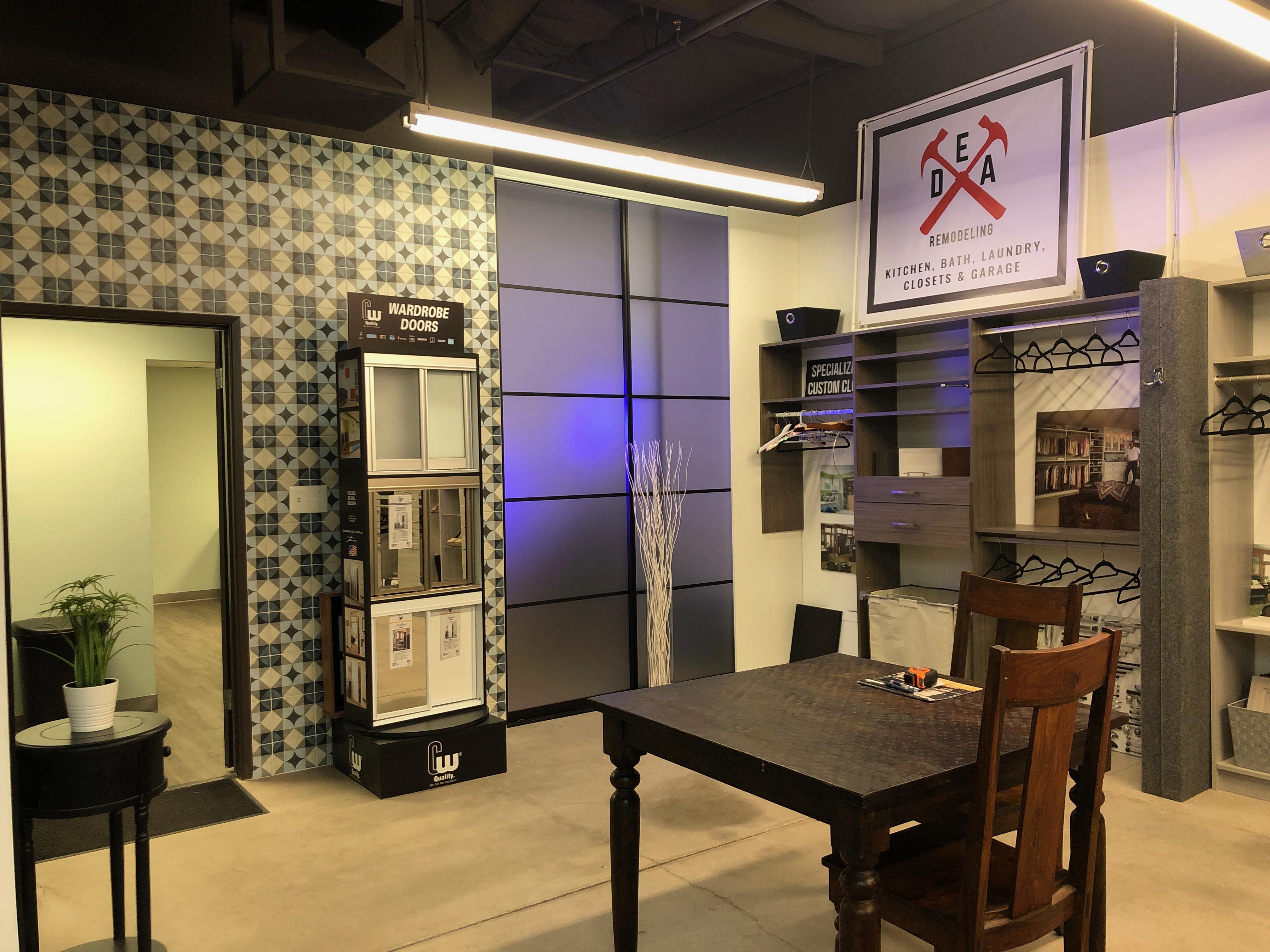 Photo By Kitchens and Closets by DEA
GILBERT, Ariz. - Although COVID-19 has been one the largest business disrupters this country has seen in years, Eric Marshall, Kitchens and Closets by DEA, and President-Elect ACSP, didn't let the pandemic stop him from moving forward with his plans to open a new showroom.
It was in January of this year that Marshall decided to separate his showroom from his manufacturing facility in Gilbert, Arizona.
"I wanted to put it more centralized in Phoenix. So, we when decided on the area, we started looking and we found a place in Tempe that's really close to the airport. It has a lot of traffic and it's right off the 10 freeway," he said. "You get off the 10 freeway and you're practically at our showroom. So, it's a really good location, because it's right in the middle of town. On March 1st, I signed a lease to get into the place and we started moving forward."
During that time COVID-19 cases began to spike in major metropolitan areas across the country. And towards the middle of the month many states began implementing social distancing practices and shelter-in-place and stay-at-home policies.
"We were really worried about what was going to go on with us, just because we invested a whole bunch of money, time and space into moving into a new showroom," he said. "And now, nobody can come to it."
The company had planned to participate in a home show and had printed up flyers promoting its new showroom, but "it just kind of fell out from underneath us," Marshall added.
But he didn't let any of those obstacles slow him down. "I just kept going, because that's kind of personality I am. You know me, I don't take no for an answer. So, I finished off everything and got all of our marketing done. Even though this home show actually never opened, we still opened the showroom. Some of our marketing materials kind of went in the trash because they were dated. But we kept moving forward and it's actually worked out really good for us. We changed a little bit of our internet marketing about it. We pushed the date out of the grand opening a couple of times now, but [June 29] is going to be our grand opening weekend."
Kitchens and Closets by DEA's 2,500-square-foot showroom features three closet vignettes and two kitchen displays.
The 2,500-square-foot showroom is located in a high-traffic commercial area near a busy intersection. Hotels and restaurants are located across the street. 
"Because it's in a main area, it's not cheap, but it's not expensive like retail," Marshall noted. "But it's light industrial and it's right across the street from the airport basically, so we got a lot of visibility. I wasn't ready to pull the trigger on retail. It's 10 times the cost, it's ridiculous. It's ridiculous how much they can charge for the same piece of real estate."
That visibility has helped increase the showroom's foot traffic after its initial opening. With so many people spending time at home, they are looking at ways to improve their living and home office spaces. 
"We are getting people, who want to do home remodeling still which is funny, come into our showroom. So, it wasn't by advertising. It's just by word of mouth. Definitely now that we have a showroom about half of our customers actually come in to do upgrades. That's what I say, 'they come to the showroom just to look at stuff, but when they get here they always upgrade.' So, it's been really profitable to have the showroom. We've not had one before."
Two full-time employees work the showroom which features three closet vignettes - a pantry, garage cabinets and Murphy bed, plus an entertainment center and two kitchen displays. 
Additional items featured include LVT tile, ceramic tile for the flooring, and backsplash tile as well as approximately 50 door samples for kitchens, 25 door samples for closets, and sliding door samples. Showroom visitors can also view hardware displays from Wurth and Richelieu Hardware as well as products from JB Cutting, Swisstrax and Contractor's Wardrobe.
Safety precautions
When asked about precautions in the showroom in light of the pandemic, Marshall says that masks and hand cleansers are provided at the front desk. However, there is a sign that says, "masks are optional, your choice."
"Because we don't want people to feel like they have to wear one, but we would like them to wear one if it makes them feel safer and we will wear them, if it makes them feel safer," Marshall said. "Because I think there's a split decision about that across the country. Like me, I don't want to wear one, not because I don't want to be safe for people. But because I want them to understand how I'm feeling when I'm talking with them about the sales call. [For instance] am I smiling? Did I say something, and they can't tell if I'm smiling or not? That's really communication. I think 90 percent of our communication is nonverbal communication."
There is no requirement for anyone in the state of Arizona to wear masks, he added, however, different businesses might require for a mask to be worn. "So, we have taken the approach of masks are optional. If masks are optional, we need to give our customer choice. If they want to have one, we have one for them. If they want to wear their own, they can wear them, but they don't have to wear a mask."
How the industry veteran got his start
Marshall has been in the closet industry for nearly 40 years. He was the first employee of Neil Balter (founder of California Closet and Organizers Direct). In 1997 Marshall ventured out on his own, moved to Phoenix and founded Modern Closets & Garage.
Modern Closets provides closet storage and organizing needs for the master bedroom, kids' playroom, pantry, garage, laundry and other areas the home with a line of laminate storage systems that offer premium options and luxurious look. Apart from custom closets, the company also designs and can also installs a Murphy bed system adding more flexibility and functionality for multi-use spaces.
In 2015 Marshall opened DEA Kitchen Remodeling offering kitchen and bath design services. He also brought his sons David and Aaron into the business. Today, Marshall sells for the combined companies - Kitchens and Closets by DEA - and has served as ACSP treasurer and is now President-Elect. 
Have something to say? Share your thoughts with us in the comments below.