Video: New 2020 Maker cabinet design and manufacturing software
May 3, 2021 | 1:44 pm CDT
WEST PALM BEACH, Fla. – 2020 Spaces will introduce 2020 Maker, a software application that allows the user to design, sell and produce custom cabinets, closets, and other wood products, at the Closets Expo, co-located with Wood Pro Expo Florida.
The software combines a design tool with a fully engineered product catalog to generate production information, including optimization and CNC machine data. 2020 says it is focused on the needs of cabinetmakers and other small woodworkers with panel saws and/or CNC machines that do not require factory or production line automation. 
2020 Maker features:
Includes a design tool to produce high-quality renderings. 
Includes a robust content catalog with both face-frame and frameless cabinets, closets, hardware, and accessories. 
Generates manufacturing reports and technical drawings. 
Enables automatic creation and production of custom parts, cabinets, and closets with dimensional flexibility. 
Automatically generates cut plans for panel optimization. 
Automatically generates CNC programs.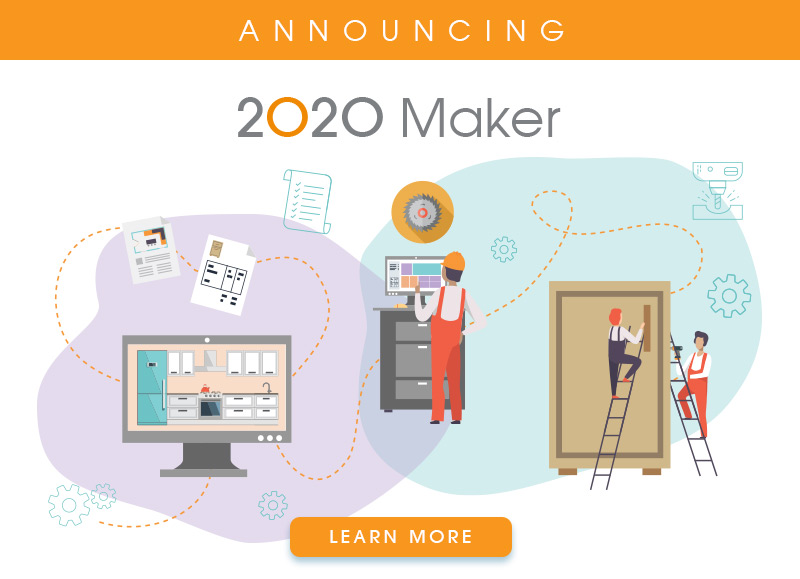 Software benefits:
Shorten the customer's purchase decision with high-quality renderings. 
Simplify project and client management. 
Increase product offering with regular catalog content updates. 
Reduce production time and increase quality assembly. 
Increase production and material efficiency with a fully integrated solution, from design to machine. 
Scales in step with the manufacturer's growth.
See demonstrations of 2020 Maker at booth #512 June 9-10 at the Palm Beach County Convention Center. Learn more at 202spaces.com/2020maker.  
About the 2021 Closets Conference & Expo and Wood Pro Expo Florida
The Closets Conference & Expo is the annual national event for closet and home storage professionals. It is co-located with Wood Pro Expo Florida (WPE), a regional marketplace for woodworking professionals. The events are organized by Closets & Organized Storage and FDMC magazines respectively, each part of Woodworking Network. The twin-billing event is scheduled for June 8-10, 2021, at the Palm Beach Convention Center in Palm Beach, Fla.
The Closets Expo and WPE both lead off with a separate full-day conference on June 8, followed by the two-day expo, June 9-10, featuring woodworking machinery and supplies. Additional educational programming is offered on both days of the expo. Tours of local manufacturing plants and the popular Top Shelf Design Awards networking reception are also key components of the event.

For information about exhibiting, and sponsorship opportunities, contact Laurel Didier, publisher of Closets & Organized Storage. For inquiries about WPE, contact Harry Urban, publisher of Woodworking Network. 
Additional 2021 Woodworking Network events
Wood Pro Expo Lancaster, Oct.14-15, 2021, Warehouse at the Nook, Lancaster County, Pa. -- Annual woodworking trade show and conference
Executive Briefing Conference (EBC) Sept. 8-10, 2021, The Broadmoor, Colorado Springs, Colo. -- Annual forecast of economic, technology and design trends for the North American woodworking industry.
Woodworking Machinery & Supply Conference & Expo (WMS), Nov. 4-6, 2021, International Centre, Mississauga, Ontario -- Canada's national woodworking show.
Have something to say? Share your thoughts with us in the comments below.