Italpresse To Show Hydraulic Hot Press at AWFS 2015
May 28, 2015 | 5:32 pm CDT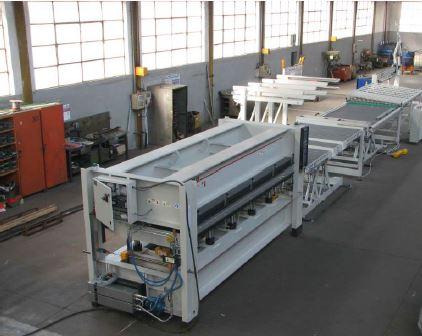 Photo By Italpresse
Italpresse will show its complete Italpresse XL/8/32-16 Hydraulic Hot Press hydraulic hot press line for panels up to 5x10 feet at the 2015 AWFS Fair, July 22-25 in Las Vegas. 
Also on display will be the CM-160 Panel Indexing System, The panel-indexing system is designed to receive glued panels from the motorized disc conveyor and assist the operator in laying them down on the bottom face material without having to lift the panels. A single operator can handle up to a 5' x 10' panel by himself with this system.
The indexing system consists of a fixed position disc knife roller slave driven by the preceding disc conveyor. Sloped guides let the trailing edge of the panel slide down to the in-feed / lay-up belt conveyor in a controlled way. The leading edge of the panel is carried on a free traveling carriage up against a stop bar and supported on a disc knife roller.
Sloping guides let the leading edge of the panel slide down to the conveyor in the same way as the trailing edge. The driven disc conveyor drives the panel forward while the traveling carriage supports the leading edge. The operator manually controls the movement of the carriage. Pneumatic cylinders pivot the roller assembly on the moving carriage up, to allow the composed panel to pass underneath. The tilting portion is split in the middle with dual controls to allow panels up to 30" wide to be laid down on one side of the lay-up belt and then another panel to be laid down beside it without interference with the lay down device.
ITALPRE
Have something to say? Share your thoughts with us in the comments below.