LP Building Solutions releases 2023 Sustainability Report
September 27, 2023 | 12:46 pm CDT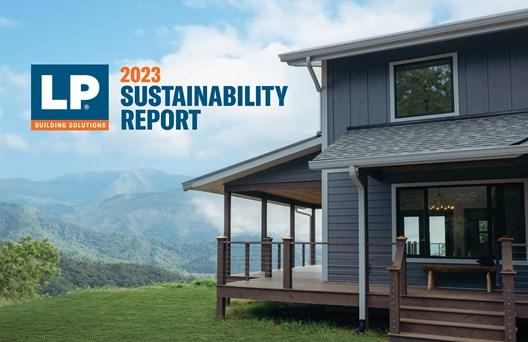 NASHVILLE, Tenn. — LP Building Solutions (LP), a manufacturer of high-performance building products, has released its 2023 Sustainability Report detailing the company's environmental, social and governance (ESG) performance. The company's third annual report details how a focus on resilience has helped LP achieve key impact goals across five pillars: Governance, People, Environment, Products and Community.  
"Our history has taught us the vital role sustainable building materials play in long-term resilience," said LP Chair and Chief Executive Officer Brad Southern. "By engineering our products for durability, we enable customers to build more resilient homes. By harvesting responsibly, we help promote forest resilience. By building and developing a more diverse, engaged and highly skilled workforce, we build a more resilient and competitive company."
As the 2023 Sustainability Report details, LP's products and manufacturing processes are inherently sustainable. A powerful example of this is the company's carbon-negative products. In 2023, LP completed five environmental product declarations (EPDs) for its Structural Solutions portfolio. Along with LP SmartSide Trim & Siding, these EPDs demonstrate the carbon negativity of LP products. For builders and homeowners looking for durable and resilient products that also make a positive impact on the planet, LP believes the choice is clear.
Highlights from LP's 2023 Sustainability Report include the following:
Ensured 100% of wood fiber was sourced through stringent forest certification standards
Continued to focus on renewable energy, deriving 80% of all thermal energy used in product manufacturing from renewable sources
Achieved another year of strong safety performance with a world-class total incident rate below 1.0 since 2007, winning four safety awards, and achieving 1 million recordable-free hours for the sixteenth time across its sites
Enhanced workforce diversity and belonging with the introduction of the inclusion training program Building a Better LP
Supported communities through the LP Foundation grant program, reaching 130 nonprofits across the U.S. and Canada, and announced a national partnership with the Gary Sinise Foundation's R.I.S.E. program, which builds mortgage-free, specially adapted smart homes for America's most severely wounded veterans using LP® SmartSide® Trim & Siding
Completed its ambitious plan to open LP Health and Wellness Centers at 11 of its facilities, offering free or low-cost health care exclusively to LP team members and their families
To read LP's 2023 Sustainability Report, visit LPCorp.com/Sustainability.
Have something to say? Share your thoughts with us in the comments below.