Large lightweight pivot door is centerpiece of office design
April 12, 2016 | 9:39 am CDT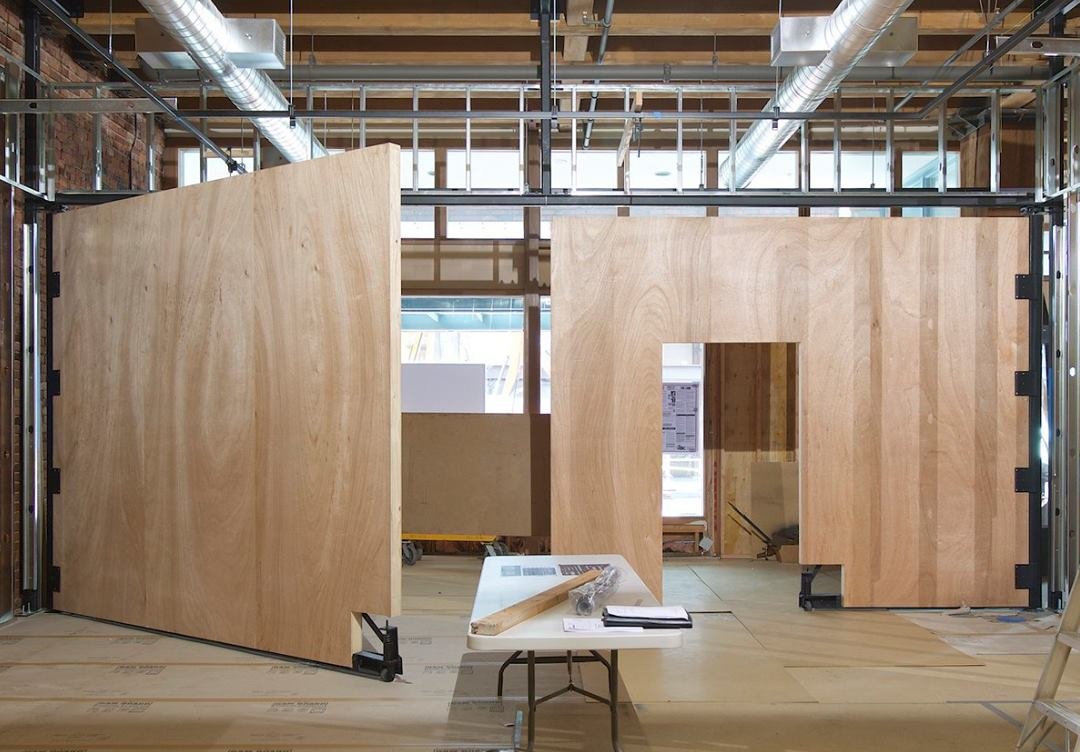 Photo By SingCore
Seattle's Center for Architecture and Design sought a more sustainable approach for its own space with building products that save energy and add longevity. The Seattle design center wanted a multi-functional design combining office space, media, meeting and a gallery to promote green design.
Ric Peterson of Suyama Peterson Deguchi was charged with the challenge of creating a design center work of art. General contractor Krekow Jennings supervising all components while acquiring and arranging subcontractors.
The goal for the 4,800 square foot space was to use green building materials made locally, produced with less energy and waste. The resulting modern office, meeting room and gallery in a picturesque downtown location is a perfect showcase for professional trades and an inviting exposure for the general public.
The whole job would not have happened without support from the donors of trade skills such as painters and Schuchart/Dow craftsmen, who did all the assembly
The space needed a special pivot door. When open the space is a large gallery, when the four doors are closed it become a conference room. All the furniture, worktables, islands and counter tops were assembled on site
Peterson was able to accomplish the door design by teaming up with inventor Peter Sing, whose lightweight, high strength building material made it all possible without the use of heavy equipment, lifts and cranes. After being invited to join the project, Sing offered to supply not only the doors but almost the rest of all the office furniture, partitions and even part of the dining table/work table and cabinets in the lunge and office areas. All were made of patented Sing panels, the same core materials that were used in the large pivot doors.
There are four 12 ft. x 10 ft. x 5 inch thick doors, each weighing about 500 pounds for easy moving. Each door was installed in less than a half an hour. These large extreme edge pivot doors were manufactured in Washington using patented Sing Core as the embedded structural core material.
Those doors had added two more layers of material added on the job site to create sound deadening and fire retardant features. Two of the doors feature a built-in man door for simple access when the area is secured as a conference room. The office area also had lightweight, high strength Sing panels. That office furniture was assembled on the site.
All the furniture features adjustable legs to maintain work surfaces at high precision instrument grade levels. Up to eight- foot clear span work areas are neat and clean while keeping all power and other cords hidden from view by an embedded wire management channel system that is an effective design component within the work areas. Single piece partitions that span up to 12 feet provide privacy and security while standing flawlessly amidst the efficiently accurate space.
The advantage of pivot door / partition wall included the ability to change the conference room to gallery within minutes, fireproof and sound deadening, man door on both sides of the entrance for easy access, lightweight and strength enabled designers to add 1,500 lbs. of additional material without compromise. See Singcore.com for more information.
Have something to say? Share your thoughts with us in the comments below.